Here are three easy things to do to that will give you piece of mind the next time heavy storms hit.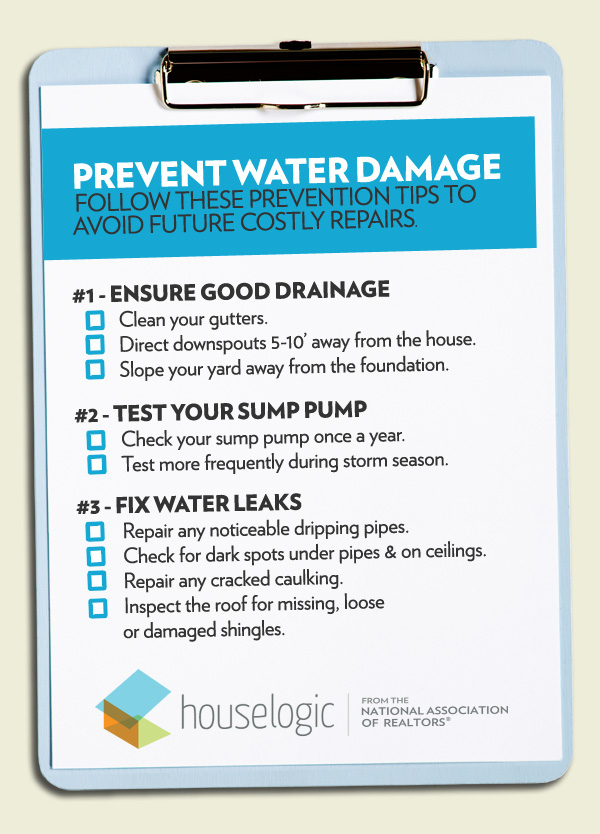 #1. Ensure Good Drainage
Why it matters: Poor drainage weakens your foundation, causing cracks, uneven settling, and pathways for water to enter your home.

How to do it:
Clean your gutters routinely. A clogged gutter will send cascades of water down the side of your house, damaging your siding and foundation.
Ensure your downspouts direct water 5 to 10 feet away from your house.
Make sure your yard is sloped at least 6 inches over a 10-foot span away from your foundation. That slope keeps water from getting down right next to your foundation, where it could cause walls to lean, crack the masonry, and create leaks. (For crawl spaces, keeping water away makes sure excess water doesn't pool underneath your floor, making for damp conditions that encourage mold, rot, and insects.)
But don't let the soil get too dry, either. Long dry spells let the soil around your house dry out and shrink. A big rain may make the soil expand, putting pressure on your foundation walls. In a drought, run a soaker hose at least 6 inches from the foundation and 3 inches under the soil to keep the soil from contracting and expanding.
Maintenance cost: Very little. Cleaning gutters can be a no-cost DIY job, or you can hire a pro for $50 to $250, depending on the size and height of your home. To get the soil slope you need, you might have to buy some additional topsoil.
Worst case if you put it off: Your foundation could settle, cracking your basement walls. The cost to stabilize, repair, and seal deteriorated foundation walls is a whopping $15,000 to $40,000.

Related: