Finally, after years of procrastinating, we did it. We remodeled our old, yucky, only full bath into something we can live with for years and years.

So, in the spirit of the children's book Goodnight Moon: Good-bye 1970s ceiling tile, good-bye gappy peel-and-stick floor tile, good-bye gold-flecked tile, and good-bye ugly vanity with a broken door.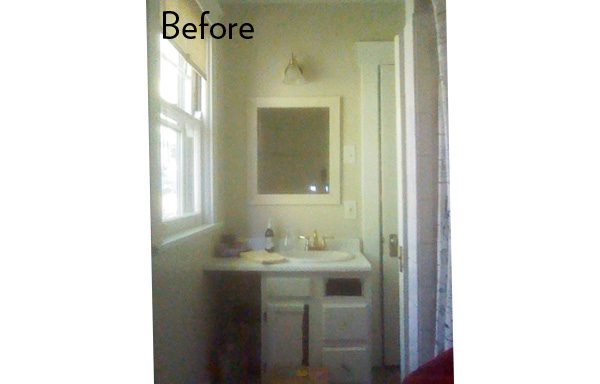 The plan
We kept the existing footprint and the old, deep porcelain tub and scrapped everything else. Although moving walls would enlarge our tiny-by-today's-standards 54 sq. ft. bathroom, we're acclimated to small-space living and opted to save money by keeping the layout.

The materials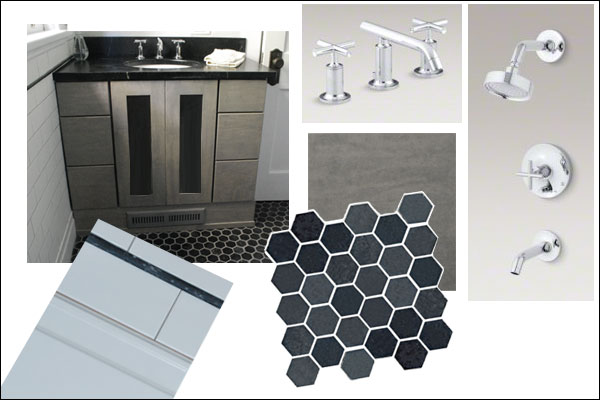 Our goal was to use materials that are durable and easy to clean. Here's what we ended up with:

Wall tile: We chose 3 in. x 6 in. ceramic subway tile because it's easy to clean and fits the style of our 87-year-old house.

We used several types of tile trim: baseboard, cornice, and a dark stone pencil molding. If you're looking to cut project costs, drop the trim pieces. As an example, one cornice tile is $14 vs. one field tile that goes for about 84 cents. If you're counting, we ended up using 22 cornice tiles.

Floor tile: The 2 in. x 2 in. hexagonal stone tile ranges in color from charcoal gray to jet black. And, with grey grout, our 6-year-old daughter will have a hard time making this combo look dirty. We also purchased a pencil molding in the same dark stone to add a bit of style to the walls.

Vanity: We're planning to stay in our house for years to come, so we wanted something for keeps. A local custom guitar maker crafted our vanity and a matching mirror frame for above the sink out of solid barn wood.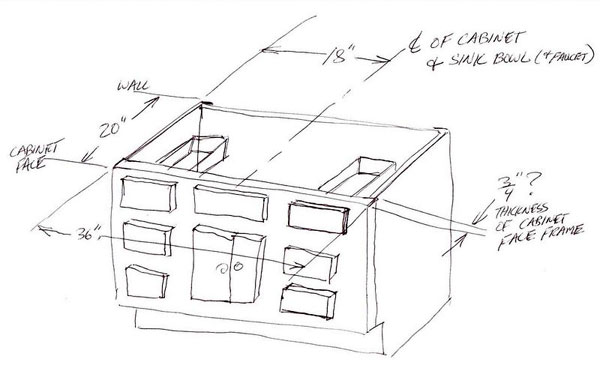 We also opted for a shallow counter depth (small room) combined with a 30" counter height instead of the modern 31" counter height. (I'm a smidge shy of 5 ft. 2 in.) And given that I despise the cheapo drawer slides that came with our kitchen, I opted to pay for expensive, bombproof drawer slides.

Vanity top: This is a 3-cm-thick Black Minas soapstone remnant left over from the stone fabricator's kitchen remodel.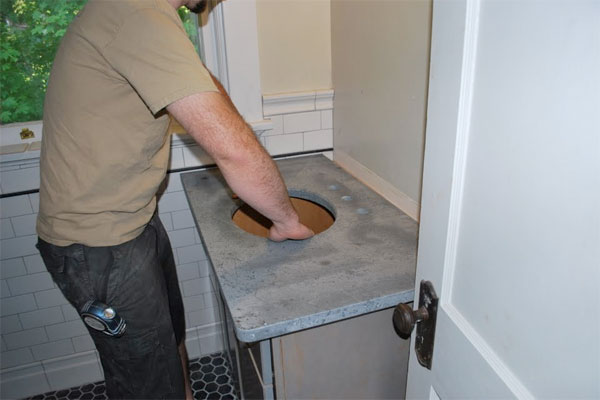 Soapstone fits our lifestyle; it doesn't need maintenance and is nonporous, so it doesn't stain. It was worth the extra $100 for delivery and installation, as the stone guys did a bit of on-site cutting so the top fit snugly, and they mounted the bowl to the stone.

Sink faucet: We selected a Kohler Purist cross-handle faucet. There are other, pricier cross-handle designs that I covet (hello, Lefroy Brooks Mackintosh cross-handle taps) but this is a well-made product in our price range.

Shower: The Kohler Purist trim kit replaced our awful 1980s fixtures. That, along with the discolored grout and caulk, makes an appealing photo, doesn't it?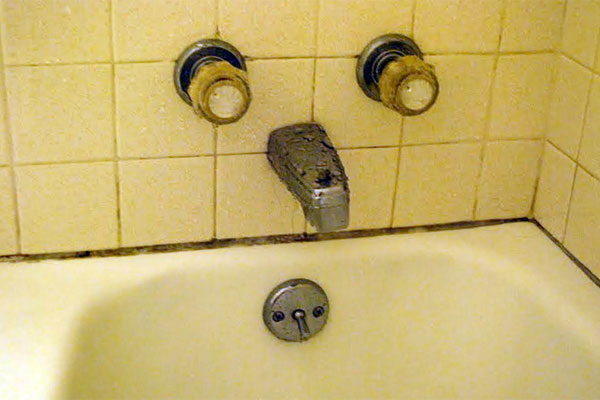 Toilet: Kohler Wellworth. We planned to keep our old toilet, but there was a mishap with the tank lid, thanks to the demo crew. (Did you know you can't buy a replacement tank lid?) Because of my height, I appreciate the shorter height of the Wellworth. It also has an elongated bowl, an important feature for, ahem, male users of your commode.

Vent fan: Standard Nutone. This is the first-ever vent fan for our bathroom. Yea!

Paint: Gray owl Benjamin Moore aura bath and spa paint, a highly-rated, low-VOC matte paint (instead of the traditional bathroom semi-gloss) that isn't cheap, but is known for its quality.
 
Come on in!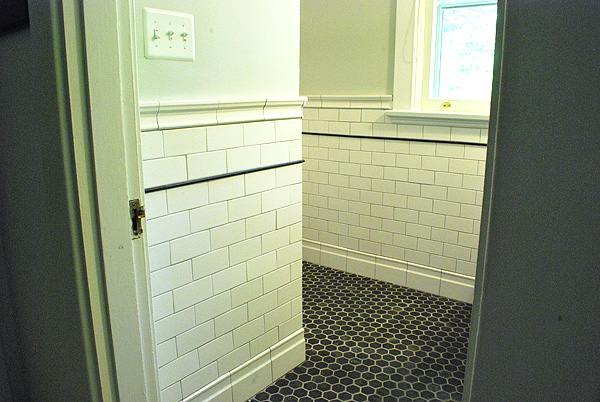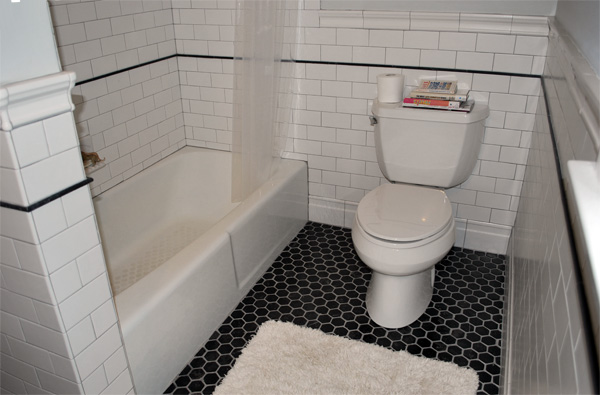 The vanity with the freshly-oiled top. Oiling is for looks only — to darken the stone — and not for required maintenance.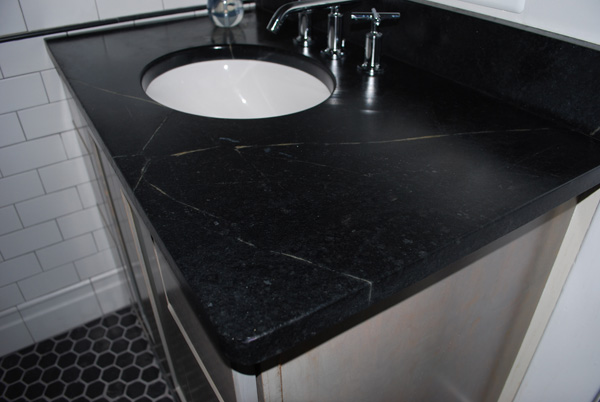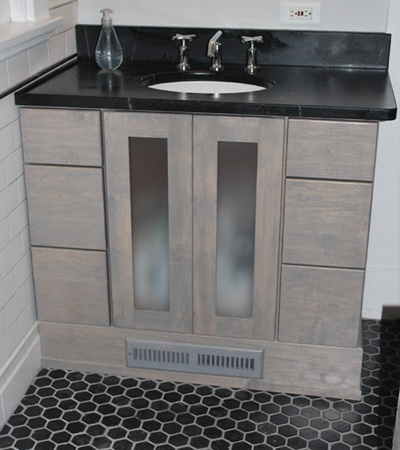 The vintage tub with the discolored-yet-we-still-love-it bottom. Yes, we've tried everything under the sun. It's clean, just discolored.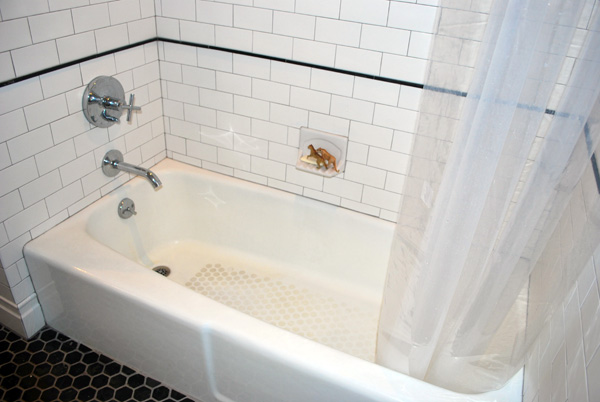 The tiled shower wall that looks oh so tall: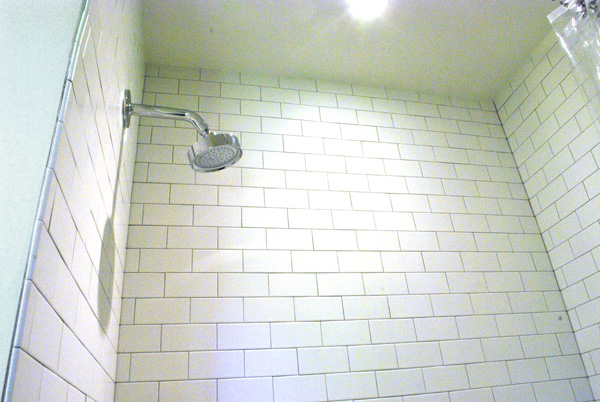 The toilet and the toilet's good friend, fan: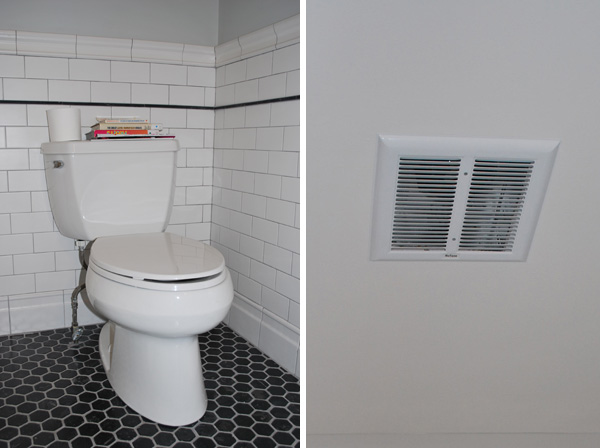 The floor: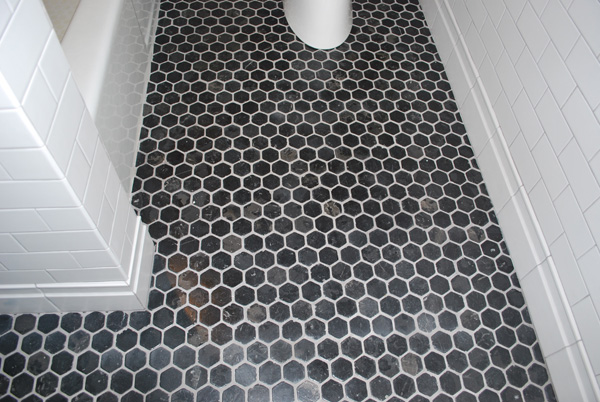 Lessons learned

There's no such thing as a simple job. PERT charts are great for repetitive jobs, but home remodels are always one-of-a-kind because not all houses are built the same. Not to mention, you'll never know what kind of "handyman" the previous owner fancied him or herself to be.

Measure twice, cut once. Despite having the shower trim kit on hand, the plumber mis-measured the length of the pipe needed when the wall would be closed and tiled. Oops.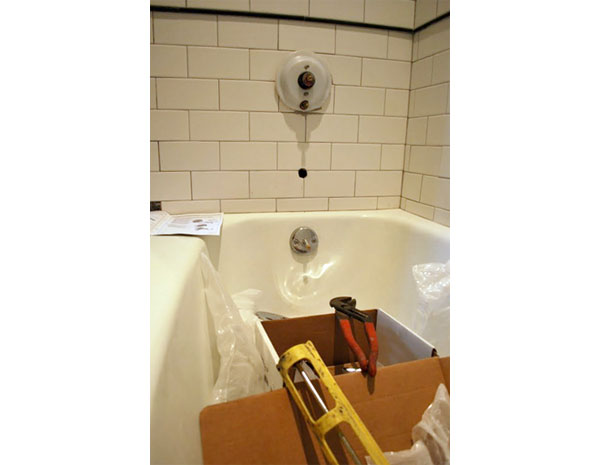 Communicating is important. The plumber didn't confer with the other contractors, which is why we  ended up with some pipe that was sticking out too far. Fortunately, our general contractor made sure the plumber redid the work properly, so our bathroom would be serviceable for a long time.

Build for maintenance. When remodeling, the goal isn't only to make things work, they must be installed so that they can be maintained. This point is dedicated to that same plumber who figured we wouldn't notice that he jerry-rigged a solution to our too-long pipe problem.

Buy extra supplies, like tile and paint. You want them both for the construction phase and for attic stock, so you have replacement tiles down the road. In case our tile goes out of production, I bought 5% extra. Ask your tile shop if they refund unopened boxes. Mine did.

The Internet is a friend and foe. I scouted materials both in person and over the Internet. Since everything under the sun is available on the web, that can lead to distraction over materials that are hard to get ahold of. I fell in love with a tile made out of broken skateboards. Unfortunately, I wasted quite a bit of time trying to get a hold of the manufacturer.

Sample, sample, sample. I fancied some fabulous wallpaper, so I paid a small fee to a British company and received something not-so-fabulous in the mail. Glad I sampled. If you're sampling floor tile, put it on the floor and see how it looks and holds up after you've walked on it for a week. See what it looks like in daylight and at night.

Take pleasure in not rushing the minor cosmetic details. I still haven't picked out a new light fixture to go over the vanity. I only have a few ideas pinned for the drawer pulls. I don't mind if my scouting trips take a few months. Stopping by my local architectural salvage store and the Burlington Antiques Show are just my style.