It's Monday, and your home office is still a mess.
Not to mention your garage.
You meant to get one of them organized over the weekend. But, well, you got stuck on exactly how to do it.
And, instead, ended up packing your Pinterest page with ideas to organize them — but they're either too expensive, too hard to do, or just plain unrealistic (who stumbles upon a vintage library card catalog for only $7?!?).
Maybe pegboards can help. Abundant, affordable, and easy to DIY, it's possible you could be swooning over your home's orderly good looks by next Monday.
For now, though, swoon over these pegboard organization projects:
Store All Your Hand-Crafting Supplies Within Easy Reach
Crafter Rachel Beach of the "Craving Some Creativity" blog did that and loved the results.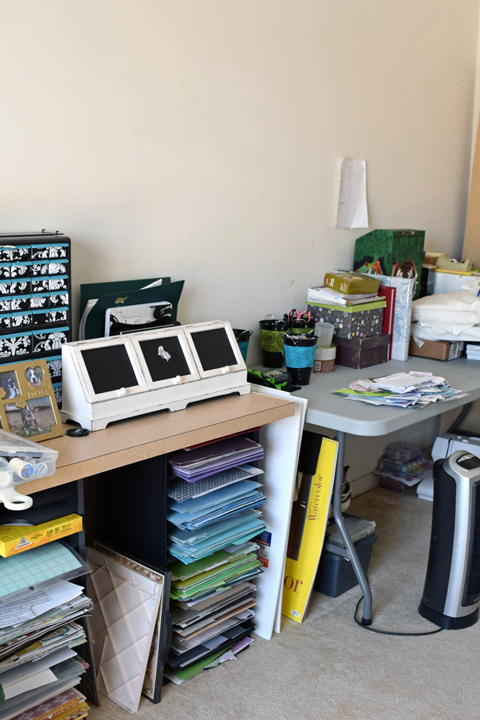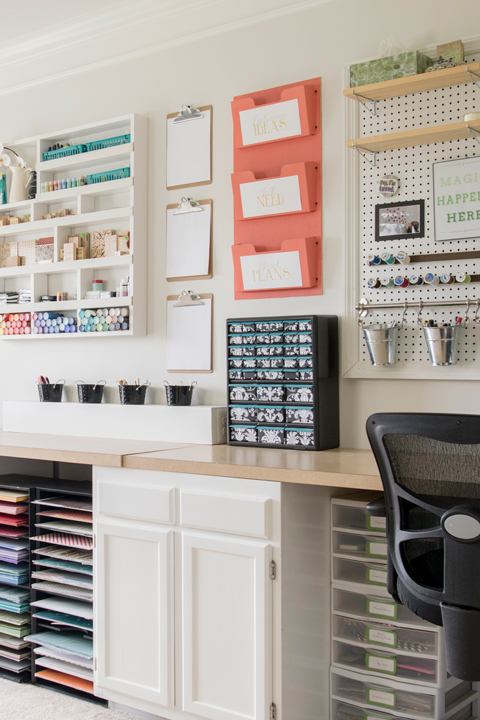 Image: Craving Some Creativity
"My craft supplies are pretty, and I didn't want to just tuck them away in a drawer," she says. "The only thing I hide now are my favorite sewing scissors, so my kids don't cut tin foil with them" and ruin them.
The clean, fresh, and organized look also means no more searching for the right supplies next time you want to personalize a gift bag or create a special memento.
Tuck Cleaning Supplies Into a Tiny Wall Space
You know the SoftScrub's somewhere in your "sinkhole" (better known as that impossible space under your sink). But it's always a knee-busting chore to find it.
So, why not store it somewhere that's easier to find? Like on the wall?
Awkward spaces that don't allow for traditional shelves and cabinets, like this space opposite a doorway, are often perfect for the slim profile of pegboard.
Condense (and Organize) Your Office Space
Lara Edge, who has six (!) pegboards in her tiny Athens, Ohio, home (including the cleaning one above), said it all started when she was trying to find a way to get more floor space in her tiny office so it could do double duty as her yoga space, too.
She did some research and found metal pegboards (from a company called Wall Control), that can support heavy items like printers and files.
"Now I've got enough free floor space so I can do yoga without smashing my elbow into the printer," Edge says.
Keep Sports Stuff From Overflowing
It's no wonder you're always that family, rolling up to practice late (sorry, Coach!). Balls are constantly disappearing under couches and beds. Hockey sticks slide onto the floor. Sweaty shoes stink up your living room, which isn't supposed to be a locker room, btw.
Corral them onto a sports equipment pegboard — a cute, painted one.
If you want to make the board even more user friendly, tape off squares on the board and paint them different colors, visual cues that remind them what goes where.
Create a Coffee and Tea Station
You must have 20 coffee mugs. And each one has a memory. So you can't bear to part with them. Yet they're just taking up cupboard space, and you end up using the same one over and over.
Make them visible — and convenient — with a pegboard. Even create a complete beverage center by adding coffee, tea, all the makings.
Untangle Your Jewelry
So that's where your jade bracelet's been hiding. Underneath that chunky necklace your aunt gave you that you never wear.
The key to keeping your jewelry untangled and easy to scan is having a spot for every piece. And all those holes in pegboards make that easy. Start by evaluating every piece you have (maybe it's time to donate that chunky necklace to charity?) to see how many hooks and the size pegboard you need.
Hang Plants Instead of Putting Them on the Floor or Tables
Pegboards easily hold pots on patios walls and free up floors when you move plants inside for the winter.
Just make sure your indoor pegboard is mounted on a wall splashed with sunlight, and keep watering logistics in mind. Opt for air plants and low-maintenance succulents (like what's pictured), or configure your board to include drip-catchers, too.
Related: 10 Strategies to Stop Murdering Your Plants
Build a Headboard that Doubles as a Nightstand
Instead of spending hundreds on a headboard and night tables, install a pegboard over your bed disguised as a crafted headboard.
Be sure to paint the board with a fairly dry brush so you don't clog holes with semi-gloss; then frame the board with door trim. Last, hang baskets and clip-on reading lights on the board.
Make Pots and Pans a Lot Faster to Find
If it's got a handle with a hole — as most cookware does — you can hang it on a pegboard. Even professional chefs love this setup because it's efficient.
Cookery is heavy, so be sure to screw the pegboard into studs, or use heavy-duty anchors.
Tame All Those Unwieldy Cords and Cables
If your TV, cable box, modem, router, Xbox, and Apple TV all live in the same corner of your living room, you know the great depths of cord insanity.
You can organize it all by mounting your many cables — and even some of the devices — on pegboards using plastic zip ties.
Hang Your Artwork and Keepsakes Neatly and Easily
Cover a wall in pegboard, and you've got an instant gallery wall that makes it so easy to switch out artwork and mementos.
The real fun of this pegboard project is how it can rejuvenate your love for each piece because you can rotate them in and out. Maybe at Thanksgiving, you bring out old family photos; in winter, you highlight your skiing pics, and summer becomes a beach theme.
Go Portable for Uber Organization
Install casters on a pegboard cube, and you've created a mobile caddy that easily transports whatever it is you need: tools, cleaning products, wrapping paper, or ribbons.
Decide how big you want your caddy before heading to the store, and ask someone to cut the board to your specs. It's worth an ask, and can make this a really easy project.
Related: 11 Tool Organizing Hacks to Make Yard Work (Kinda, Sorta) Fun