You don't need tons of time to achieve the uncluttered, tidy home of your dreams. You just need a strategy to get there — a really simple one that fits into your life without sucking up hours you can't spare.
What's pleasantly surprising about having a strategy is that it can turn daily mundane (and often aggravating) moments into opportunities for organization. Having a strategy is about making every moment count. Everyday moments like ...
When you're waiting for a pot of eggs to boil . . .
Take those moments of downtime in the kitchen to do a little organizing. Do you really need that melon baller or — heaven forbid — the banana slicer gag gift you received in last year's Secret Santa exchange?
Jamie Novak, a professional organizer and author of "Keep This Toss That," says tackling organization incrementally is the way to go. "Seriously small tasks can make a big difference," she says. They keep you from having to tackle larger, more daunting jobs later.
When you grab that plastic container with no lid (for the umpteenth time) . . .
Admit it: That $*(#ing lid is never, ever coming back. Instead of tossing that lidless tub back into your quagmire of plastic parts, banish it, then vow to continue throwing out every lid or bottom with no mate each time you encounter one (that's the strategy part). Soon you'll have a nice tidy cabinet full of matched-up pairs — and it will stay that way if you keep the strategy going.
When you're brushing your teeth . . .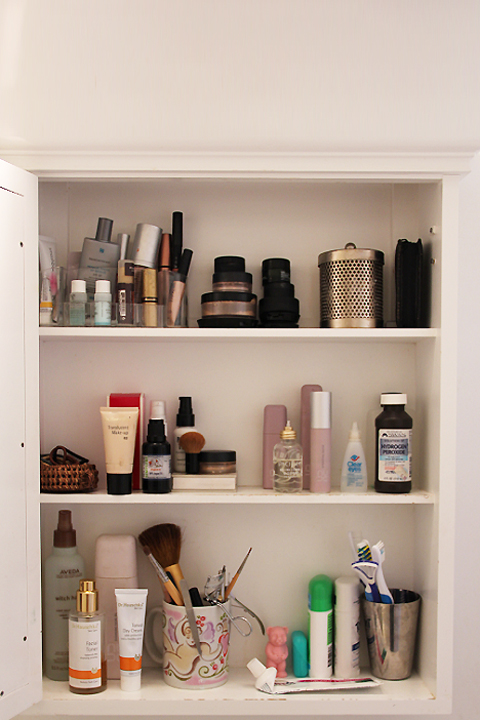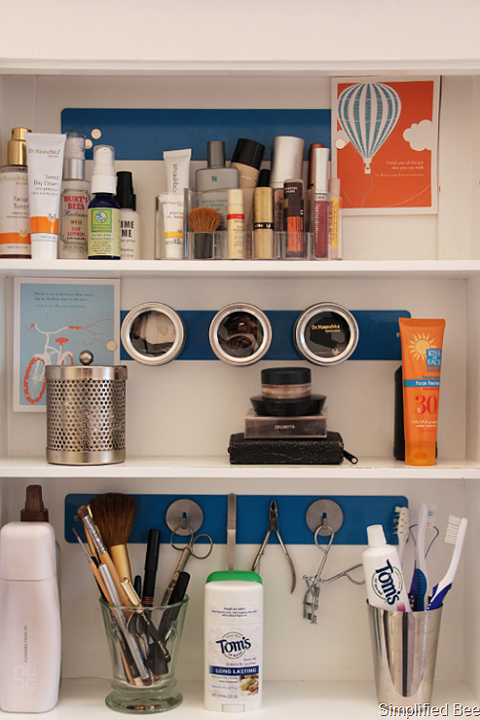 Image: Simplified Bee
Rummage through the medicine cabinet for prescriptions and medications that have expired. And don't forget that many cosmetics and toiletries also have use-by dates. As for that $25 lipstick you bought that made you look like Cruella de Vil but is still hanging around? Either toss it or move it to the box of stuff where you keep your Halloween costumes.
When you're breaking down yet another Amazon box . . .
Don't do it. Instead, use it as a donation box. As you encounter things you need to toss that are donatable during your other organizing and decluttering moments, just put them in the box instead. Amazon is working with Give Back Box to allow consumers to use their boxes to donate and ship (for free!) unwanted clothing and household goods to charity.
When your laundry is clean, but there's that one lone sock . . .
Toss it. If not in this laundry round, the next one if its mate never arrives. Thank it for its service, and then say goodbye. Same goes for falling-apart-but-matching socks, holey underwear, torn shirts, etc.
When you're waiting for your hair to soak up conditioner . . .
Thin the herd of shampoos, body wash, and other products you used maybe once or twice — six months ago! — that are still hogging space in your shower. (Bonus: This will also help keep nasty mold at bay.)
When you're watching your sports team play on TV . . .
Sort through that ginormous stack of junk mail, catalogs, and circulars. Bring a recycling bin with you to the sofa and go through it during commercials or lulls in the game. Toss anything that's outdated or unnecessary into the recycling bin.
When you're leaving your house to run errands . . .
Ask yourself, "What can I take to the car/trash/donate bin/library/give back to a friend?" Professional organizer Laura Bostrom who runs Everyday Order says that also extends to rooms inside the house. "Always carry something with you that belongs in another room."
When you're putting fresh sheets on the bed . . .
Grab a set of sheets from the far reaches of your closet and ask yourself why you're not putting those on your bed today. Be honest. If the answer is something that won't ever change — they're scratchy or worn or you just hate those stupid flowers — donate or toss.
When you're deciding what to wear . . .
Switch out hangers on the clothes you choose to wear. Toss the old hangers and put new ones (we recommend the thin, felt ones because they take up less room and clothes don't fall off easily) on the rod to use when the clothes you're wearing are ready to be hung back up. After a few months, donate everything that's still on old hangers (and not seasonal must-haves).
When you wake up tomorrow . . .
Remain tuned to other moments that may offer you a chance to finally rid yourself of an organizational mess that's been bugging you for some time. It's a strategy, not a to-do list, that'll make for perpetually well-organized spaces that help you enjoy your home even more.
Related: