New York City's new micro-apartment initiative is a middle-class housing solution with a luxury price tag. And it raises big questions about how we live at home in cities.

If you're not sure what a micro-apartment is, picture a studio apartment, only much, much smaller, where space-saving solutions become big selling points.

Right now, all apartments built in NYC must be at least 400 square feet. If you think that sounds tight, it's actually supersized compared with Mayor Michael Bloomberg's pilot micro-housing project, in which 55 new apartments will be a petite 250-370 square feet. These shoebox homes are being pitched as an affordable housing solution for single New Yorkers who make under $75,000; the units will rent for around $2,000 per month.

Yeesh, that's the housing equivalent of paying business class prices for a middle plane seat.

To make up for the lost square footage, each apartment will have an innovative micro layout. Touted features include 9 to 10 foot ceilings and Juliette balconies. But are elements like these really ingenious?

The average ceiling height for NYC apartments is already 9 feet. And Juliette balconies are faux terraces that are tacked on buildings in front of big windows. You'll never get a chair or even a tiny hibachi out there. The only purpose these design elements serve is to ease the overwhelming claustrophobia caused from living in a pod-sized apartment.

According to the 2010 Census, the number of people living alone comprises 27% of all households. That's up from 17% in 1970. And since singles are flocking to crowded urban areas like NYC, the demand for smaller and more affordable homes is only going to grow.

But these miniaturized homes aren't affordable solutions. Many New Yorkers already cut corners in order to pay their mortgage or rent. Now the city is asking them to cut back on elbow room, too.

NYC is already one of the most expensive cities. And since the average sale price of apartments in NYC has gone up 66% in the last decade, many average New Yorkers have given up on the idea of owning a home here.
A widespread housing initiative that charges inflated prices for cramped living quarters will further alienate middle-class worker bees, like me. It will only make larger, more livable spaces more expensive and, therefore, unattainable. What hard-working individual wants to spend the rest of her days in SRO-style housing?

If you ask me, if this trends grows, middle-class New Yorkers will become rarer than rent-controlled apartments.

The Museum of the City of New York is trying to make micro-life more palatable with their latest exhibit, "Making Room." The show's big draw is a real-life itty-bitty apartment that's a whopping 50 square feet larger than the smallest apartment in hizzoner's new development.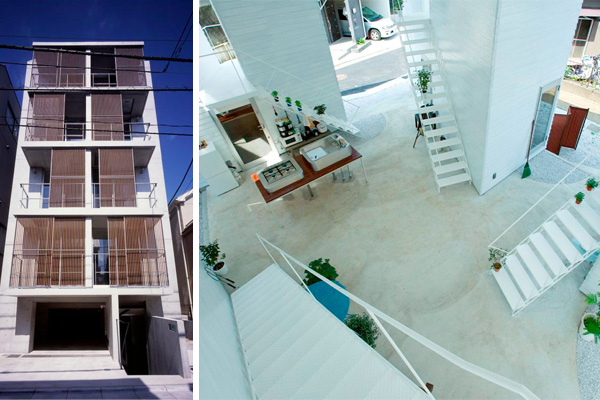 Credit: Micro-unit LaunchPad (Clei s.r.l/Resource Furniture; architecture by Amie Gross Architects) / Photography by John Halpern/Courtesy of the Museum of the City of New York

The very sleek and stylish one-room unit includes space-maximizing features like a TV that hides a bar, a little cabinet that reveals a desk, and a Murphy bed that can be tucked away to make floor space.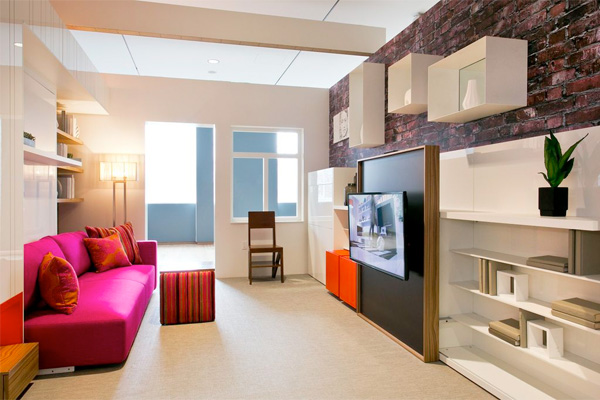 Credit: Micro-unit LaunchPad (Clei s.r.l/Resource Furniture; architecture by Amie Gross Architects) / Photography by John Halpern/Courtesy of the Museum of the City of New York

However, as snazzy as this cozy crash pad appears, it comes off as a Mad Men-esque pied-a-terre. If you have tons of stuff, including sporting equipment, dozens of shoes, and enough clothing to get you through four seasons, you might need to rent the apartment next door, too. Or live life feeling like a hoarder.

Thank goodness I kept my rent-stabilized apartment. It's three times bigger than this exhibit and it's under $2,200.

Check out this video to see how this micro-apartment compares with weensy units some New Yorkers currently live in.
Or for more about this micro-trend, check out these 5 Spaces that Predict the Future of Urban Housing.
What's your take on these micro apartments? Do you think they are a viable solution for singles in the big city? Or are they a step in the wrong direction?