Deciding that you want or need a kitchen remodel is fairly easy. But figuring out how much that kitchen remodel is going to cost you can be a hard number to nail down. It's not like you can cost compare on Amazon.
Instead, you need to research, create a budget, and track your expenses. Having your own kitchen remodel worksheet can help. Download it here. (You'll be prompted to make a copy of the interactive worksheet -- just for you.)
Or, scroll on to see what kind of costs to expect and how to save on a kitchen remodel to get the most return on your investment.
Average Kitchen Remodel Cost
Below are itemized costs of kitchen materials and labor so you can see the possibilities for saving on your kitchen renovation.
Price ranges for materials include builder-grade, mid-grade, and better quality, but not the most expensive you can buy. These numbers are meant to convey typical costs.
| | | |
| --- | --- | --- |
| Item | Estimated Materials Cost* | Estimated Labor* |
| Kitchen cabinets | $3,750–$10,200 | $3,000–$16,250 |
| Dishwasher | $370–$1,500 | $370–$1,500 |
| Range / Stovetop | $600–$1,300 | $100–$300 |
| Wall oven | $600–$3,500 | $800–$3,200 |
| Refrigerator | $300–$10,000 | $100–$200 |
| Range hood | $500–$1,000 | $300–$500 |
| Microwave | $290–$870 | $90–$270 |
| Countertops | $825–$3,850 | $1,858–$4,177 |
| Flooring | $1,435–$5,520 | $4 to $19 per square foot |
| Garbage Disposal | $150–$950 | $50–$100 |
| Paint | $300–$750 | $170–$680 |
| Sink and Faucet | $250–$1,000 | $350–$1,000 |
| Total | $9,370–$40,440 | $7,188–$28,177 |
* Sources: Angi, Bob Vila, Fixr, Home Advisor, HomeGuide, LawnStarter, The Spruce, and Synchrony. Flooring labor costs not included in totals. Costs will vary based on your kitchen's size and the features you choose.
Kitchen Remodeling Cost Based on Kitchen Size
Your kitchen remodel cost depends, in part, on the size of your space. You generally need fewer materials to renovate a smaller kitchen. But small changes could have a more noticeable impact on limited space. On the other hand, a larger space would call for more materials and more hours of labor than a small space.
With a sizable kitchen, you may have more room for a complete transformation. For example, major changes could include adjusting wiring to move appliances, shifting plumbing to relocate your sink, or even knocking out walls for more open space. If you're planning on any extensive changes like these, leave enough room in your remodel budget for some larger expenses.
The average cost of a kitchen remodel can start at around $150 a square foot and reach up to $450 a square foot, according to Fixr. The National Association of REALTORS® "Remodeling Impact Report" found that a kitchen upgrade costs about $45,000. Pricing for your kitchen remodel can depend on the kitchen size, the materials you select, and the type of renovations you make.
Small Kitchen Remodel Cost
Smaller kitchen remodels often focus on making limited space more efficient. While that may still include some massive changes, minor adjustments could go a long way in helping you achieve the kitchen of your dreams. Common small kitchen remodels include improving lighting, adding storage, or painting the walls.
For a small kitchen remodel, between 64 and 144 square feet, average remodeling costs can range from $9,600 to $64,800, according to Fixr.
Large Kitchen Remodel Cost
In a larger kitchen, you can make changes on a grander scale. Some popular remodels include redoing countertops, reimagining the kitchen's footprint, and customizing your cabinets. While remodeling a large kitchen can quickly become expensive, the added value may be worth the price.
For a large kitchen remodel, between 200 and 400 square feet, average remodeling costs can range from $30,000 to $180,000, Fixr reports.
Minor Kitchen Renovations vs. Complete Kitchen Remodels
Kitchen renovations could range from minor cosmetic changes, like a new coat of paint, to a total overhaul. Your renovation budget should reflect the scope of the work.
A minor renovation may include tweaks and upgrades that don't require intensive preparation or foundational construction. You may not even have to hire a contractor for smaller renovations. Instead, you might try DIYing them. For example, repainting your walls a more fashionable color, upgrading your appliances to the most cutting-edge models, or even retiling could improve your kitchen at a relatively low cost.
For a few simple, low-end changes, and a couple of new appliances in a small kitchen, the remodeling cost could reach around $8,000, Fixr reports,
To create your perfect kitchen, you may need more than minor changes. You may want to rearrange your layout, add windows for natural light, or knock down walls to create more space. These structural adjustments often come with high-priced materials and specialty labor costs, but they could add a lot of value to your home.
For high-end updates, like taking down walls to add square footage or new custom cabinets, countertops, and appliances in a large-size kitchen, you can expect remodeling costs emodel to be close to $150,000, according to Fixr.
Benefits of Remodeling Your Kitchen
The time, hard work, and money you put into a kitchen remodel or renovation often pays off in the long run. Many homes, especially older homes, come with dated kitchens. A remodel could update your kitchen's style, elevating your home's appearance.
The kitchen is a hub of activity in the home, especially for people who love to cook or host events. The wrong layout or appliances could frustrate you and create obstacles in entertaining or cooking. Renovating your kitchen could make it more functional for your needs.
Ninety-four percent of homeowners liked being at home more after a complete kitchen renovation, according to the NAR "Remodeling Impact Report." Whether you need more space to bake cookies and cakes or want a breakfast nook for the family to enjoy together, renovations could help you get your ideal kitchen.
Does a Kitchen Remodel Improve Home Value?
Factors like the overall housing market, your geographic location, and even your specific neighborhood may impact your home's resale value after a remodel. In most cases, however, a kitchen remodel could help you sell your home when the time comes.
An updated kitchen with new appliances and a functional layout usually makes your house more desirable and eye-catching than a worn-down or outdated space. A great kitchen renovation may help potential buyers imagine themselves enjoying your home, making them more likely to buy.
A kitchen upgrade provides an estimated 67% return on investment, according to the NAR "Remodeling Impact Report." So, if you're considering making some changes, even a few updates could generate a valuable payback.
Kitchen Remodel: DIY vs. Professionals
Whether you decide to remodel your kitchen on your own or hire professionals could significantly impact your overall costs. DIY is often less expensive, but that doesn't mean you should avoid hiring contractors. After all, a DIY project that goes wrong could cost you more in the long run.
As you consider the best way to approach your kitchen renovation plans, think through your skill sets. If you have experience with a particular type of project or repair, you could save money by doing it yourself. You could learn how to complete many simple projects yourself by following guides or watching videos online.
For more technical projects or tasks that require precision, it's often a good idea to hire professionals. As a rule of thumb, you should leave plumbing, rewiring, and large-scale construction to the pros.
DIY Kitchen Renovations
Repainting the walls. A new coat of paint could change a kitchen's character, and you don't need to hire painters. Repainting doesn't usually come with a high price tag beyond the cost of semi-gloss paint and basic materials. Prep surfaces first for the best results.
Changing light fixtures.  Updated ceiling light fixtures could glam up your kitchen or make it brighter. Just make sure to turn off the breaker before beginning the process, to avoid an electric shock.  
Installing new shelving. Limited storage is a common small-kitchen woe. To make your space neater, try installing floating shelving. If you keep costs of materials low, shelving could give your kitchen an affordable facelift.
Adding a backsplash.  A tile backsplash behind your sink or stove can bring color and texture to your kitchen. You could lay tile yourself or even add a peel-and-stick backsplash for a speedy, inexpensive renovation.
Upgrading your faucet.  Swapping out your faucet might help your kitchen look more modern and reduce the appearance of wear. Plus, it's typically a quick DIY project that doesn't require plumbing. Just switch the water off first to avoid a mess.
Professional Kitchen Remodeling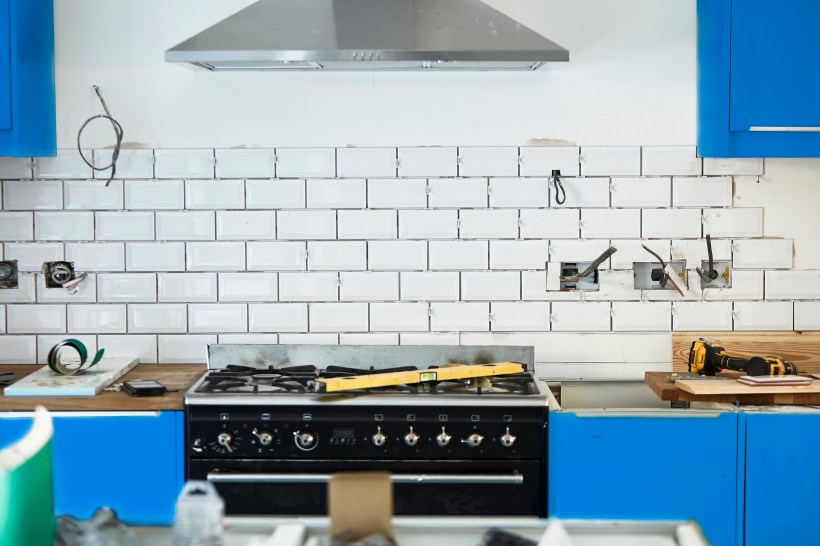 Adding new windows. While installing a new window may seem straightforward, the process is quite technical. Small mistakes could cost you a lot in curb appeal, energy efficiency, and weather protection. If you sell your home, your DIY window may also fail inspections.
Knocking down walls. Even if you have the construction skills to knock down a wall and open up your space, think twice before doing so. Taking down a wall involves many safety considerations: Does the wall contain asbestos? Is it load-bearing? Does electricity or water run through it? To avoid costly mistakes, consult a pro. You'll likely need permitting for a job like this, too. A professional contractor can help navigate this part of the project.
Installing countertops. Countertops are large and heavy, making installation labor-intensive. Plus, the work must be precise or you risk expensive accidents. Professionals have the right tools and expertise for the job.
Rewiring. Moving kitchen appliances may call for rewiring work. You should never attempt electrical work without a professional, because it's dangerous. While other mistakes may be expensive, electrical mistakes could seriously injure you or your loved ones. Leave electrical work to electricians.
Replacing your sink. If your kitchen sink is too small or simply worn out, a new sink could rejuvenate the space. However, you shouldn't try to install one yourself. You may accidentally violate plumbing guidelines in an attempt to save money. Plus, if you install your sink incorrectly, you could end up with a flooded kitchen.  
How to Budget for a Kitchen Remodel
When you stick to a clear budget and plan, kitchen remodels are more manageable. Here are a few key considerations when budgeting for a kitchen remodel.
Remodel in Phases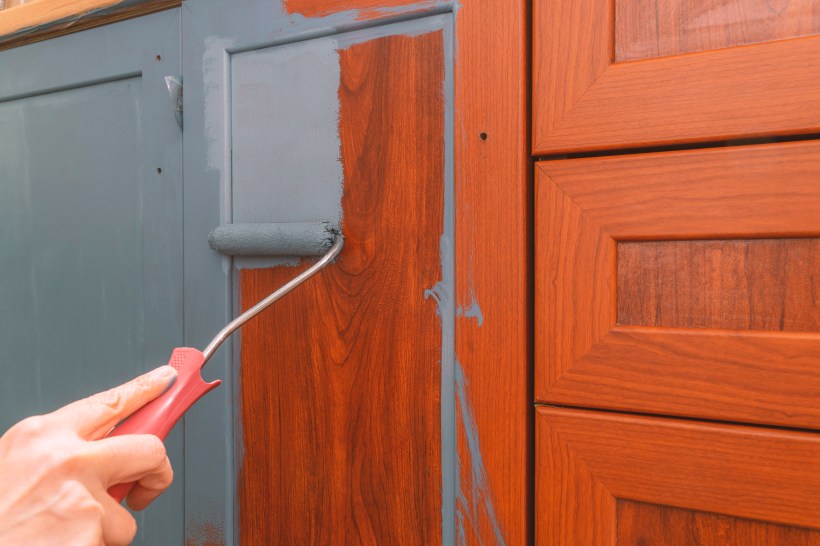 Major kitchen renovations are often time-consuming and expensive; breaking the project into parts can make it easier on your wallet and schedule. Depending on the size of your renovation, you may not be able to afford all your ideal upgrades at once. That's OK! You could always redo your flooring, upgrade an appliance, or make other changes after saving a little more.
Plan a Kitchen Layout First
If you start from scratch with a new layout, a designer or architect could save you from a headache later. While hiring help may cost a lot upfront, repairing mistakes in your layout after you begin renovations could cost even more.
Shop Around for Your Materials
Consider the materials, including new appliances, fixtures, or countertops. What features are non-negotiable for you? What would you feel comfortable compromising on? You might find discounts shopping online or even looking for lightly used materials, but don't sacrifice quality.
How to Save on Kitchen Remodeling Costs
These money-saving tips can help you cut costs during a kitchen renovation without compromising on style or quality. Incorporating even just a few budget-friendly ideas can lower the cost of a kitchen remodel so you stay on budget and still love the look of your remodeled space.
Kitchen Cabinets
Go with stock cabinets. Avoid custom, which can quadruple your costs. A typical stock cabinet costs as little as $50 per square foot, whereas custom approaches a grand per cabinet (even more if you go super high-end), according to Fixr.
Just replace parts. You can absolutely transform the look of your cabinetry without buying new. Buy new doors, upgrade your hardware, and/or take off some doors completely for open shelving.
Hire a handyperson. If the installation is simple — without tricky corners or bowed walls, for example — hire a handyperson instead of a carpenter and pay less for labor. If you hire a handyperson, installing cabinets typically costs $50 to $100 an hour, Fixr says. The more skilled they are, the higher the rate.
DIY your demo. Demolition is also a labor cost you can trim — and you get to wield a sledgehammer. Win-win!
Refinish cabinets. If your cabinetry's bones are in good condition, you can simply add trim, paint, or stain for a look that's as fresh as the day the cabinets were installed.
Scout Ikea's clearance room. Sektion is Ikea's standard cabinet box. They're popular and flexible, and they make frequent appearances in the clearance room. If you've got time, you can fill a whole kitchen with deeply discounted floor models, piece by piece.
Kitchen Painting
Wait to paint. Painters drop their rates when business slows in the winter, and some offer discounts if your job is a fill-in between other projects.
DIY the prep. Many painters charge hourly, so do some of the prep work yourself, like removing outlet covers and light fixtures.
Or DIY it all. The main characteristic needed is patience, and the biggest resource needed is time. If you've got those, you can finish off even the most professional of remodels with your own paintbrush.
Kitchen Appliances
Pick up last year's models. Stores discount brand-new dishwashers, ovens, and microwaves in September, October, and January, while prices for fridges bottom out in May.
Keep appliances in place. Water, gas, and electric lines are expensive to move or add. In fact, our cost estimates don't include this expense because costs vary widely depending on the complexity. But one thing is for certain: If you do plan to move them, your costs will jump considerably.
Skip stainless. A stainless steel or other luxury finish could cost more per appliance. If basic white appliances appeal to you, your costs could be much lower. And white never goes out of style.
Kitchen Countertops
Skip the big box stores. Go with a local fabricator. They have a greater variety of options and often charge less, as big retailers outsource both the labor and fabrication.
Get prefabricated laminate. Onsite cutting could jack up your labor costs.
Choose discontinued, remnant, or odd lot materials. They come with deep discounts.
Kitchen Sink
Choose a self-rimming sink. Sink costs vary, but the installation for a self-rimming (or drop-in) sink is generally easier and therefore less expensive than for other sink styles, like an undermount or farmhouse sink.
Focus on the faucet. If your sink is in good shape, just replace the faucet and you'll still dramatically change the look. And — bonus — faucets are an easy DIY install.
Kitchen Flooring
Go with quality sheet vinyl. It's the least expensive for both materials and labor. Plus, it's durable and easy to keep clean. Tile and hardwood each cost about the same for materials, but tile costs more to install because of the grouting. If you need a new subfloor or the existing floor is challenging to remove, your costs could jump even more.
Other Ways to Save on Your Kitchen Remodel
DIY the buy. If you're using a general contractor, buy your own materials. Contractors mark up the prices to cover their time and risk in purchasing for you.
Get the inside scoop. Get on the email list for your local hardware or home improvement store, and get the jump on daily deals, seasonal specials, and clearances. Unsubscribe your heart out once your project is done.
Let 'em know you're price shopping. Email specialty stores, such as cabinet and countertop suppliers, to get quotes, and let them know you're shopping around. You'll save time and could get a lower price if they know there's competition.
Measure. And measure again. Failure to do that is the most common remodeling mistake homeowners make. No appliance, countertop, or other kitchen feature is a bargain if it doesn't fit or needs so much extra work and labor to function that you've lost any savings.
Cut Kitchen Remodel Costs
You don't have to skimp or do without to save money on your kitchen remodel. Instead, use our worksheet to help calculate your budget. Then, stick to it. Plus, incorporate a few money-saving tips to help cut kitchen remodeling costs where you can. In the end, you may be able to keep kitchen remodel costs low and still love cooking, eating, and spending time in your transformed space.