This is the second post in a series following Jetson Green's Preston Koerner as he transforms an "embarrassing" bathroom into one family and friends can happily use — and that conserves water.

In my last post, I bemoaned the challenges with our upstairs bath. It's dated, crusty, and water-wasting.
Our bath isn't big — just 40 square feet — and I really don't like having the toilet by the door, but I'm working with the existing footprint to avoid redoing the plumbing and tile. Here's a layout of my bathroom (click to enlarge):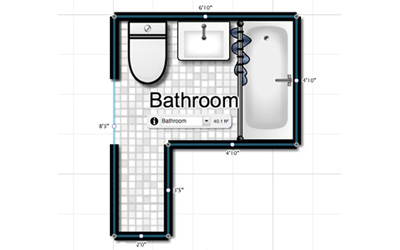 A tight squeeze
I have about 29 inches from the wall to the door to squeeze in a toilet. That's easy with a rounded bowl, but I'm a tall guy. So I'm going with an elongated American Standard toilet that will fit the tight space without feeling like a commode for kids.

The room also won't allow for a big or double vanity. The maximum width that will fit is 24 inches. I've found a contemporary-style cabinet from Kohler that I hope will do the trick. Always double-check the specs: I ordered it online thinking it included the sink, but sadly, no. So I had to purchase the matching sink separately.

Tear out, then recycle
The first thing I had to do was strip down the bathroom to its bare essentials.

I pulled out the vanity, mirror, wall cabinet, light fixture, toilet, and shower doors, and donated the whole caboodle to the local Habitat for Humanity ReStore in Salt Lake City. ReStore was nice enough to give me a donation slip to use with my income taxes, and I left with the expectation that perhaps my old stuff will find a new life somewhere. 

Reusing the tub and tile
Early on, I decided not to tear the bathroom down to its studs, partly to delay a major overhaul for the future when I hope to renovate the entire house. The tile color is dated and the tub looks like a mess because the prior owners gave it a coat of paint. But beyond appearance, the tub is a decent cast-iron bath and the wall-surround tile needn't end up in the landfill. So I'm going to have both refinished.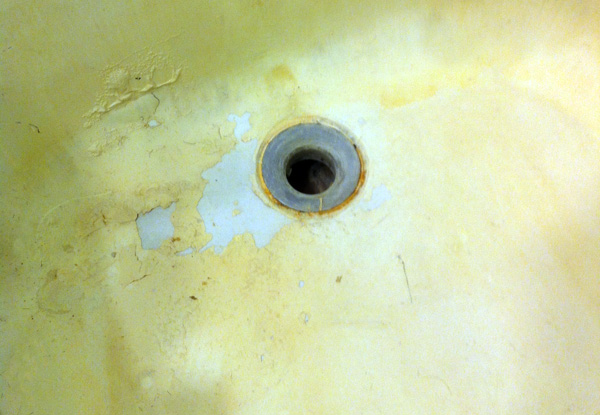 After researching tub and tile resurfacing options, I found a company called Miracle Method, and was pleasantly surprised with their display models. The rep quoted me about $900 to refinish the wall surround and tub.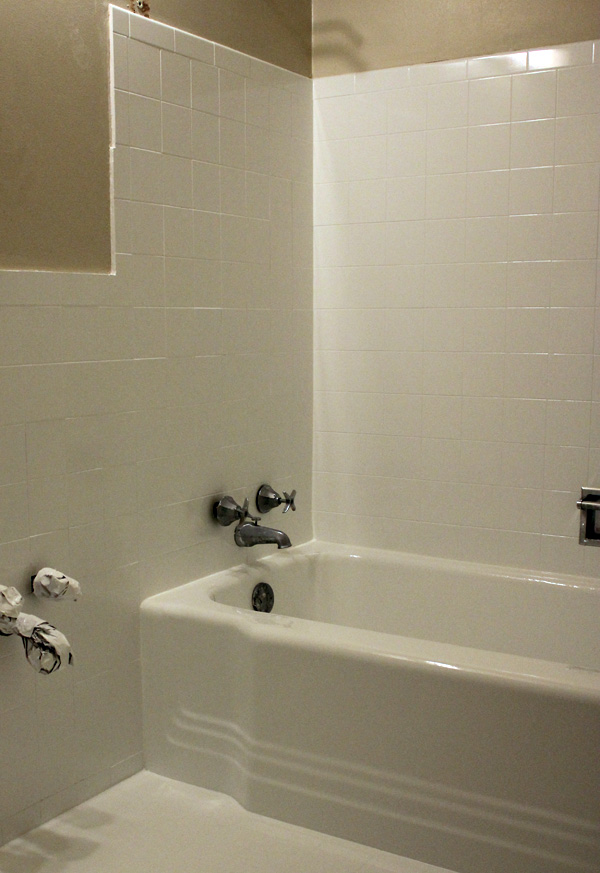 The refinishing took about three days, and I ended up staying at a hotel because the noise and fumes were too much for me, my wife, and my boys (including a two-month old baby).

Day 1: They completely stripped and sanded the surface of the tub and tile of its finish, filled in all the holes and scratches with Bondo putty, and left the tub and tile to cure.

Day 2: They refinished everything but a little bit of the floor, which is tiled as well. 

Day 3: They flecked the floor to give it some grip to prevent slipping, and cleaned up. It's like I have a brand new bathroom already.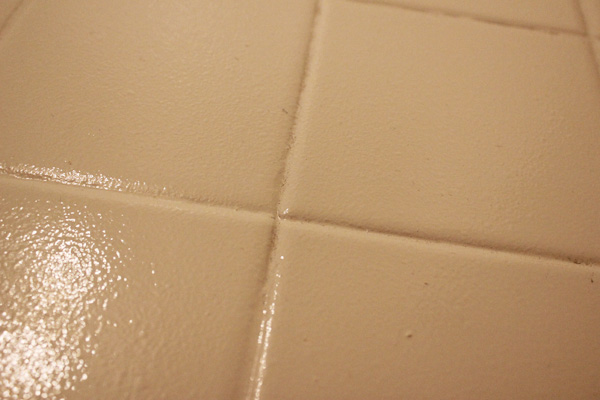 Ventilation upgrade
I'm glad I installed the new ventilation fan (though I let an electrician handle the electrical part) before the tub and tile work. I was able to use it to air out the bathroom while the refinish set in.

It's an Energy Star-certified Broan NuTone fan and cost about $130 at Home Depot. If you're into this kind of thing: It ventilates at 110 cubic feet per minute; it still makes some noise, but nothing like the jet fighter I had strapped to the ceiling before.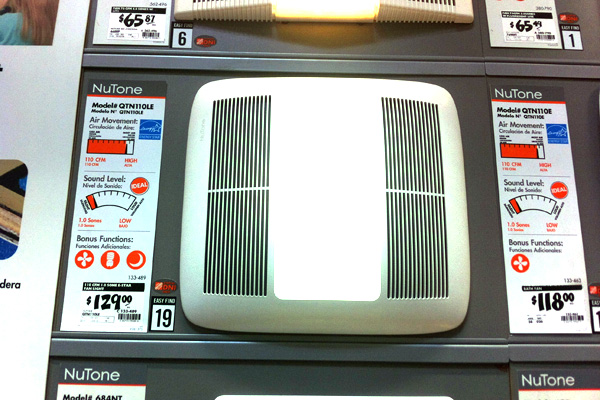 How much can I save on water?
To save water, I'm going for WaterSense products that outperform what I'm currently using. WaterSense is an EPA certification that indicates a product meets guidelines for water conservation.

I'm replacing the old 3.5 gallons-per-flush toilet, 2.2 GPM sink faucet, and 2.5 GPM shower head with a 1.28 GPF toilet, 1.5 GPM sink faucet, and 1.75 FPM shower head. (The shower head and sink faucet are part of the Moen 90 Degree series, which have matching towel bars and hooks.) The WaterSense fixtures should cost about $600.

We have two kids in diapers who take baths, so I tried to estimate what we might save with the upgrade. (It's a guess because our bill includes sewer and other items.) I figure we make an average of about eight flushes, use about eight sink minutes of water, and run about 12 shower minutes of water per day. If so, we save about 32 gallons of water per day.

Translating that into monetary savings is tough to calculate. In Salt Lake City, for the period from Dec. 2, 2011, to Jan. 3, 2012, I paid $8.82 for water, which is 700 cubic feet of water at the rate of $1.26 per 100 cubic feet. Over the same 33 days, if I save 32 gallons per day, then I save a total of 1,056 gallons, or 141 cubic feet, for the same time period. 

That leads to a whopping monetary savings of $1.77 by my calculation.

The financial amount isn't as meaningful as the 141 cubic feet or more per month in water, particularly with light snow here and drought conditions elsewhere in the country.
In fact, in its WaterSense label article, HouseLogic reports that 70% of U.S. counties will be affected by water shortages by the year 2050, according to a study by the National Resources Defense Council. That means water costs will rise, too.  

In my next post, I'll show you how the install is working out with the vanity, toilet, and new fixtures and chat more about my budget.  
In the meantime, here's my kid, being a helper.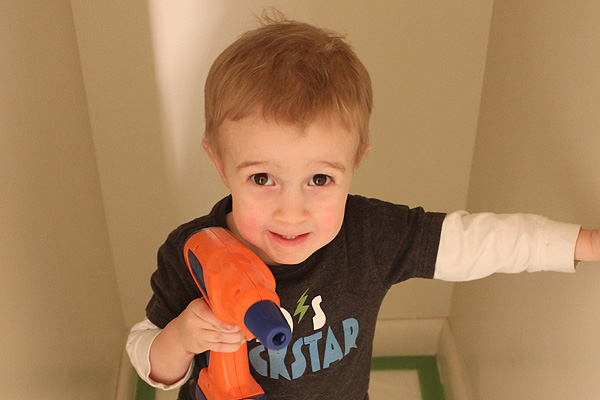 Have you remodeled your bathroom? What choices did you make to keep your costs down? Share your photos and tips.