If you think it's a cinch to replace your dull or dingy bathtub, here's a reality check: Although you can purchase a basic model for as little as $200, you'll need a team of home-improvement pros to swap out tubs. This includes hiring a contractor, a plumber, and maybe a tile setter. Don't forget there's demolition removal, too.
Sounds expensive, right?

But that doesn't mean you have to live with a yucky tub. There are a few low-cost ways you can give what you've got a much-needed pick-me-up.
Boost a Boring Built-In
You can make a builder's bathtub appear more spa-like by refacing the exposed side with bead board and decorative moulding.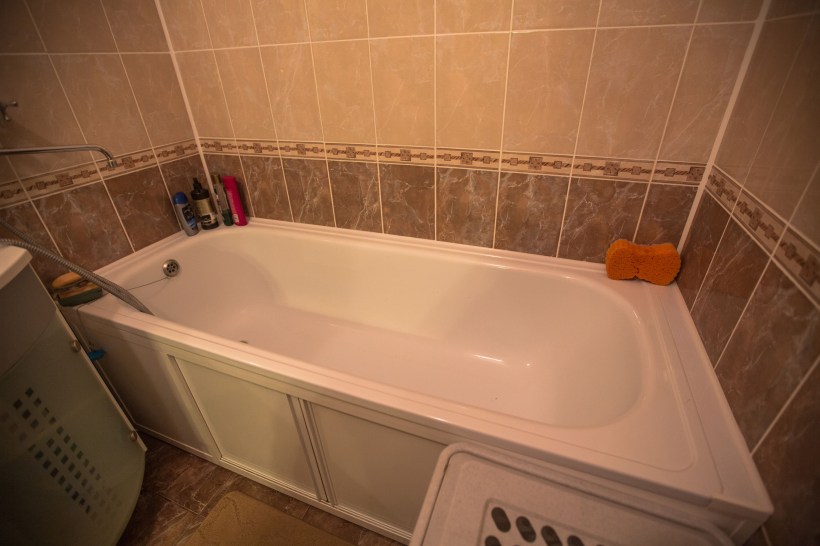 Here's the gist:
Build a frame for the bead board using 2 by 4s.
Attach the bead board to the frame using construction adhesive.
Add a piece of rot-proof PVC board to the top of the frame to create a ledge over the edge of the tub.
Add bed moulding and 5½" MDF baseboard as finishing touches.
Seal all gaps with waterproof caulk.
You can check out this tutorial for all the details.

Here's an estimated breakdown of the project materials and cost:
Lumber for wood frame: $5
PVC board: $26
Bed moulding: $7
Bead board: $15
MDF baseboard: $16
Construction adhesive: $4
Waterproof caulk: $5
Total cost: $78
The entire project can be completed in an afternoon, but you shouldn't use the tub for at least 24 hours to give the glue time to set.
Rub-a-Dub: A Claw-Foot Tub
A brand-new claw-foot tub made of cast iron will set you back at least $1,500. So if you have an old one, updating the exterior with paint will save you a bunch.


You'll want to use a paint with either a semi-gloss or glossy paint sheen so it repels moisture and is easy to clean. You can either paint it a solid color or opt to use a stencil to create an eye-catching pattern.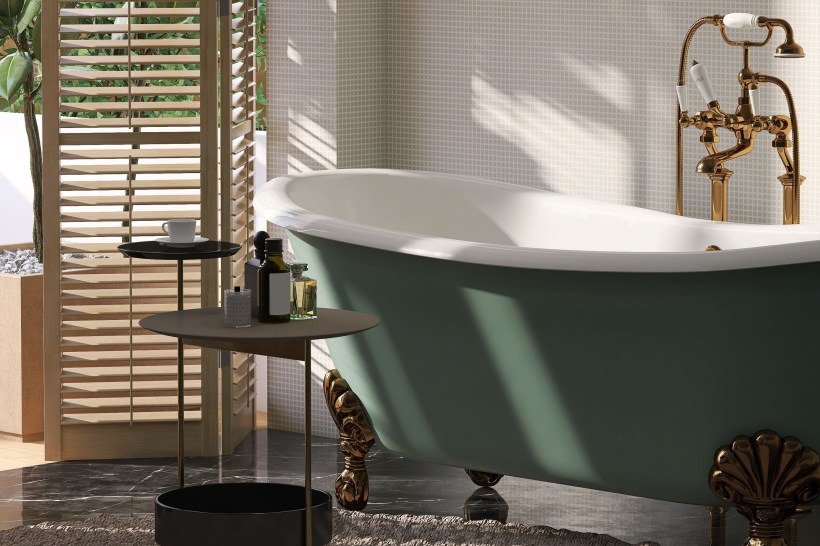 Make sure you lightly sand the outside of the tub, and follow up with a thorough cleaning before painting. If you end up exposing some of the metal after you sanded, you should touch up those spots with a spray primer so your topcoat sticks.

Project materials:

150-grit sandpaper: $6
Foam paint brush set: $7
Semi-gloss or gloss paint: $24
Total cost: $37
If you need to refinish the inside of the tub, see below.
Give a Grubby Tub a Facelift
If your tub is chipped and stained because the original finish has worn away, there are a few ways you can restore the tub to its original luster.

Call a Pro:

While different companies have their own proprietary methods for tub restoration, they all basically do the same thing: After prepping the tub's surface, they coat it with a bonding agent, then apply a tough acrylic finish. New finishes come in a variety of colors and textures.

Tub finishes that can be professionally restored include porcelain, fiberglass, acrylic, and cultured marble.

The cost for a pro to do the job usually starts at around $500 for a standard-sized bathtub. The entire process -- including time to set -- takes two to three days.

FYI, the process is pretty toxic and until your tub completely cures, there will be a strong residual chemical odor.

DIY:
You can also refinish your tub yourself at a considerable savings. The DIYer who reglazed this tub was quoted $350 for a professional finish. Because that wasn't in her budget, she knocked out the project herself with a DIY tub refinishing kit; you'll find them at hardware stores and home improvement centers for about $69.
First, clean the tub using an abrasive pad and a cleaning product. Clean twice, thoroughly rinsing after each cleaning.
Sand using 400-grit wet/dry sandpaper. Rinse, dry with towels, then let dry completely for several more hours.
Apply tub and tile enamel with a sponge brush. Afterward, the tub should cure for 3 days.
FYI, this stuff is pretty toxic, so you'll need to wear a mask and open up the windows.


Here's a breakdown of project costs:
Wet/dry sandpaper: $9
Tub refinishing kit: $69
Small paint tray & foam rollers: $7
New drain and trip lever: $30
Cleaning products and scrub pads: $11
Total cost: $126

Keep in mind it's tricky for a DIYer to achieve a smooth finish on the first try.
Bathtub Liners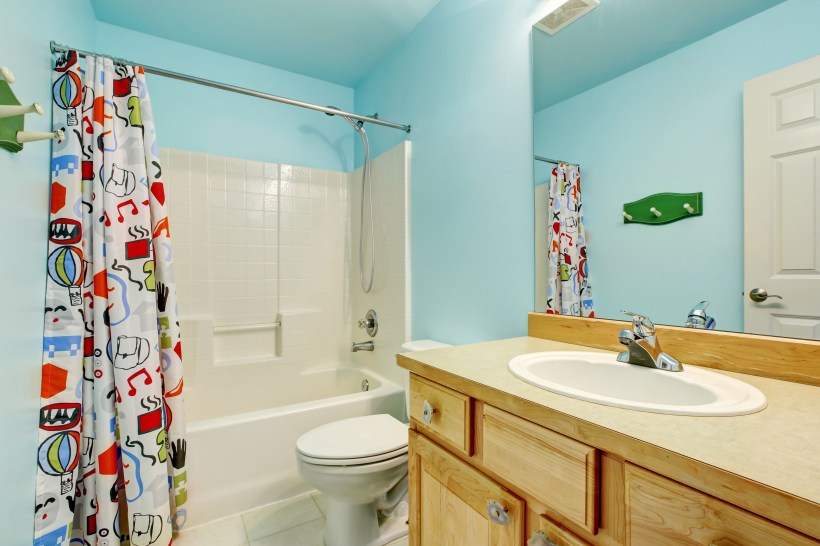 Liners are a great way to cover up a blah bathtub. They're usually made from PVC or acrylic and are installed right over fixtures. Here are a few things to keep in mind when exploring this solution:
This is not a project you can DIY. But there are many companies and home improvement stores that offer professional installation.
Prices start at about $850 for a standard bathtub. That's because each liner needs to be customized to fit over your tub and fixtures.
Since it's a cover-up made from heavy-gauge plastic, your tub may feel a tad smaller.
If water gets trapped between the liner and your tub, you'll have a serious mold and mildew problem on your hands.
It feels and looks like plastic.
Related: