DIY may be the trendy term, but we vote for calling it DIYWRAP: Do It Yourself With Research And Patience. Every time.
Overconfidence is a golden ticket to the mistake factory. Here are whoopsies even seasoned home improvers have made, all of which could have been avoided with more attention to two critical DIY components: research and patience.
Not Sticking to Your Kitchen Vision
Kelly, the blogger who writes "View Along The Way," says her kitchen is "very functional and not offensive."
Not the highest of praise. So why doesn't she love it? She wanted a white kitchen but ended up with a cream-and-brown combo.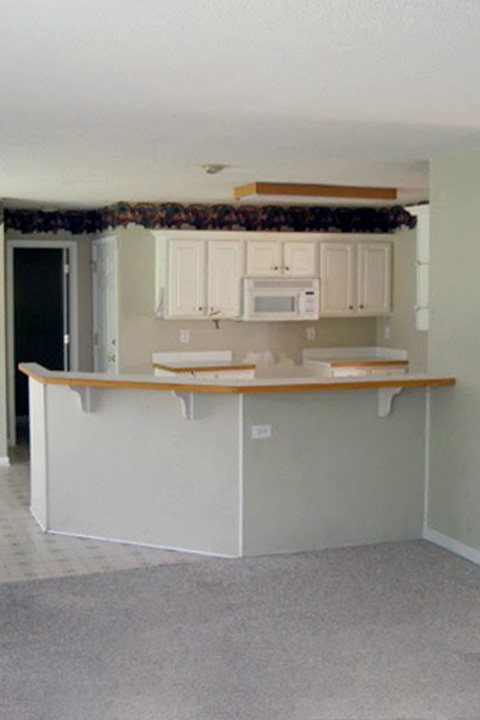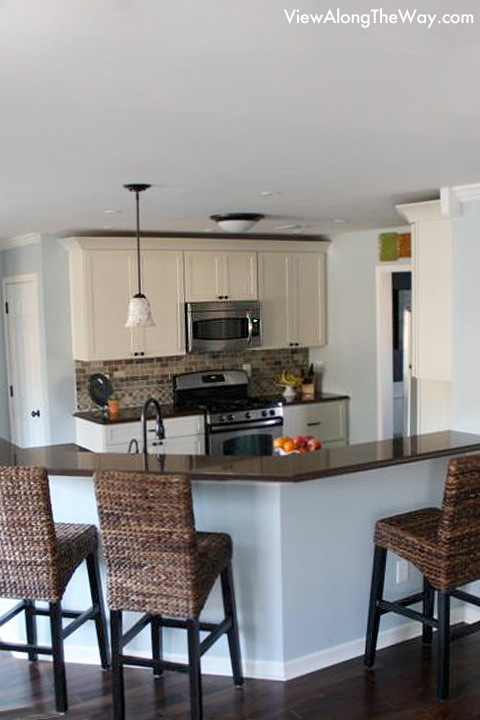 Image: ViewAlongtheWay.com
A kitchen designer at a retail store suggested Kelly get cream cabinets because white would appear "too stark a contrast" with Kelly's dark wood floors. Since the designer was a supposed expert, Kelly figured this was the way to go even though she had thoroughly researched her color scheme.
Yup. Even after doing the research, she made the mistake of not trusting it.
Result: She ended up with a lovely kitchen, but not the one she wanted. And when it's your home, it should be what you want.
How you can avoid the same mistake: After you've done your online research, apply a little patience and wait long enough to bring home cabinet samples, floor samples, and paint samples to see how they really look. Don't go on someone's word.
Thinking Too Small in Small Spaces
Bathrooms are one of the most difficult rooms to remodel because you need to pack a lot of utility into every inch of space, notes Pam Kueber, the blogger behind "Retro Renovation."
Especially when the bathroom is really tiny. That's where DIYers make a really common mistake: thinking everything must be diminutive in order to work in a small bath.
RetroRenovation
Kueber wishes her new shower was 36 inches wide instead of 34 inches — because it's just too tight, and there's not room for a grab bar, something she wished she had when she hurt her back.
More research might have led her to the wider Kohler shower base she now wishes she had but didn't know existed at the time.
How to avoid the same mistake: Be sure to do research on how much space each functional item in a bathroom should have — sink, vanity, lighting, shelving, shower, etc. And if you're tempted to shave some of those recommended inches, you might find consulting a designer is well worth it.
Related: Design Tips for Remodeling a Small Bath
Not Stopping When Something Feels Wrong
Bruno Bornsztein, of Curbly, estimated refinishing his enclosed porch (see the work in progress below) would take about a week.
Two-and-a-half months later, he was still tackling it.
The saga began when he rented an orbital sander to refinish ancient wood floors, which, once devoid of carpeting, were covered in paint and adhesive.
He sanded and sanded and sanded, burning through coarser and coarser sandpaper. In fact, he spent $200 on sandpaper, not to mention the $40-per-day sander rental, and despite his rush, he wasn't getting anywhere.
Turns out, the hardware store had rented him a broken sander, and his impatience to finish the project actually extended it, as he failed to just stop and figure out what was going wrong.
How to avoid making the same mistake: When you're doing a DIY project and you encounter an obstacle, "don't feel you have to push through with brute force," Bornsztein says. "If something feels wrong, it probably is. That's when to call the store or a friend, or watch a YouTube video on the topic."
When it comes to DIY projects, patience isn't just virtuous, it ends up being more efficient than winging it. Also, weigh the time and expense it will cost you to do it yourself against hiring a pro. In the end, Bornsztein spent as much if not more than if he hired a pro.
Bonus tip: If you find thick paint or adhesive on floorboards, a chemical stripper will likely work faster than a sander, Bornsztein says. Just make sure to wear splash goggles, gloves, and protective clothing. And keep your space ventilated.
Related: What You Need to Know Before You Refinish Hardwood Floors Yourself
Thinking You Need to DIY Each Step
When evaluating how DIYable a project is, homeowners consider cost and compare their abilities to each step of the process.
But step one rarely involves a hammer; it's more likely to include a delivery truck. Forgetting that is how John Gerard, the blogger behind "Our Home From Scratch," learned installing hardwood floors isn't for lightweights.
To save money, Gerard purchased his flooring from an online distributor that required he pick up the materials. To cover 600 square feet, Gerard needed 28 boxes of the 3¼-inch-wide oak flooring (below). Since each box weighed around 70 pounds, Gerard had to haul almost a ton of flooring home. Not a job for his car or his back.
How to avoid making the same mistake: No matter the project, consider how capable you (or your vehicle) are of truly doing the entire thing yourself, from purchasing the materials to the cleanup. Even if you have to call in a pro for a portion of the job, you can still consider it DIYed. We won't judge.
Here's how nicely Gerard's floor turned out:
Related: 4 Ways to Avoid DIY Mistakes — From a DIYer Who's Made Them All