Shutters are a great way to dress up the front of your house and give it some extra curb appeal. So when "Cozy. Cottage. Cute" blogger Sarah Haywood wanted to bump up her northern Ontario home's exterior charms, she made her own board-and-batten shutters, complete with decorative hinges.
 
"We chose the board-and-batten style to give our home some cottage curb appeal," Sarah says. "I've seen this style of shutter with both wide and narrow gaps between boards. I prefer small gaps, but either looks great."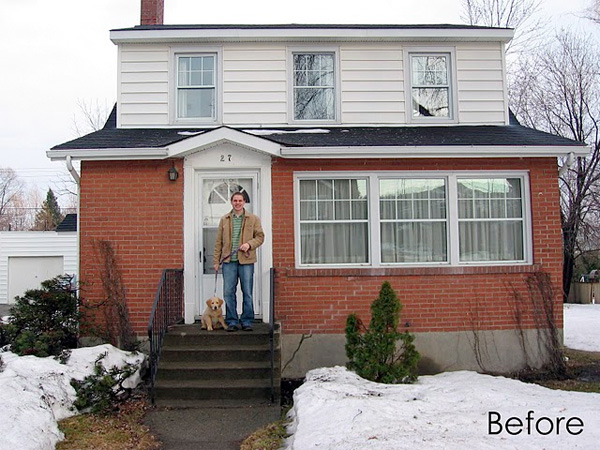 The Big Picture

Each shutter consists of three 1-by-4-inch pine boards glued together and screwed to cross pieces — the battens — 8 inches from the top and bottom edges.

After sanding, priming, and painting, the shutters were fastened to the house with screws. Black hinges added decorative detail and a burst of contrasting color.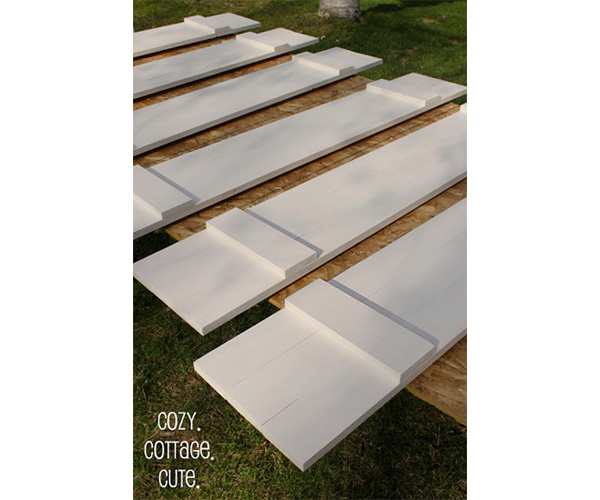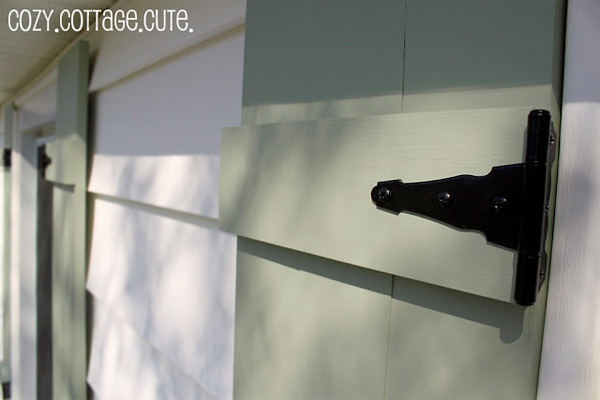 Project Pointers to Make Everything Go Smoothly
If you want a tight fit between boards, use bar clamps.
For raw pine, use a shellac-based primer, which blocks sap and knotholes from bleeding through your paint. For a more rustic look, use an oil-based primer.
When attaching the shutters to the house, pre-drill holes with a slight upward angle to prevent water from seeping into the holes.
If you want wider shutters, use more boards.
To prevent screw holes from showing, screw the boards to the battens from the back.
How Much Time and Money?

Sarah and her husband built and installed three sets of shutters in two days. They began early Saturday morning and finished Sunday evening.

The materials cost $230. Here's the breakdown.

Ten 1-by-4-inch white pine boards, 12 ft. long: $120
One 12-oz. tube of construction adhesive: $7
Rust-proof deck screws: $5
Decorative hinges: $60
One quart shellac-based primer: $13
One quart exterior paint: $25

In Her Next Life

Sarah would've left "a smidgen" more space between the boards, giving the shutters a more cottage-y feel. When conceptualizing the project, she figured the boards naturally would shrink over time, creating those small gaps. But the shutters were so tightly constructed — glued, clamped, and screwed — that no gaps have emerged.

The Last Word

Sarah and her husband love their new shutters (although hubby wishes she'd made each shutter a little wider), and neighbors applaud the home's added curb appeal.

"The shutters look exactly the same as they did the day they were installed in 2011," she says. "They are holding up extremely well. I still love how they look and only wish that we had made them sooner!"

More Curb Appeal Ideas
And don't miss the other stories in our Boost Your Curb Appeal series:
Share your own cool curb appeal projects in the comments section below.