We already know the benefits of window films — they're energy-efficient, they boost privacy, and they reduce UV rays coming into your home. But, as our visual editor Liz Foreman found while searching for images last year, window films can also be drab and dowdy.

Not anymore! Check out these lovely patterned window films from UK designer Emma Jeffs (You can get them in the U.S. here). Cut them to size with a utility knife and adhere them directly to your clean windows.
If you've been considering window film, but aren't in love with plain window films, these may be the solution you're looking for.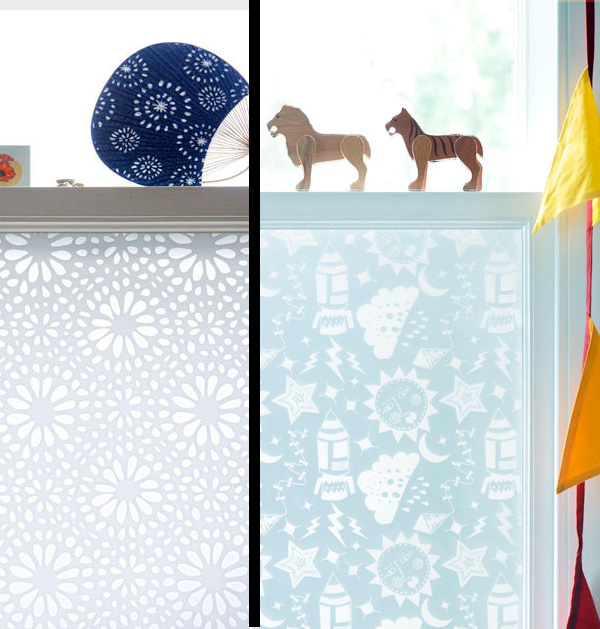 They'll save you money, too — some window films reduce solar heat gain by as much as 70%, making them especially useful in warm, sunny regions. We're not sure how much energy these decorative films save, but it's a given any window covering will reduce some solar heat gain.

Want more window ideas? Here are 3:
If you're in the market for other ways to boost the energy efficiency of your windows, check out these three solutions:
1. Window coverings, such as honeycomb shades, plantation shutters, or drapes, make rooms look nice while keeping heating and cooling bills low. You can earn tax credits for installing them, too.
2. Check your windows and doors for air leaks so your indoor air doesn't seep out. If you can see light peeking through cracks, or if your windows rattle in their frames, add caulk and weather stripping to seal them up.
3. Don't rush to replace windows if they don't slide as well as they used to or if your wood sashes are cracked. Save money by repairing them yourself. Most fixes can be completed in less than an hour.
What window coverings do you prefer?