Homeowners have long used open floor plans to pursue the wide open spaces indoors. But you can also open up vertical space and add light by installing a vaulted ceiling. The project may help your home stand out from competitors if you're planning to sell, and it could lift your joy to new heights, thanks to the extra spaciousness.
What Is a Vaulted Ceiling?
Most standard ceilings in homes and offices in the U.S. are somewhere between eight and 10 feet in height. According to the National Building Code, standard ceiling height is eight feet and should be no less than seven feet. A vaulted ceiling, then, is a design where the ceiling extends higher, closer to the roof frame. This is usually created with an arch as a support system and can be found in various styles, like a dome or a barrel. In some cases, you may see the arches defined with exposed beams.
Is a Cathedral Ceiling the Same as a Vaulted Ceiling?
No. Although the two terms are commonly mixed up or used interchangeably, technically speaking, a cathedral ceiling is different from a vaulted ceiling.
A cathedral ceiling describes a tall opening with symmetrical panels, where the high point is in the center. As you may have guessed, this is a common design found in cathedrals.
A vaulted ceiling usually follows the shape of the roof. Most often, the vaulted ceiling encompasses an arch that opens space overhead that would otherwise be blocked in by the ceiling.
Is a Vaulted Ceiling Right for My Space?
If your home is a modest-sized, single-story tract home with standard eight-foot ceilings, it's an ideal candidate for vaulting a ceiling. Depending on how steep your roof pitch is, vaulting a 20-foot-by-20-foot room creates a new ceiling that's 11 feet to 12 feet high at its peak.
The cost to vault a ceiling isn't low, though. You could pay around $20,000 for the extra space, according to FixR.com. In addition, utility costs could increase substantially after the conversion.
This cost could transform your whole house by adding volume and lots of light at a fraction of the cost of adding square footage, which could cost about $65,000 for 300 square feet.
Take a trip to your attic to look for the following:
Roof framing: Is your attic framed with rafters or trusses? Rafters are best because of the open space they leave. But if your attic has trusses — a type of crisscross framing — that makes it much more complicated and expensive, costing you 20% to 40% more.
Chimney: Is your chimney slanting into the space you want to open up? If so, that's pretty much a deal breaker.
Electrical lines: A cable or conduit will be attached to the tops of the joists. Moving wiring is routine.
Ductwork: Any sheet-metal ducts will have to be rerouted, typically under your house. Rerouting ductwork adds to the overall expense.
Plumbing pipes: Plastic vent pipes are easy to move; copper or galvanized-steel supply lines, less so.
Vaulted Ceiling Project Specs
Curious about the process of adding vaulted ceilings to your home? Let's talk project timelines, costs, and ROI.
But first, we'll clarify why adding vaulted ceilings where there aren't any is not a do-it-yourself project.
It's Not a DIY Project
It's a messy and potentially dangerous job. You should hire a professional contractor. Your contractor may enlist the expertise of a structural engineer to produce a framing plan.

The contractor's crew will handle the demolition, framing, and insulation, but will sub out the drywall, electrical, plumbing, and HVAC. You may want to tackle the painting yourself to save money, but bear in mind that you'll be working at heights.
Related: 5 Essential Questions to Ask Before Hiring a Contractor
How Much Time Will It Take?
For a 20-foot-by-20-foot room, allow at least a month from demolition to the final coat of paint and installation of electrical fixtures. Complications, such as rerouting HVAC ducts, will add to the time it takes to complete the project.

A vaulted ceiling remodel is a great opportunity to add skylights. You may also want to move to a more open plan, removing a few walls to create one large, vaulted space. However, it could take more time for demolition, installation of new flooring, and repairs to walls.
Related: Skylight Costs and Tips for a Mistake-Free Installation
What Is the Cost to Vault a Ceiling?
Costs vary according to the size of your space and how much the framing and other components have to be changed and moved. Here's an approximate breakdown for a basic vaulting project: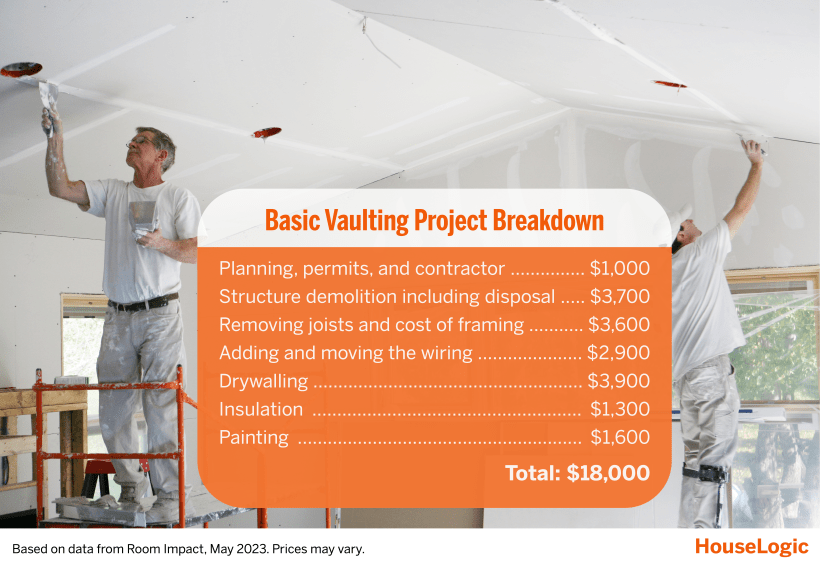 Planning, permits, and contractor: $1,000
Structure demolition including disposal: $3,700
Removing joists and cost of framing: $3,600
Adding and moving the wiring: $2,900
Drywalling: $3,900
Insulation: $1,300
Painting: $1,600
Total: $18,000
How Does a Vaulted Ceiling Affect Resale Value?
For an otherwise claustrophobic tract home, a vaulted ceiling can be a plus in creating extra breathing room, but it's unlikely to affect resale value.
"Make the improvement if you can afford it, if you will enjoy it, and if it makes your place more of a home," says Francois (Frank) Gregoire, a residential real estate appraiser at Gregoire & Gregoire in St. Petersburg, Fla. The market may or may not accept or value individualized changes, he adds. But a vaulted ceiling may still make the property more marketable and help it stand out from the competition when it's on the market.