There's so much to love about a brand new home! No worries about an aging furnace or the source of a stain in the carpet.
Yet, it can also feel a little, well, uninspired. Like that neighborhood in "The Truman Show." Your home can feel like a carbon copy of everyone else's.
But just like Truman, you don't have to succumb to the sameness. It's quite easy to take something ordinary in your home and make it a little bit special, something unique. Some examples to get you started:
#1 Paint Your Ceiling Fan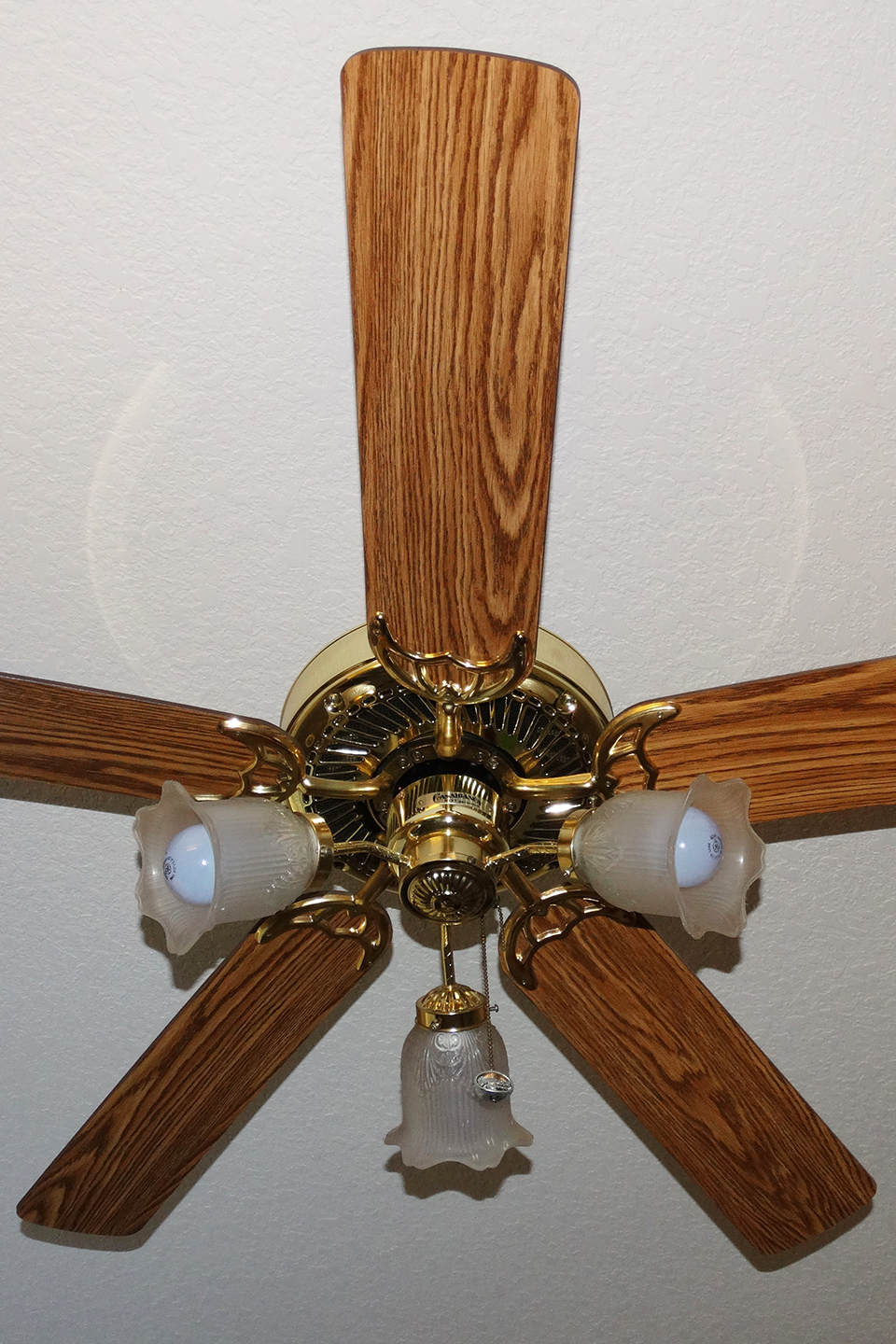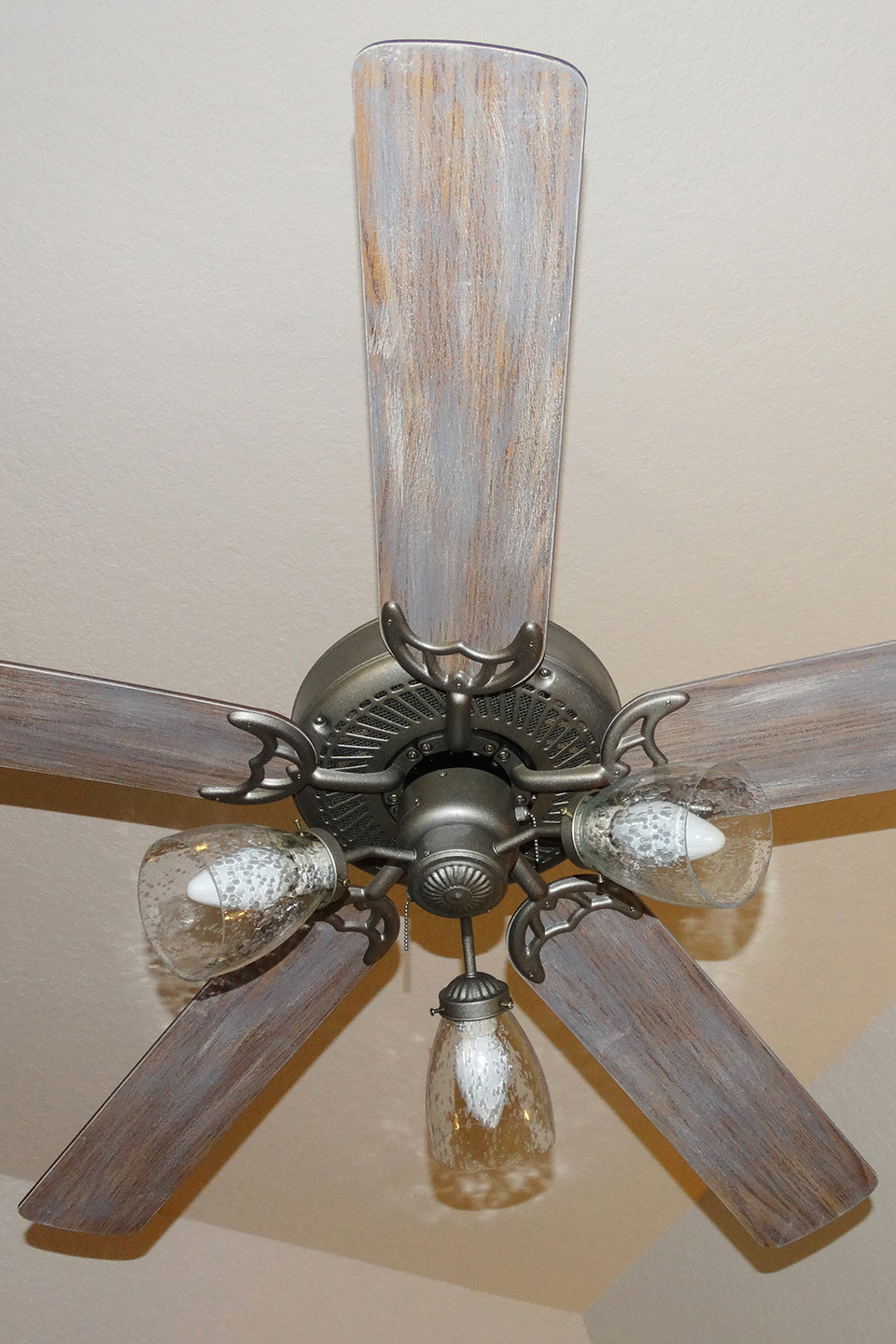 Image: Nicki Decker
Homeowner Nicki Decker and her husband banished a '90s-era builder-grade brass fan from their master bedroom by simply spray-painting the metal with an antique finish. Decker lightly dry-brushed two shades of mineral chalk furniture paint onto the medium-toned wood blades — delivering a whitewashed effect that enhances the room's rustic, beachy mood.
"I got to use my creativity to turn a dated eyesore into a beautiful and functional centerpiece that really brings the room together," she says.
#2 Frame a Window
A window over the kitchen sink is a common feature in homes new and old, but it doesn't have to be ordinary.
Seeking to "add some cottage-style detail to our very standard builders' kitchen," interior designer Amy Chalmers fastened vintage cast iron brackets to the cabinetry on either side of her window to create a framing effect.
The brackets support a stamped tin-covered plywood shelf, heightening the room's one-of-a-kind charm.
#3 Add Classic Molding
In this new San Francisco home, Geoff Gibson, a partner with Winder Gibson Architects, installed molding inspired by the city's classic architecture.
"To keep it from being too busy or too boring," his firm carefully selected the 5-inch-wide window and door casings and 6.5-inch-high
#4 Paint the Door
When the blah, beige-gray paint on his front door began to show signs of wear, homeowner Paul McLandrich says, "I figured I may as well use it as an excuse to spice up the outside of the house a little bit."
Three coats of Behr's "Red Pepper" semi-gloss exterior paint, and no one has trouble spotting his house from his neighbor's.
#5 Upsize Your Cabinets
Like many people, Detroit-based home stylist Sarah Macklem had dreams of replacing the basic birch cabinetry in her kitchen with tall, custom creations, but had a budget that required more modest measures. To achieve the look, she capped her existing wall cabinets with 1-by-4-inch boards and thick, decorative crown molding.
"Adding height to the top made my short cabinets look taller and more like expensive, custom cabinetry," says Macklem. "It was a small detail that made a huge difference in the feel of my kitchen."
#6 Paint the Floor
When you're seeking to create a big personality in a space, don't stop until it's got the right look from head to toe — including under your toes.
This adorable retro kitchen still had floors just like everyone else's. Thankfully, Dallas-based interior designer Janet Gridley righted the wrong. She lightly sanded and primed the laminate floor, then applied white porch paint and in striped layers to create a whimsical, checkerboard pattern.
The peacock blue is unexpected, Gridley says, while the overall design does something that average laminate flooring likely never would: "It makes everyone smile," she says.
Related: Affordable DIY Ideas for Your Floors