Have you ever been invited to a painting party? Yes? No? Well, if you've never attended this event of a lifetime, let me explain.
Friends buy their dream house. They're ready to move in. But first, they send out a painting party invitation to their closest and handiest friends to give each room in their new abode a fresh new makeover. They supply the pizza. You arm yourself with rollers and brushes. It's fun and productive and provides a super fresh feel to every new dream home.
The problem is most folks don't plan ahead and end up needing to repaint later. It wastes money, time, and energy. Imagine a crying emoji face right about now. 
You see, homeowners may have had the best intentions. The problem isn't the act of painting ahead of moving in. The problem is the lack of planning when creating the new home's color scheme.
Related: The Paint-with-Confidence Guide
The Best-Laid Painting Plans
Every new homeowner should plan their dream home's color scheme way before breaking out the rollers. In fact, you can actually start the planning process when you first tour a home with your real estate agent. Ask them questions about the house to learn details that can help you pick the right color scheme and make your next house more like heaven.
Details such as house history and house layout can be vital when it comes to the color scheme too. Here are some important questions to ask when you start planning:
Is it historical? You may want to consider using a historically correct color for the year it was built. A paint specialist at your home improvement store can help identify those options.
Does it have any original features? Those original features may be highlighted with an original color.
Is there any architectural detail that makes this place special? Architectural details can pop with color or fade into the background with white or black.
What rooms get the most light? Light can change the way the color is perceived, so it's important to know.
Is this open concept with views of different rooms? If wall colors are seen next to each other, will they look good together? Keep these facts in mind when choosing your palette.
What size are these spaces? Larger spaces and higher ceilings can intensify certain colors.
Here's one method to put together a color scheme that'll work for your family so that you can get your painting party underway.
Find Inspiration for Your Rooms
Discover the colors that you're naturally attracted to by simply flipping through magazines and catalogs and tearing out your favorite photos of rooms. You can do this online with sites like Pinterest, too.
The key is to gather all your inspirational photos and find common threads in colors. It may be that all the photos have gray walls or blue accents. Focus on the colors alone, and write down the list of hues you find attractive. This will be a good "true north" for you if you become overwhelmed with all the options. If all the inspirational rooms are neutral with punches of color, then remember, you like neutral. If the rooms are white walls with high contrast, you like white. If the rooms are dark walls with moody accessories, you like dark.
Decide On Your Vibe
Now that you have your true north established, get a deck of paint swatches so that you can determine if you like monochromatic rooms, a more punchy room, or something complementary. Choose one neutral color that you like. Then see what you're most attracted to when it comes to pairing colors with that neutral. There's no wrong answer.
For this example, I picked greige (that first color row above) as my neutral to see what would work with it. You might go with analogous colors, which are pleasing because they sit next to each other in the color wheel, and they're found in nature. Or maybe you like drama: Complementary colors are high contrast, so they create a vibrant look.
Research more about color theory to understand this idea better. Whatever those colors are, know that you are deciding your vibe by picking three main colors you love.
Pick Out Textiles
Now that you have your inspiration and your vibe established, it's time to go shopping! This could mean that you're simply shopping your stash, or it could be that you're finding new wares.
Whatever it means, figure out what upholstery, curtains, and rugs are going to live in the rooms, and get fabric swatches of those items. This way you can group all the fabrics for one room together. This will help you determine the color to pick for walls. It's also a great time to purge items that don't fit into your new style or don't go with that room's color scheme.
Whip out your paint deck again and see what works with your textiles based on your established vibe and your inspiration. You may have dark curtains and dark furniture and want to lighten up the space. Pick out a lighter color for the walls. If you want to make it feel more like a cocoon, choose something dark. 
But remember, it should go with your overall desired vibe. For example, if you want to have an industrial vibe, steer clear of bright, sunny yellow.
You don't need to know the exact color right now, just that the living room is going to be light blue and the dining room will be gray.  
Also, keep in mind adjoining rooms. When you stand in a room and see the color on the walls in neighboring rooms, this is called a sightline, and the colors that are in those rooms need to look good next to one another.
Determine Accent Colors
Now that you have your textiles and a basic idea of what room is going to be which color, it's time to choose accent colors. True accent colors can come directly from fabrics, throw pillows, or artwork. 
I like to pick at least two accent colors for each space. That accent color is used sparingly throughout the space — but enough to make it feel intentional. It should go well with the textiles in that space. An accent color can be the hue you use on an accent wall. 
Also consider using a wall color from one space as an accent color in a neighboring room.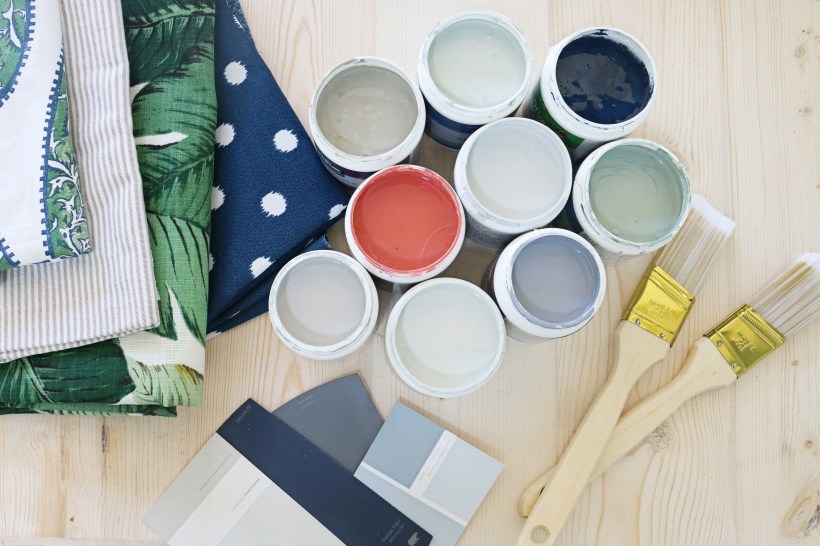 Test It Out
Now that you've determined your idea for a wall color and the accent colors that coordinate with your textiles and align with your style, it's time to test some specific paint shades.
Remember that paint colors look different in natural and artificial lighting, often dry darker, and can coordinate or clash with undertones in flooring, stone, tile, and even cabinetry.
It's helpful to search for images of the specific colors online to see if you like the look in others' spaces. I like to pick three to five paint colors for the walls before getting samples of that color. Then just make sure you test all your options in the room before choosing the specific hue and color plan. 
Double-check that your chosen wall color coordinates with all the existing features, furniture, and textiles. Then write down your picks for the walls and any painted accent areas or furniture.
You did it! All your colors should play nicely with the neighboring rooms because of your hard work! Now you can confidently say that you have a plan for all the spaces, and it'll definitely work well with the other pieces in your space. Time to text your friends, break out the rollers, and order the pizza! Happy painting!
Related: Never-Regret Kitchen Colors