November 15th is America Recycles Day, and this gave us a bright idea. Since sparing stuff from the recycle bin is just as important as responsible recycling, we rounded up 5 of our favorite light bulb repurposing ideas.

Each object was made using incandescent light bulbs. But don't reach for new ones; keep it green and use burnt-out bulbs.

Quickie disclaimer: While repurposing light bulbs is a pretty cool thing to do, cleaning them out can be a little dangerous. So, if you try your own upcycling project, makes sure you research how to gut a bulb safely.

A tiny light bulb terrarium

We spotted this great how-to project on The Hipster Home. The instructions for the weensy wonder are easy to follow; plus, the site included plenty of great photos.

The project requires a handful of basic tools, including pliers, scissors, long tweezers, a flathead screwdriver, and safety goggles.

Also, we suggest wearing work gloves, just in case there's a whoopsie moment and the glass shatters.

For the fun part, you'll need sand, super moss, and tillandsia. If you want to add a touch of whimsy, you can include a tiny plastic decorative element like your favorite animal.

Recycling fact: Glass does not lose any of its durability or quality when recycled. So all-new glass products, including light bulbs, contain at least 35% recycled glass.

Concrete light bulb wall hook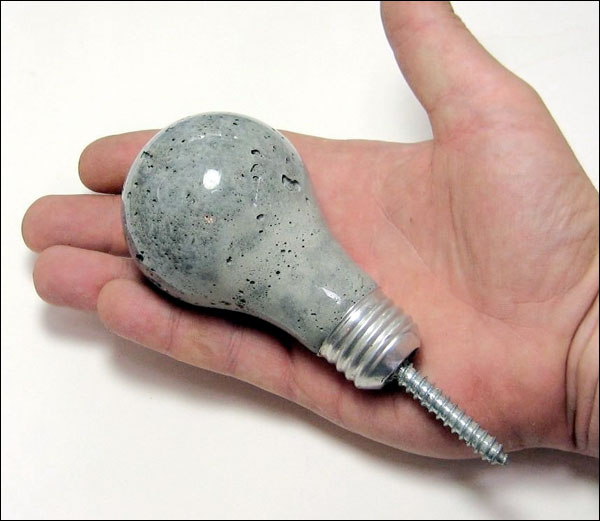 Credit: Ray Alderman
When we first saw this idea, we wondered: How does the glass stay intact?

Well, here's what makes this project pretty genius: While the cement mixture cures inside the bulb, the glass gives the mortar mix a polished surface with a high shine. Afterwards, the glass is removed.

You can purchase a concrete light bulb wall hook on Etsy for $22.

If you want to whip up one of these yourself, there are directions on the site Instructables.

You will need to have several basic tools on hand, including small pliers, wire cutters, and a screwdriver.

The author's instructions suggest a mortar product to use, but if you want to mix things up, check out the reader comments. The same project can be executed using other materials like colored grout or gypsum.

Recycling tip: Many Home Depot and Lowe's stores will accept your used compact fluorescent light bulbs for recycling. Contact your local store for details.
Round light bulb vase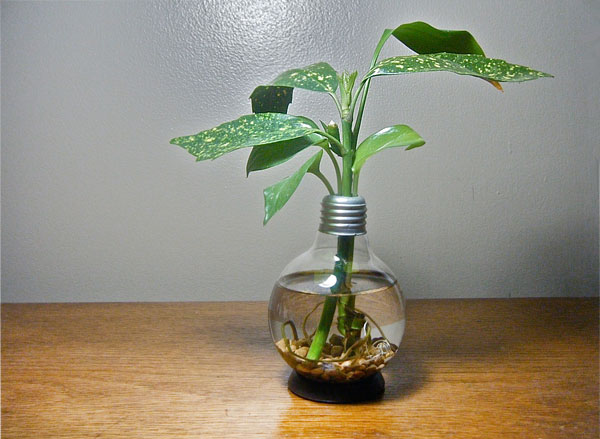 Credit: Star Redesigns
This sweet vessel can be purchased on Etsy for under $15.

Each package comes with a bulb vase, aquarium gravel, and proper care and cleaning instructions, plus directions for transferring tiny aquatic creatures into the vessel.

If you want to make your own, you can follow the instructions we found on ReadyMade. The directions even include details on how to make a stand for the vase using an easy-to-find aluminum welding rod.

CFL fact: Compact fluorescent bulbs contain mercury, an extremely hazardous waste. But manufacturers are working on having non-mercury options available in the near future.

A manual lighting kit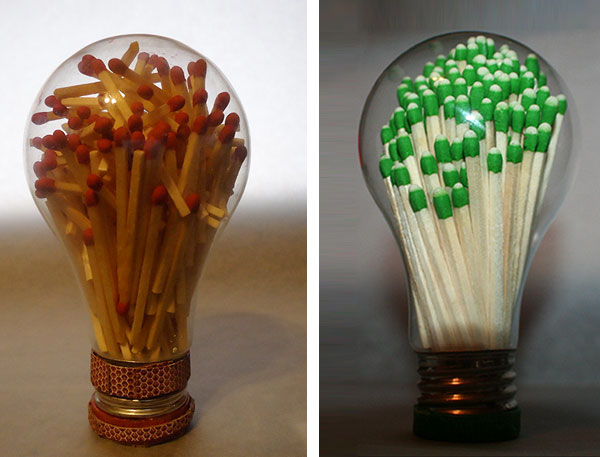 Credit: Amber Minor
This idea proves that burnt-out bulbs can still be a good light source. Each bulb is filled with more than 100 eco-friendly light-anywhere matches that comply with strict socioeconomic and environmental standards.

We're partial to the green matches, but if you choose the red ones, you'll get more than 200 eco-minded matchsticks.

The item is sold on Etsy for under $6.

Recycling fact: It's actually greener to burn out all your old bulbs before replacing them with more energy-efficient bulbs.
Christmas tree ornaments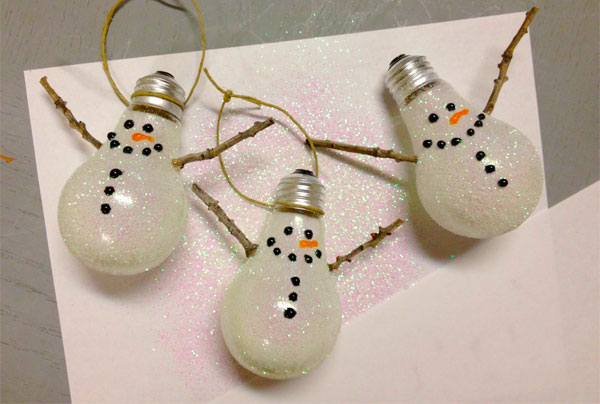 Credit: Kelsey Bang

Here's a project perfect for the holidays. Blogger Kelsey Bang turned ordinary light bulbs into festive snowmen.

If you're already an avid crafter, you'll have most of the supplies needed to execute this project, which includes glue, white glitter, food coloring, and tweed for making a loop to hang the ornament. This how-to does not require gutting the bulb.
Recycling fact: Did you know the aluminum used to make most light bulbs is a highly valued recyclable? To learn more, you can visit one of our favorite recycling sites, Earth911.com.

And if pampering pets is your thing, check in tomorrow, when we'll have some creative repurposed pet stuff.