We've all oohed and ahhed at pictures of them on Pinterest, in blogs, and in our favorite home catalogs. And we've thought: "Wow, this is a great looking, magical tool to organize my household once and for all!"

I'm talking about the kitchen command center, the analog system of calendars, pinboards, organizers, and office supplies — all matchy-matchy, of course — that many families use to do the bills, sort the mail, and plan intricate schedules.

I, too, have warm thoughts when I see command center pictures. Then, my dismissive inner voice tsk-tsks, "Don't be fooled. It's just an organizing tchotchke you don't need; it'll create clutter, and my family won't use it."

So, I'll 'fess up. I'm a digital girl through and through, and I do everything I can to avoid keeping paper around the house. With that disclosure, here are my thoughts on why I just can't find the utility in the popular kitchen command-center concept.
Who isn't a fan of chalkboard paint? I love the stuff. Even considered using it on my bathroom walls. But, attractive as it is, I can't think of an organizational benefit. Grocery lists need to be taken to the store. Posting the menu of the day? "You get what you get and don't throw a fit" is the mantra at my house.

Creating a big old calendar on the chalkboard? This is what Google Calendar is for. My husband and I can add to our calendars anytime, anywhere, and check each others' for conflicts.

One more strike against the chalkboard idea? Our kitchen is small; I'd rather my art-crazed child take her sketching to the dining table or elsewhere, especially if I'm busy with hot pots.

Homework supply area

Now that my daughter has entered the homework years, I figured a homework supply area was worth a try. But a cute mason jar or galvanized bucket full of sharpened pencils labeled with chalkboard paint? Why do we need so many pencils? A few pencils and pens fit in the junk drawer. If we need more, we have an entire craft closet upstairs.

Regardless, I thought I'd gather some supplies and create a dedicated area using a tray. After all, how could I write about something I hadn't tried? Well, here's the optimistic before and sad aftermath: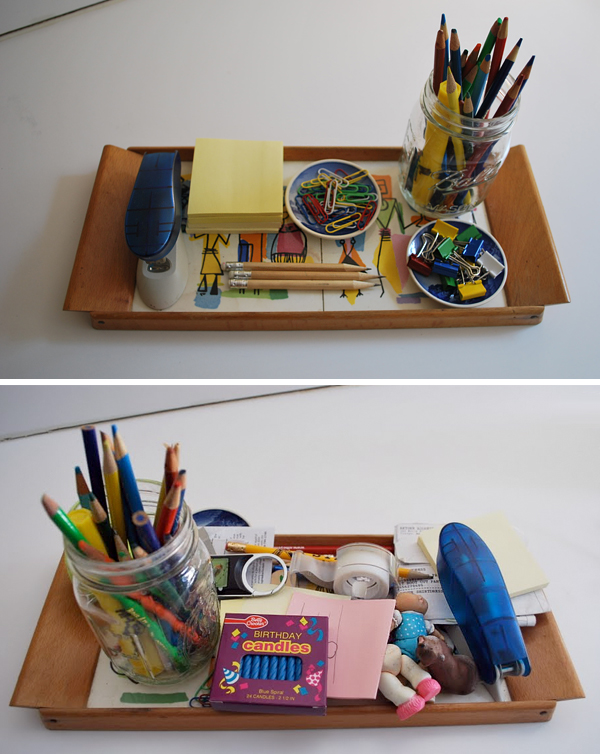 Credit: Liz Foreman for HouseLogic
Chore chart

How about those massive whiteboard chore charts? Not necessary. My 6-year-old's chores are still memory-friendly: Take out the trash and set the dinner table. When the time comes, I'll adopt my mom's method: a sheet of notebook paper with hand-drawn grid lines and star stickers for successfully completed tasks. I'll pitch it at the end of the week and start with a new sheet of paper.

Artwork wall
Our old behemoth of a fridge takes magnets. 'Nuff said.

So, what do others think?
I informally polled some friends on the topic. After all, maybe the concept works for them.

My neighbor Rachel Lippman has a now-defunct command center in her basement, since there's no place in their small kitchen to hang it. "It has a chalkboard on the front and opens up with slots to put mail and keys," she says.

They had it up in their apartment before they bought their home. But Rachel admits that it didn't get used much. "I know Matt never put his keys on it," she says.

Now they keep grocery lists and personal calendars on their smartphones. They manage the family schedule on a paper calendar they keep in the kitchen.

Another neighbor, Ann Gibbons, included desk space in her kitchen renovation. "We had grand ideas that we were going to do our work there," she says.

Instead, the Gibbons — two adults, two kids, and an 18-year-old at college — now use the built-in desk as a storage area for school supplies and as a staging area for mail. The kids' homework gets done on the nearby dining room table.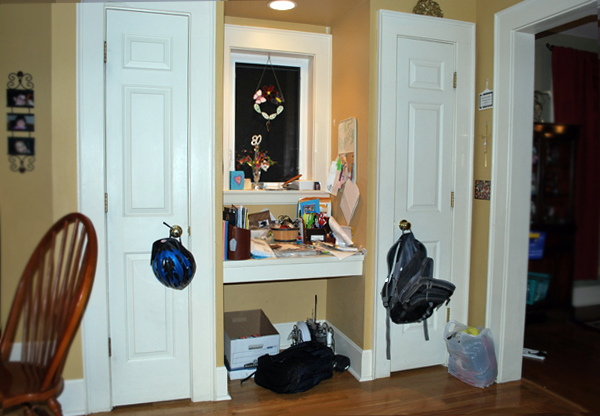 Credit: Liz Foreman for HouseLogic
"I like it because it's off of the kitchen counter," Ann said, but acknowledged, "If we had a second space it would become as [cluttered as the desk]."

She's also "reusing plastic containers, and we have pencils in one, erasers in another, scissors in another, so [my sons] can't hop up during homework time to go get supplies. I do have systems but they're not frou-frou."

So, I'm sticking to my guns:
The kitchen is for cooking; it's not a pseudo-craft closet. A few pencils and pens in the junk drawer work for us — for now.
Using digital organizing tools for things like calendars and grocery lists keeps our family synced more efficiently.
I have enough dust in my house. No whiteboards or chalk boards, please.
Do you disagree with me? Tell us how your kitchen command center keeps order or hasn't lived up to its original intent.