Don't you just love watching an ugly duckling home become a swan?
When I first looked at the "before" pictures of Mike Groman's 1920s Philadelphia house, I saw one sad mess. Then I saw the "after" pictures, and they blew me away.

Mike Groman is a veteran environmental planner and a new developer, so I'm not surprised that he turned his sad-sack house into a stunner.

It's a transformation worthy of a deeper look — and a chance to learn a thing or two. So today, I'm sharing how he turned the home's beat-up exterior into a thing of beauty.

Later this week, we'll look at the fabulous kitchen and bath transformation.

Now back to the exterior because, after all, it's the first thing you see.

Faux to a Fault

Groman started by ripping off the grim, faux brick siding. I generally like faux finishes (check out how I turned an ugly countertop into a fabulous faux granite slab), but Groman's siding was faux-trocious.

Plus, it hid original, 9-inch clapboard siding, which was well-preserved under gallons of lead paint (we'll get to the lead paint issue later).

In the picture below, notice the three kinds of siding that covered the house. You can see how the original siding (far left) only needed some minor repairs. Ever green-minded, Groman stripped the old aluminum siding and recycled it with a local metal collector.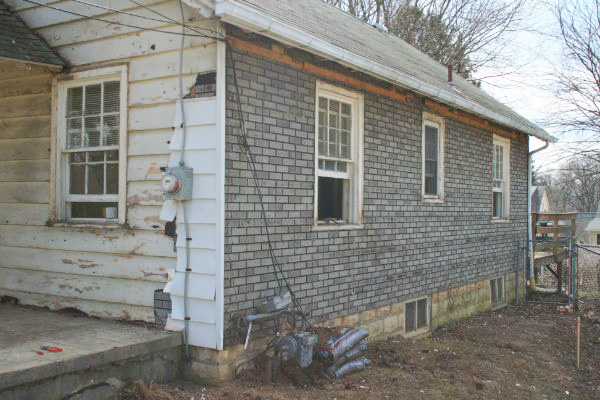 Get the Lead Out

So, back to the lead problem. On the plus side, the home's clapboard lasted nearly 100 years because it was covered with lead paint, which is a better preservative than today's lead-free variety.

On the minus side, lead paint can eat your brain, and now is banned as an environmental hazard.

Lead paint removal regulations are tough, and most painting contractors won't touch the stuff. So Groman found an EPA-certified lead paint abatement contractor who, instead of scraping off the paint, applied a thick sealer ($4/sq. ft) that encapsulated it and smoothed out the boards. Doesn't the finished product look brand-new?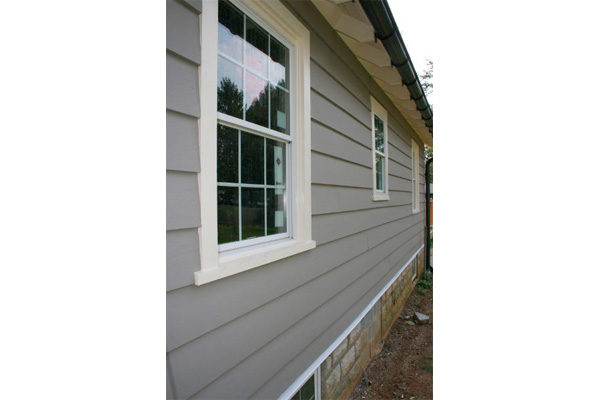 Complete Window Redo

After almost a century, the house's original wood, double-hung windows operated just fine, and even had weights and chains intact. Plus, they were true divided light, which is so expensive now that most home owners can't afford the wonderful look.

But Groman replaced them anyway (insert gasp here) with energy-efficient windows. If only he had known that a nearby window restoration company could make the old look like new for 30% less than replacing them.

Next time, Groman says he'll restore the originals and add storm windows, which makes them as energy efficient as new.

Smart Roofing Choices

Since Groman is an environmentalist, I assumed he'd cover the old roof with new solar panels to keep energy bills low. But he nixed the solar panels because a neighbor's shade trees blocked the sun — and who needs to fight with neighbors?

Instead, he went with cool-roof shingles that reflect sunlight and reduce the summer roof temperature by up to 20%. That'll keep the interior cool and cut summer AC energy bills. And he didn't pay a premium for the energy-efficient shingles, either: They cost about the same as 30-year asphalt architectural shingles ($4 sq. ft.).

Lovely Surprises

Along the way, Groman uncovered a couple of lovely surprises that really pumped up the house's curb appeal:
When he stripped siding, he uncovered two boarded-up sidelights, which now add great light to the entryway.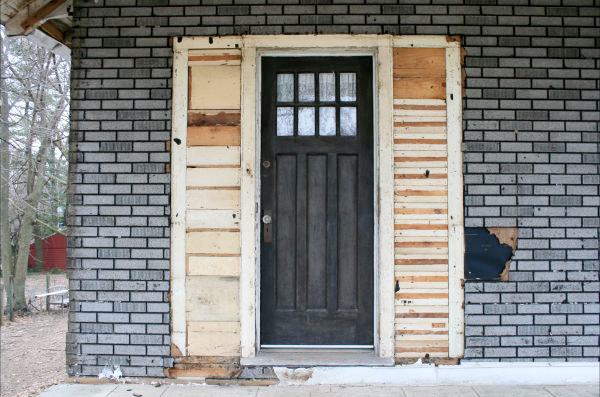 He exposed existing roof trusses over the front porch to make the entryway look grander. That pergola over the front porch really adds a touch of class.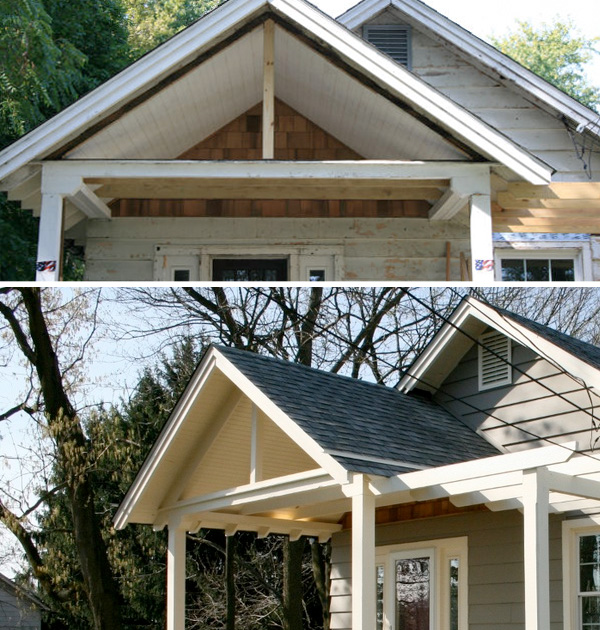 Let's not forget the back of the house. Love the way he sided it with accent cedar shakes, a clever way to call out the mudroom and give the back of the house some pizzazz. 
Mike Groman's Renovation Tips

Groman learned a lot during this renovation:
Never replace what you can restore even cheaper (i.e. windows).
Don't pinch pennies by applying only one coat of sealant over clapboard, when two coats give a much smoother surface.
Hire a home inspector to give the house a once-over before buying. Groman did his own home inspection and didn't notice a termite infestation, which he could have used to bargain down the price.
What Did It All Cost?

Siding and trim repair: $1,900
Exterior painting: $5,875
Roof repairs and new roofing: $5,679
Cedar shake siding: $1,900
Cedar deck and pergola on front porch: $7,500
Front porch refinish: $3,998
Downspouts and gutters: $2,211
Doors and windows: $15,000
Excavation and piping for rain garden: $1,422
Foundation finish/plaster: $2,388
Landscape: $9,000
 
TOTAL: $56, 873

Next week we'll start our inside tour of the house. Stay tuned!