If you've ever had to pay a late fee after losing a bill, thrown away spoiled peaches you forgot to eat, or bought another pair of sunglasses because you couldn't find yours, you know firsthand that being disorganized costs you money. And conversely, organizing your home saves you money.
At best, clutter in the home causes mistakes, late fees, overdue payments, and missed deadlines. At worst, a house in chaos can eat away at your finances, mar your credit, and reduce your productivity. That's a whopping price to pay.
Financial and Mental Health Benefits of Organizing Your Home
"Do you think organizing is just for appearances?" asks Lisa Gessert, president of Organizing.buzz, a professional organizing service in Staten Island, N.Y. "Organizing your home is financially beneficial." Gessert stresses to clients the need to sort, purge, assign things a home, and "containerize." She says, "This process saves people tons of money."
There's also a mental health gain from organizing your home. More people want to create simpler, more organized spaces in their homes, Acaording to a 2021 Ikea "Life at Home" survey. Many respondents associated clean, decluttered spaces with a greater sense of calm. Clutter-free equals being in control, which is important for our mental wellbeing, the survey says.

Related: The Link Between Clutter and Depression

Here's why being organized saves you money and how you can get your home into shape:
Disorganization in the Home Office Costs You:
Lost papers = time spent looking for them, money wasted on duplicates
Misplaced bills = late fees, bad credit causes higher interest rates
Missed tax deadlines = penalties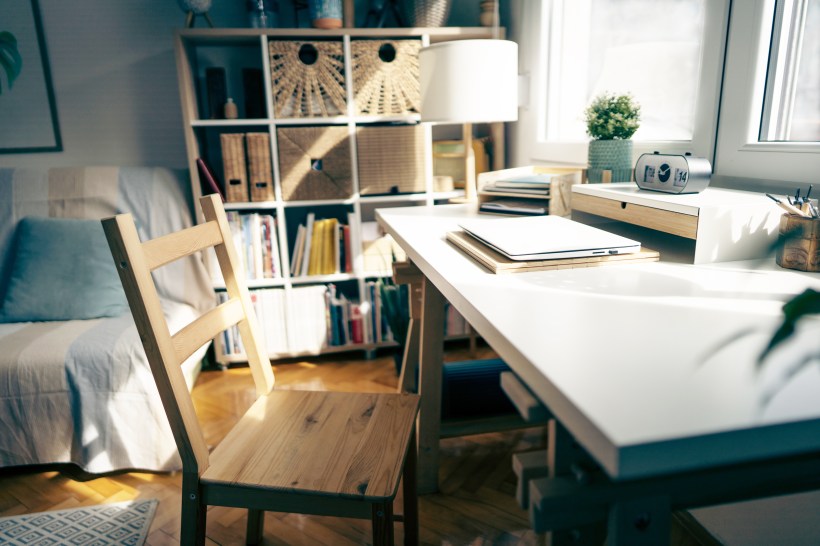 If any of these sound familiar, you need a home office system for dealing with important papers, bills, and personal correspondence. Wall-mounted bill organizers can help you stay organized. Look for ones with two or more compartments to categorize by due date.
Mount shelving and create a file system for important papers, such as insurance policies and tax receipts. Work with underutilized space, such as converting a standard closet into built-in storage with shelves and cabinets for your papers, files, and office equipment. If you need to use stackable bins, don't stack them around equipment that needs air ventilation, such as scanners and Wi-Fi receivers, since the equipment could overheat and malfunction -- costing you money.
"Having your papers organized will save time, help you pay bills on time, and allow you to be more productive," says Alison Kero, owner of Alison Kero Organizing, based in New York City.
Disorganization in Your Closets Costs You:
Missing clothes = money spent on duplicates
Hidden items = wasted time since you can't see what you own
Accessory mess = wasted money on items you don't wear, can't find
"Organizing often reduces duplication of possessions," says Lauren Williams, owner of Casual Uncluttering LLC, in Woodinville, Wash. "No more buying an item for a second, third, or fourth time because someone can't find it."
If closets are crammed, paring down is a must. First, take everything out. Rid yourself of multiples and anything you no longer wear, and assess your shoe collection. Create piles: purge, throw out, or donate.

For what's left, you'll need a better closet system. You can choose a ready-made system that simply needs installation, or create your own. You can use PVC pipe to create additional hanging rods, and you may also want to add shelving to store folded clothes, hats, and bulky items. Look for wire mesh shelving, solid wood shelves, or an all-in-one closet shelving system depending on space. Large and small hooks can be wall-mounted to hold belts, accessories, and scarves.

Related: Savvy Closet Organization Tips and Tricks
Disorganization in the Kitchen Costs You:
Expired food = wasted money
Overflowing pantry = can't see what ingredients you have, resulting in duplication
Crammed cabinets = overspending on multiple dishes and gadgets
Since the kitchen is usually the hub of your home, it attracts clutter. Organize your junk drawers by adding small plastic or wooden drawer organizers for things like thumbtacks, rubber bands, scissors, and tape.

To avoid buying your third jar of oregano or second potato ricer, buy or build an organizational system for your pantry. Built-in lazy Susans work great. Use pullout mini shelving to corral items like dressings, hot sauces, and vinegars. Tackle cabinets and counters by mounting behind-the-cabinet-door racks to hold items like pot lids or cutting boards.

Add pull-out drawers in your bottom cupboards to make everything easily accessible and easy to see. You'll thank yourself when you get older, too.

Related: Smarter Ways to Use Your Kitchen Cabinets and Drawers
Disorganization in Your Living Areas Costs You:
Lost keys, missing wallet = late for work, lost productivity
Not being able to fully enjoy your home = spending money elsewhere for fun
Blocked ventilation = utility costs rise
Your living space is where you want to enjoy your home the most. If you can't do that there, you'll constantly be seeking out other places to find solace and fun -- and that can add up to a lot of money spent on entertainment and recreational venues.
Meanwhile, you could be paying more than you should for the living space you're not enjoying.

"I run into people whose homes are unorganized to the point of papers, boxes and stuff blocking air vents that supply heat and air conditioning to their homes," says Gessert. This costs a fortune in utility bills. Likewise, a jumble of electrical wires around TVs and home entertainment systems can be sucking energy from always being plugged in. Connect them all to smart power strips that can turn everything off with one switch.

Once you've organized your home, you'll start to see the benefits everywhere. No more dealing with late fees on bills, buying replacement earrings or bread knives when items go missing, and -- perhaps best of all -- no more having to leave home to relax and be entertained. After all, saving on bills can boost your monthly budget, but there's no greater value than enjoying your home more.