We're all about indulging in Starbucks' latest seasonal concoction or this season's "it" bag. (OK, maybe a knockoff version of this season's "it" bag.) Trends are just plain fun — and they keep things interesting. But they also, by definition, are hip today and potentially worthless tomorrow.
And that's not exactly a recipe for success when it comes to your home and the first impression it gives. While a green lawn might be a safe bet to keep your home's value intact, let's face it: It's boring.
For a little outdoor drama that won't cost much (and actually saves money and time instead), try these landscaping trends:
#1 Build a Rain Garden for Colorful Blooms
What's not to like about:
Not having to water?
Saving on your water bill?
And having a colorful garden that's easy to maintain?
A rain garden is the trifecta of yard care. Once seen primarily in drought-prone areas of the country, rain gardens are depressions in the ground (like a shallow bowl) filled with plants designed to filter and absorb water from your home's rain gutters.
The benefit to you: Beyond the environmental benefits — like keeping rainwater from reaching the sewer system and filtering out pollutants — rain gardens can be gorgeous additions to your yard.
Ted Whitehouse, co-owner of Whitehouse Landscaping in Pottstown, Pa., says colorful, deep-rooted plants, such as smooth blue aster and swamp milkweed, are ideal candidates. Many rain gardens also include beautiful stone and river-rock hardscaping to help channel the water.
Cost details: A rain garden doesn't cost any more than other perennial gardens — about $3 to $5 per square foot if you DIY.
Related: Costs and Tips for Installing a Rain Barrel
#2 Create Natural Habitats (and Boost Your Curb Appeal)
Homeowners have finally gotten smart over the past couple of decades and stopped trying to force non-native plants into their landscapes. (Hostas in the hot Florida sun? A total waste of money, time, and water.)
And that's great, but what's even better and becoming more popular? Adding other native elements to your landscape to help bees, birds, and butterflies thrive.
Just a few simple things can create a native habitat, according to the National Wildlife Federation:
Water, such as a birdbath
Cover from predators, such as plants to offer camouflage
Shelter to raise their young, like a birdhouse
The benefit to you: The creatures you shelter will help you. Many are important pollinators, which means having them around will help keep blooms a-coming — boosting your curb appeal, says Adriana O'Toole, a REALTOR® at Village Square REALTORS® in Montclair, N.J.
Cost details: Some native plants may cost marginally more than non-native species — because they're more difficult for nurseries to propagate, are grown in smaller quantities, or aren't available through traditional retail outlets. But their reduced maintenance costs deliver big savings over time.
According to the Environmental Protection Agency, "the combined costs of installation and maintenance for a natural landscape over a 10-year period may be one-fifth of the costs for conventional landscape maintenance."
#3 Shrink the Size of Your Lawn
More homeowners are replacing water-thirsty grass with low-maintenance alternatives that don't need much hydration — if any. Easy alternatives include hardscaping or evergreen ground covers, such as pachysandra, which is drought resistant and fast spreading, O'Toole says.
The benefit to you: Less grass = less maintenance + lower water bills. Also, patios, walkways, and stepping stones introduce fresh eye candy and functionality to your yard space. Depending on where you live, turf replacement also could make you eligible for a rebate — $2 or more per square foot up to 5,000 square feet in California.
Cost details: Depending on the scope of the project and the materials used, the initial cost could be significant. The savings come over a few years as you reduce or eliminate your use of water, fertilizer, pesticides, and lawn equipment.
#4 Landscape With Plants You Can Eat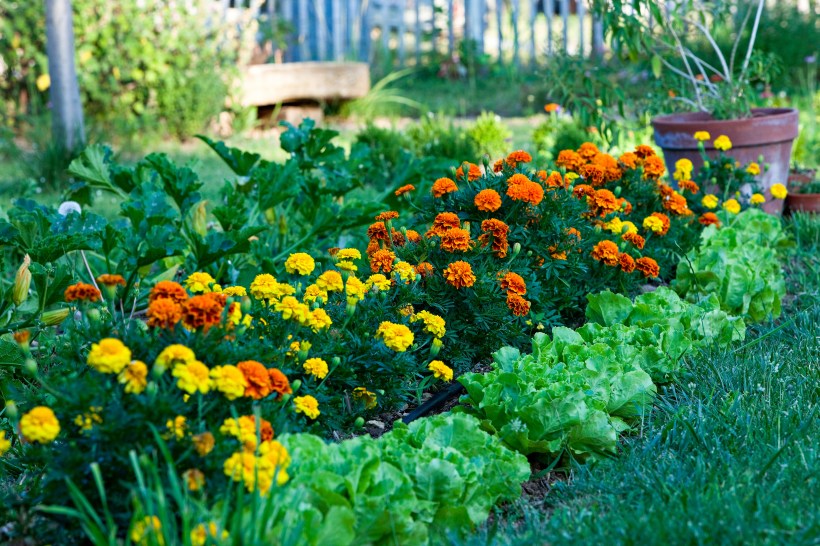 Backyard vegetable gardening has become so popular that these tasty plantings have finally broken into the decorative gardening space, especially for people with tiny yards or urban homes with only front yards.
Many vegetables and herbs produce aesthetically pleasing foliage and flowers, making them as delicious to behold as they are to eat. Basil, broccoli, Swiss chard, and feathery fennel leaves all have eye-catching colors and textures, for example. Eggplant, dill, and okra deliver beautiful blooms.
Edible landscaping ideas include:
Leafy vegetables such as lettuce, chard, and kale as borders
Pole beans on fences and arbors
Rhubarb in flower beds
Blueberry and currant bushes as hedges
Cucumbers and zucchini as climbing vines on trellises
The benefit to you: It's about saving money because you get double bang for your buck.
Practically free food
A gorgeous yard while saving on your food bill
Cost details: Many vegetable and herb plants cost only a little more than ornamentals, and their seed prices often are comparable.
Related: Check Out These Landscaping Walls That Include Edibles
#5 Add a Fire Pit to Get More Living Space
Whitehouse says more than half of his clients request a fire pit in their landscaping projects. They make beautiful — yet functional — focal points for your yard that encourage you to hang outside more often.
The benefit to you: Being able to use your outdoor spaces beyond the warmest months is almost like adding square footage. But best of all, there's nothing like toasting s'mores on a chilly October night to give you so many happy feels.
Cost details: The installation of a dry-stacked natural stone kit and a gas burner brought a return on investment of 56% and a joy score of 9.7 out of 10, according to the outdoor "2023 Remodeling Impact Report" survey conducted by the National Association of REALTORS®. Seventy-eight percent of consumers who completed the project said it helped them enjoy their home more. Consumer who completed the survey represented DIYers, homeowners who hired professionals, and combinations of the two.
If you're willing to tackle the job yourself, a kit from a home improvement store costs as little as $177. Or check out the myriad of easy tutorials you can build from scratch like this DIY fire pit.
#6 Use LEDs and Pay Attention to Fixtures
LED technology is the continuing trend for illuminating your home and property. Advances have reduced the bulbs' harsh tone, producing a warmer glow similar to halogen.
The benefit to you: Any type of lighting adds warmth and safety that homeowners and potential buyers value, O'Toole says, and it allows you to highlight special features in your landscape or architecture.
In addition, low-voltage LED lighting lasts up to 40,000 hours and can be used for 20 years.
Cost details: LED bulbs also save on electric usage. But don't forget to consider the visibility of the light fixture itself once those LEDs are on. You may want to spend a little more money on light fixtures that are easily seen, such as those that light the pathway or entry, so they complement your home, Whitehouse says.
Related: Awesomely Easy Landscaping Projects