Professional landscaping can add 15% to 20% to a home's price tag at the time of resale, says Bankrate, quoting the American Society of Landscape Architects. Of course, that depends on the project. One person's prized water garden could be another person's waste of space. But some front yard landscaping ideas have universal appeal.
Here are a few to get you going.
DIY Front Yard Landscaping Projects
#1 Mix Rocks With Bark Mulch
Surrounding bark mulch with a rock moat makes for a tidy, everything-in-its-place yard. It also makes maintenance easier because mulch smothers weeds and keeps plant roots cool and moist. And the rock mulch next to your home's foundation is smart, because it keeps water away.
Best of all, this is a simple landscaping idea to DIY: Put rubber garden edging along your beds. Put down weed guard. Pour bags of mulch and gravel in the beds. Done.
#2 DIY Window Flower Boxes
Window boxes are like jewelry for house, adding bling to the blah. If you're handy with tools, make your own, but you can also buy prefab ones and mount them yourself. Fill with plants, and your curb appeal improves at point five past light-speed.
TIP: Leave an inch of space between the window flower box and the house to prevent moisture from destroying your siding.
#3 Build a Dry Stream
Here's why we love dry rock streams: They add a touch of mountain-y ruggedness to your yard. They drain water away from the foundation of your house. They don't need to be mowed, watered, or fertilized. Oh, and it's a simple two-step install: 1. Dig a trench. (It'll replace your cardio and strength workouts for the week, so prepare accordingly.) 2. Place the rocks.
#4 Build a Paver Path
Creating a path from the curb to your door adds a civilized touch and makes your front yard feel designed. It also means less lawn to mow and weed. You can do this one yourself with pavers or bricks.
TIP: Choose a brick pattern with staggered edges to handle curves without the drag of cutting bricks.
#5 Light Your Walkways
The only thing better for your curb appeal than making a walkway is making a walkway and lighting it. LED lighting adds the most value, but you can DIY it with a solar lighting kit. Lighted walkways look very "Architectural Digest," and they'll keep you from taking a header when you're bringing in the groceries.
#6 Plant Flowers and Trees
"I want a yard devoid of trees, shrubs, and flowers." Said no one, ever. Adding plants (a.k.a. softscape) to your yard adds to your home value.
You'll get back every penny you spend on plantings when you sell your house. So apparently money does grow on trees. Plants get more valuable as they get older, so take care of the tree saplings and azaleas you planted. You're getting ROI as well as flowers and shade.
#7 Look for Grass Replacements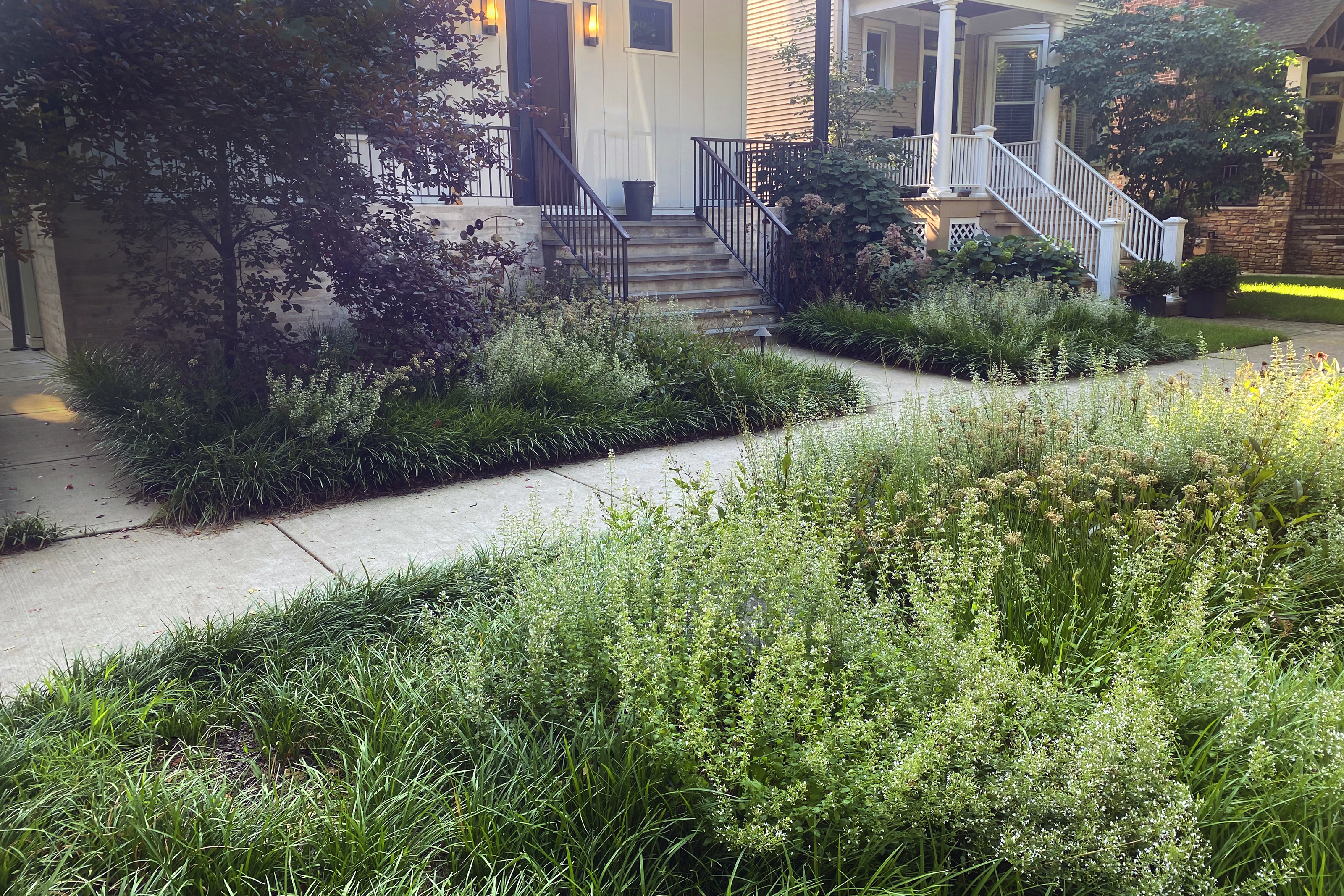 Weather doesn't always help nurture a lush lawn. But even with too little or too much rain, you still have choices to keep your yard green and healthy. You can replace turf grasses with native grasses, which have deeper roots and hold onto moisture. Or consider ground cover. It tolerates drought and renourishes the soil so you can ease up on fertilizing.
Add More Curb Appeal to Your Front Yard Landscaping
Whether you prefer hardscaping, with paver paths or rock streams, or softscaping, with native grasses or plantings, there's a landscaping project that will amp up your front yard's curb appeal. And that translates into space you enjoy more and a higher return at resale time.