When it comes to makeovers, mailboxes are often overlooked. But that box is usually the first thing you notice about a property and it sure packs a lot of curb appeal.

Brittany Bailey, blogger at Pretty Handy Girl, knows how important mailboxes can be. So she and her mother painted an adorable mailbox with birds, flowers, and bumblebees.

Unfortunately, some party-pooping bird promptly pecked and destroyed all the bees and chipped the paint, letting water seep underneath. In a few years, Brittany had "a sad-looking mess of a mailbox," she says.

So Brittany replaced her sad mailbox with one she built to look like the home it stands before. Too cute!

"I've always had a thing for custom mailboxes," she says, "so creating a miniature of our house seemed like a fun project to increase our curb appeal."

She was so right! Here's the finished product.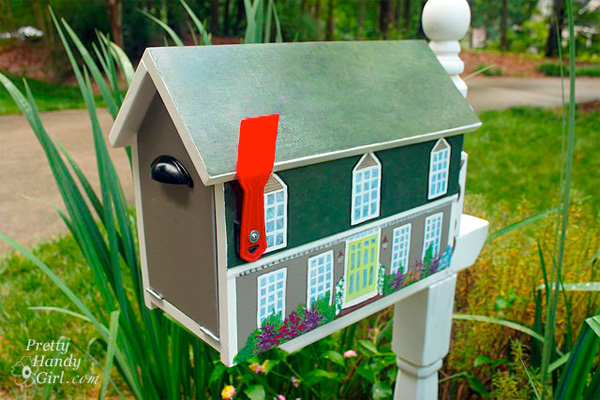 And here's her house, the model for the mailbox.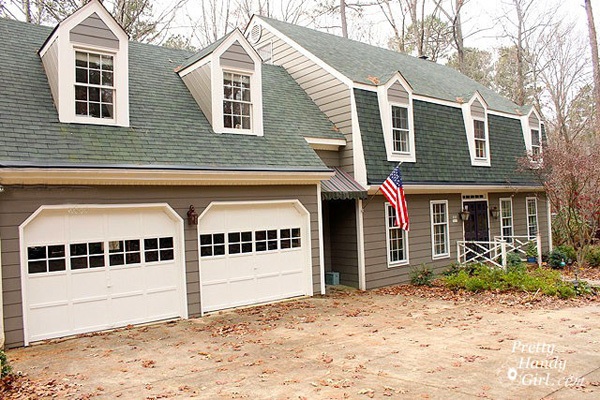 Before she began construction, Brittany talked to her postmaster, who said she could customize a mailbox any way she wanted, so long as it:
Has a flag to signal for mail pickup.
Has a door that easily opens and closes.
She says you should take your custom box, unpainted, to your post office to make sure your mail carrier has no problem with it.

The Basics

Brittany's Pretty Handy Girl site has a complete tutorial on the project. But the essentials are:
Cut pine planks into 5 rectangles.
Use a table saw to rip the edges of two pieces at a 45-degree angle.
Attach the pieces with Gorilla glue, nails, and screws.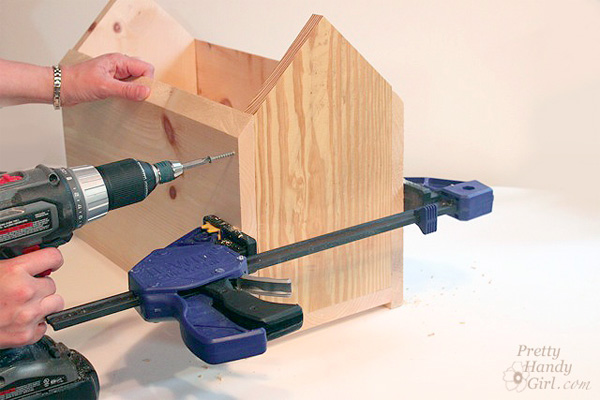 Attach the door with hinges.
Bolt a red, plastic paint scraper to the side, which will be your delivery flag.
Add a magnetic catch to keep the door closed, and a drawer pull to the outside to open it.
Brittany used leftover exterior paint for the base, then created details with acrylic craft paint.

What Brittany Learned

On her amazing mailbox makeover, Brittany spent $35 in materials (she had the saws and other tools on hand) and three days of her time: one to build and another two to prime, paint, and seal.

(If you're looking for more quick makeover tips, check out our "15-Minute Home Makeovers" story.)
Brittany's project went smoothly, although keeping the sides even was a challenge. Next time, she'll use an oil-based primer, which covers knotholes better than a water-based primer.

She finished the mailbox last summer, and her neighbors love it. It's holding up well, although one screw in a door hinge popped out: She'll either replace it with a longer screw, or squirt a little glue into the hole and pop it back in.

Want More Great Curb Appeal Ideas?

You'll find them in our story, 8 Tips for Adding Curb Appeal and Value to Your Home.
And don't miss the other stories in our Boost Your Curb Appeal series:
Be sure to check out these other inspiring projects:
Send us your curb appeal projects and tips. Include them in the comments section.