There's nothing structurally wrong with your kitchen cabinets; they're just blah.
Here are four DIY ways to take them to the next level.
1. From Blah to Ooh La La Using Paint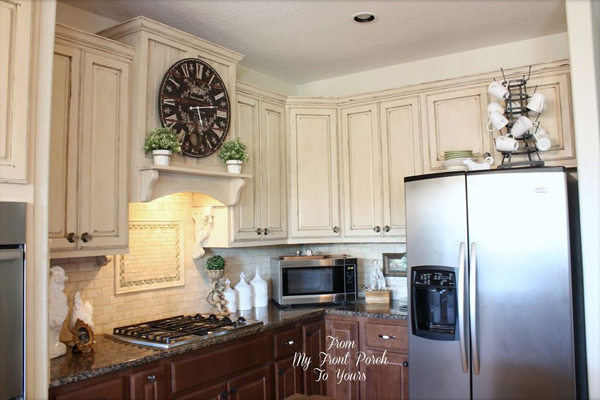 Image: "From My Front Porch to Yours"
If you like the idea of painting, but hate all the prep work, listen up!

Pamela, the blogger behind "From My Front Door to Yours," gave her cabinets a French country finish using chalk paint. It's a thick, creamy decorative paint that doesn't require sanding or priming prior to applying. Usually, you only need one coat of chalk paint for full coverage. 

Even better, the paint's consistency makes it a cinch to create a broad range of finishes from sleek to vintage. Pamela went with the latter.

It took three coats of Old Ochre chalk paint to cover her dark wood cabinets. Why so many? She wanted to create a distressed finish, which requires sanding after painting.  The extra licks of color gave her enough coverage to work with.

To finish this magnifique transformation, she used two more paint colors and a special wax sealer. You'll find more details here.
2. A Built-In Fix for That Dirty Space Above Your Cabinets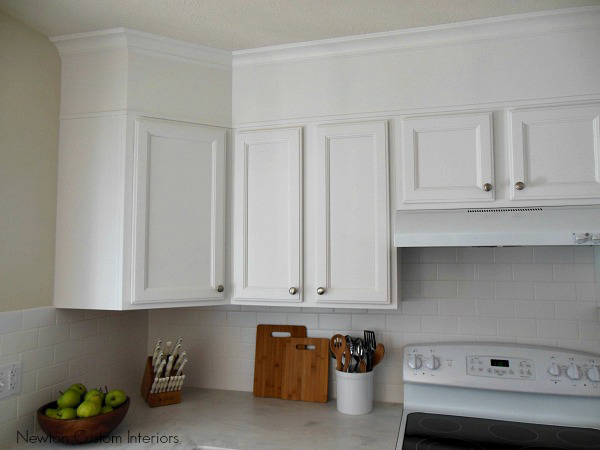 Image: "Newton Custom Interiors" 
If you have an awkward gap between your cabinets and ceiling, you know it traps cooking grease and dust bunnies — and is a tough spot to clean.  

Jann from "Newton Custom Interiors" has a fix that means no more cleaning. She heightened her cabinets. Well, at least she created that impression.

Although she's an expert DIYer, woodworking isn't her forte, so Jann hired a carpenter to make a soffit. It's a five-dollar word for a section of ceiling that's been lowered either as a decorative element or to fill in a space that conceals plumbing, wires, or that weird slice of real estate over kitchen cabinets.

However, she did more than just cover up the gap. She used paint and molding to create the illusion of tall cabinetry. You'll find the nitty gritty here.

Related: Architectural Details Add Verve and Value
3. DIY Kitchen for Just $300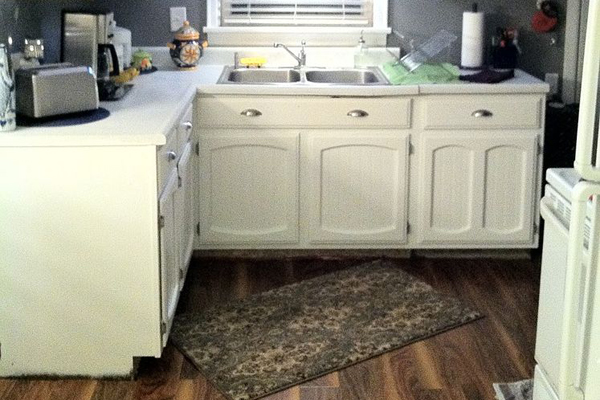 Image: "Minettes Maze"
You already know that rehabbing your existing cabinets is cheaper than buying new ones. But how much moolah can you actually save?

Shelly from "Minettes Maze" saved a fat bundle. The first phase of her kitchen renovation — which included blowing out a wall, installing a new floor, painting the entire kitchen, and making over her dreary old cabinets — totaled $300.   

If Shelly went with new kitchen cabinets, which her hubby original wanted, they easily would have spent 10 times that amount. 

Instead, she gave her dark wood cabinets new life. She brightened them up with white paint and gave the door some architectural interest with a beadboard insert.

For all the frugal details, go here.
4. Cabinets That Gelled in the End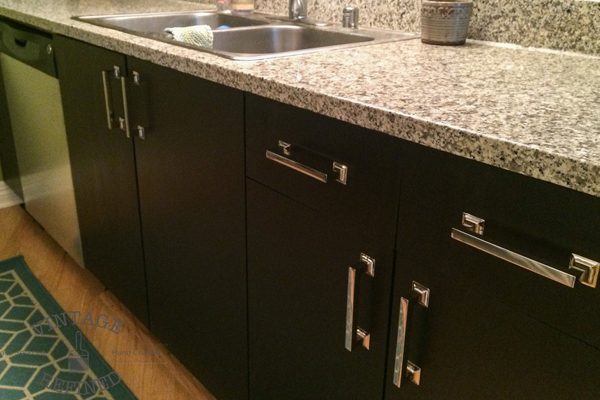 Image: "Vintage Refined"
We love it when a DIY fail inspires a winner anyway.  

Ashley from "Vintage Refined" makes a living restoring secondhand finds, so she's hardly a DIY novice. But when a gel stain experiment left one of her laminate cabinets looking streaky, she realized her oops-a-daisy. The stain wasn't recommended for laminate.

But did she pitch the gel stain? No.

Instead, she used a gripping primer that boosted the stain's adhesion. Afterward, she finished off her cabinets' new custom look with contrasting hardware.  

You'll find the gelling particulars here.

Related: 5 Classy Kitchen Cabinet Updates for Under $100