As the kitchen has become more of hub, that fact may have sparked daydreams about a redo. What if the space could draw family and friends with a warm, inviting, and natural look? And what if that natural kitchen was easier to maintain? Many homeowners who acted on that daydream are super happy they did, according to the National Association of REALTORS® "Remodeling Impact Report." Homeowners who were surveyed reported a joy score of 9.8 out of 10. 
They'll likely snag a financial bonus too. The report found the average cost of a kitchen upgrade is $45,000, and the average return is 67%.
Here are six ideas to inspire a natural look for your kitchen.
#1 Wood Cabinets Mix Warmth, Low Maintenance, and Durability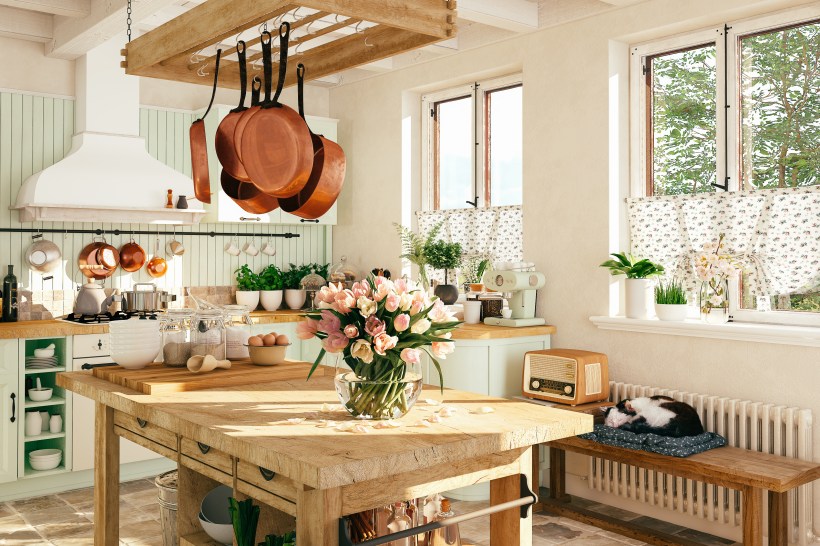 White is still the tried-and-true, top choice for cabinets in remodeled kitchens. But its popularity has slipped a bit, according to the 2021 U.S. Houzz Kitchen Trends Study. Wood tones were the second-favorite choice of homeowners surveyed, with a 2% increase from 2020.
Homeowners may be gravitating toward wood, including bare wood, cabinets, because they're easy to clean and durable, and add warmth. Wood can also be sustainable.
"Many are turning to wood veneer choices — anigre or exotic woods or lighter [wood] colors," says Joe Fava, CEO of Fava Design Group in Miami. "The younger generation is more interested in sustainability and cares about the type of wood used. Clients in their upper 50s and older are more interested in the look they want and richness of the material."
Wood is also versatile, mixing well with other materials and colors — white or black, for instance — for a two-toned look. And if you like to change things up regularly, lighter color woods are easier to restain.
Beyond beauty and low maintenance, homeowners want durability. Durable cabinets have a longer lifespan, so they're usually a better investment. Look for drawers constructed with solid wood dovetailed joinery that improves durability.
Some homeowners found upper cabinets were making the kitchen look heavier and more enclosed. So, they've replaced them with open shelves that display collectibles. If you follow suit, make sure you have enough concealed storage to keep your counters clear. You'll have an easier time cooking and entertaining.
#2 Light Woods Keep Flooring Looking Clean
Wood used to get a bad rap for kitchen flooring, but no more. Improved finishes (water-based or natural oils with low volatile organic compounds) help boards resist water and scratches.
Lighter colors like white oak are popular not only because they have a cleaner look than dark floors, but also because they hide dust and dirt. When you think about the beating and dirt buildup kitchen floors take — yikes! The investment is so worth it. Overall, a new wood floor provides a whopping 118% ROI and a perfect joy score of 10 out of 10, according to the NAR remodeling survey.
Things that will never go out of style are natural light, beautiful natural woods and stones, and a desire to have nature seep into homes.

Carly Jones, partner with real estate firm Engels & Volkers
Light wood flooring also offers a fresh look, says Carly Jones, partner with real estate firm Engels & Volkers. "We want our kitchens and other rooms to feel light, fresh, and part of the outdoors even when we're inside. Things that will never go out of style are natural light, beautiful natural woods and stones, and a desire to have nature seep into homes."
Whether you go with solid hardwood or engineered wood, each has pros and cons. Hardwood is easy to refinish and repair, but prone to contraction and expansion. That can cause instability, cracks, and bowing over time. Engineered wood consists of a wood veneer atop plywood layers, which makes boards more stable, says Brett Miller, vice president of technical standards at the National Wood Flooring Association. The drawback is the top layer may make sanding or refinishing tougher, he adds.
#3 Natural Stone Countertops Combine Easy Care and Strength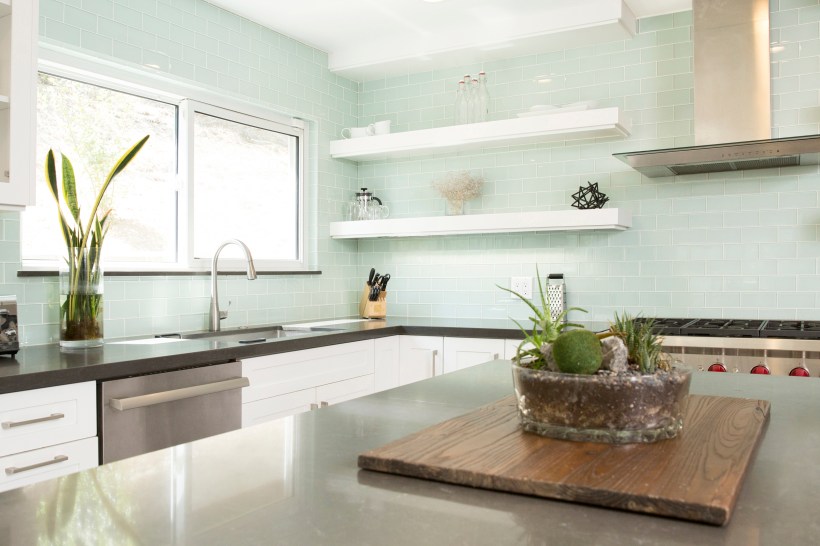 For countertops, natural stones are gaining fans. They offer a more tranquil look, especially when a big slab is used. (Tranquility is a huge plus after some tough times.) Plus, they, too, are versatile. Most stones come in an array of colors and patterns that juxtapose nicely with a kitchen's wood elements.
Which stone to choose? Quartz makes for a strong, durable countertop that's easier to maintain than granite because it's made of stone or quartz material with resin added. Granite countertops, on the other hand, need more care and should be sealed every year. (Who knew?) If that sealing isn't done correctly — or at all — the surface can absorb liquids and stains. And granite surfaces can have small cracks that turn into breaks if someone places a hot pan directly on them.
After years of not being widely used, butcher block has roared back. Of course, it can be used as a cutting surface. Because it's softer than stone, dropped dishes are also less likely to shatter on it. But the drawback is maintenance: Butcher block requires bi-annual sanding and oiling to protect the wood, and sealed counters shouldn't be used for cutting.
These days butcher block surfaces are often being installed in small areas. They may be part of an island or near a sink but not directly adjacent, to avoid water damage, says Jimmy Crisp, principal architect at Crisp Architects in Millbrook, N.Y. Besides adding some aesthetic warmth, this approach can visually break up long stretches of your primary countertop surface, he says.
#4 Natural Lighting Is Good for Your Mood -- and You
Being indoors for long stretches may have caused you to crave more natural light in your kitchen. This craving is one to indulge — it's good for you. Natural light, especially sunlight, reduces stress and anxiety, boosts your immune system, and is a source of vitamin D.
Door and window manufacturers are meeting higher demand with bigger frames that provide access and better views, says Christine Marvin, vice president of design strategy at door and window manufacturer Marvin. This is especially desirable when you can't go outdoors. Good natural light also permits those with a green thumb to garden indoors year-round (see #6).
#5 Handmade Touches, Repurposed Heirlooms Add Coziness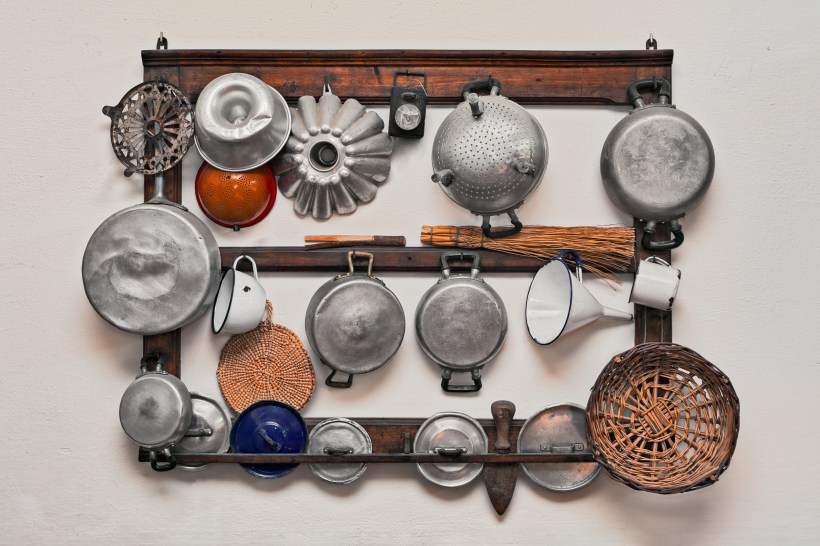 The return of natural materials and interest in personalizing kitchens has attracted homeowners to texture and handmade-looking touches. Jennifer Burt, who blogs at MississippiMaximalism.com, suggests adding pieces with a handmade aesthetic, such as fireclay crafted sinks from Native Trails, a company that combines artisan tradition with sustainable materials.
Another option is tiles that appear more handcrafted than tried-and-true subway rectangles. Many are also larger and may have both a glossy and matte finish and contoured edges.
Your kitchen can also be a great place to add some of your family heirlooms and secondhand store finds. "An older china cabinet can become storage [space]; a marble slab installed on top of a chest creates a cold baking surface to roll dough; or you can shop for some reclaimed cabinets at your local Habitat for Humanity ReStore for a sustainable option," Burt says.
Homeowners can also add a handmade or heirloom look to lighting — for instance, by gluing seashells found on a favorite beach to a lampshade. Flea markets are also great places to search for and repurpose lanterns from an old ship or a historic building.
#6 Greenery Brings the Outdoors In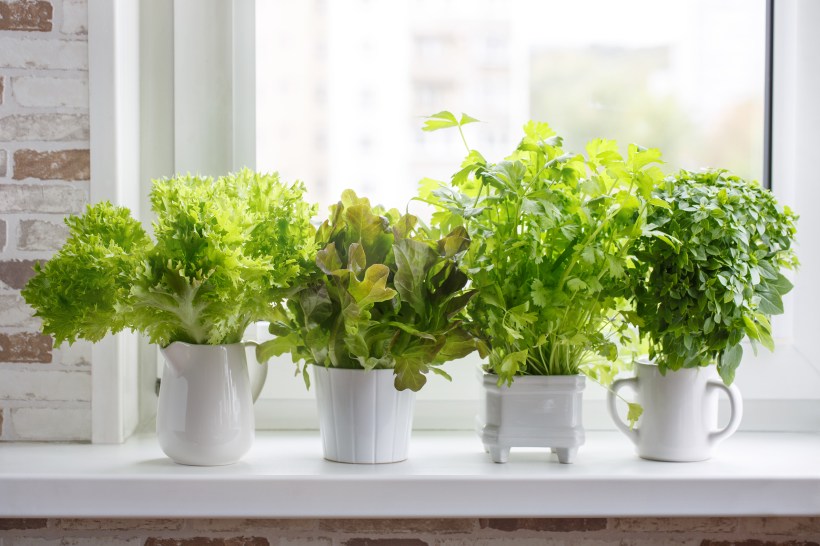 One way to go natural is by bringing nature inside with plants and herbs. Choices for smart interior plants include pandemic-pup-friendly suggestions, as well as plants that thrive in different light levels and temperature conditions. Online guides are available from companies like Wild Interiors, part of Green Circle Growers.
Research shows that greenery can help our emotional and physical health — one more reason to bring in plants, herbs for cooking, and fresh flowers year-round. They're more likely to thrive now that kitchens are being outfitted with bigger windows, walls of glass, and doors with more panes. An added benefit: The greenery will pop against wood cabinets.
If you're prone to forget to water, go with low-care choices — some say they thrive on neglect — like ZZ and snake plants. Also, you might want to add greenery in stages, so your kitchen doesn't turn into a dense jungle or attract bugs, Burt says. "Keep it to functional plants like herbs — maybe a potager, which is a small French country garden of vegetables, fruits, flowers, and herbs — in rustic pots. If there's floor space, anchor the room with one large potted plant."