White is always right in kitchens — clean, bright, a happy backdrop for a carousel of colorful accessories.

That's why Emily, aka the blogosphere darling Decorchick!, upgraded her older oak kitchen cabinets, countertop, and beige-y finishes to bright white.

"We have our dreamy new white kitchen, and I couldn't be more ecstatic about it," Emily says. "I seriously get giddy each time I walk into it."

Take a look at the before and after pictures, and see how white makes the kitchen come alive.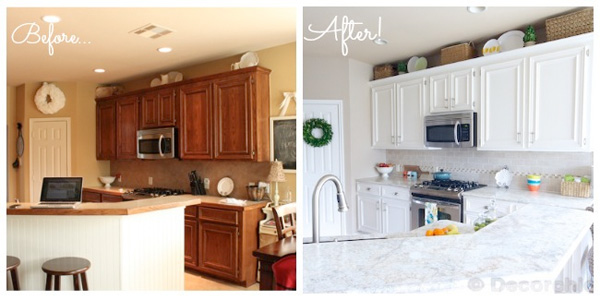 OK, enough with the build-up; here's how it all got done.

Cabinets Decorchick! Didn't Do Herself

Shelter blogging is all about doing everything yourself. So Emily sounds a little sheepish about hiring a professional to paint her cabinets and transform them from blah to brilliant. She didn't have the time (Emily was still nursing her youngest of four kids), or the garage space to lay out the doors, or a professional sprayer to give the cabinets a flawless look.

"Some things are just worth paying for, y'all," she says. "You don't have to DIY everything."

The painter insisted on using an oil-based paint, which would hide the oak grain that Emily was afraid would peek through a white finish. They chose Sherwin Williams' ProClassic oil-based paint in Alabaster.

Here's a quick how-to on getting a professional-looking job.
Scuff up the cabinets with 150-grit sandpaper. Clean with a tack cloth.
Spray several coats of a lacquer undercoat on the door and drawer fronts, sanding between coats.
Spray several very light coats of paint, sanding between each one.
Once the primer coat has clearly adhered to the wood, spray three heavy coats of paint.
After curing and drying, sand with 320-grit sandpaper, then spray another coat.
(BTW, another cost-saving option is to reface your kitchen cabinets.)

Fabulous Faux Countertops

In photos, Emily's new countertops look like Carrara marble, which goes great with white cabinets.

In fact, it's faux marble — a plastic laminate with an ogee edge that challenges any eye to tell it's not real stone. Best yet, no ugly brown seams — the telltale sign of laminates of yesteryear.

Emily extended the countertop a couple of feet to create a little desk that's big enough for a laptop and for her kids to draw on. It's supported with a couple of brackets, an easy install for the countertop guys.

Everything White But the Kitchen Sink

Emily hates to play favorites, but her black quartz kitchen sink is her favorite new possession, which gives her white kitchen a sophisticated look.

The undermount sink is deep and seamless. Although Emily feared the black would show water spots, it doesn't.

"The black sink looks fab with our stainless appliances (which have some black on them too)," she says. "The contrast is just perfect."

If you like white kitchens, be sure to take a look at these inspiring articles: