If there's one place in the home that cries out for organization, it's the foyer. Navigating it can even become a safety hazard, not to mention other dire consequences. Lose your car keys, and you're late for work. Homework goes missing, and your first grader has a tantrum. Can't find the dog's leash, and uh-oh, there's a puddle on the floor.
Whatever the size of your foyer — whether it's a grand, two-story space with commodious closets or barely a space at all — here are essentials for a more functional foyer that's also more fun.
Before you begin designing, consider the space you're working with.
How Is Your Foyer Set Up?
Even if your entryway is small, it's possible to bring functionality together with your unique style for a classic but modern entryway design. Keep these three points in mind while updating your foyer.
Do You Have a Defined Entryway?
If your front door opens right into your living room, the foyer may be ambiguous. It can be helpful to define the area more clearly and designate floor space so the foyer feels like...a foyer! (Check out tip #3.)
Does Your Foyer Have Windows?
If you've got windows in the entryway, maximize their natural light by pulling drapes aside or opening the blinds during the day. If your entryway is dark, you'll want to focus on adding features that boost lighting. (#11 can help with this.)
How Much Foyer Space Do You Have?
A modest foyer doesn't have to feel cramped. If your square footage is limited, incorporate organization and storage solutions that maximize functionality while maintaining an elegant entryway design. (#10 could do just the trick.)
A Dozen Foyer Decorating Ideas
Updating the look and feel of your foyer can make a considerable difference for your space, since it sets the tone for the rest of your home. But making your foyer feel fabulous doesn't require an entire renovation. Try these quick, easy, and affordable foyer ideas to transform your space.
#1 Wall Color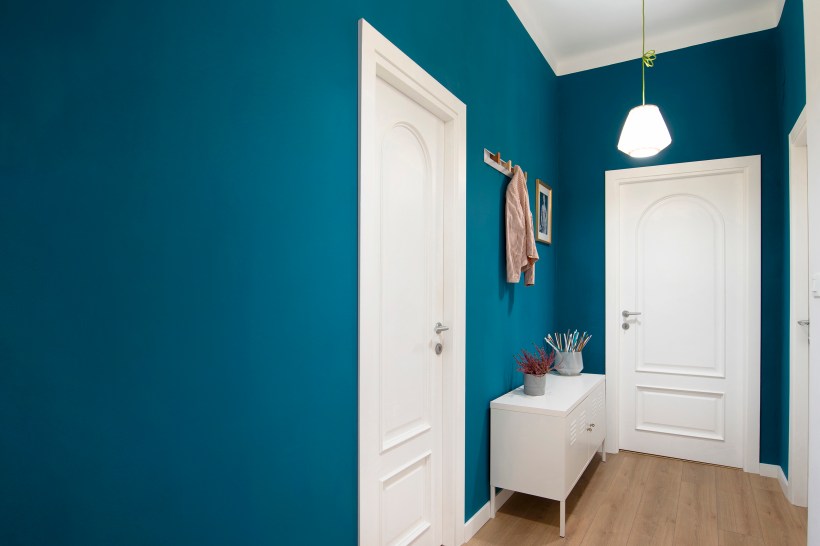 Conventional wisdom says white paint creates the illusion of larger space. But unless you have a really tiny vestibule, you can afford to go bold in a room you pass through quickly. So, go ahead and wow visitors with a pop of something fearless. Orange? Scarlet? Teal? Washable high-gloss paint makes short work of scuff marks and fingerprints. A gallon should do it. Average: $41.
Do keep the ceiling white, though, to head off claustrophobia.
Related: How to Pick Paint Colors
#2 Easy-Clean Flooring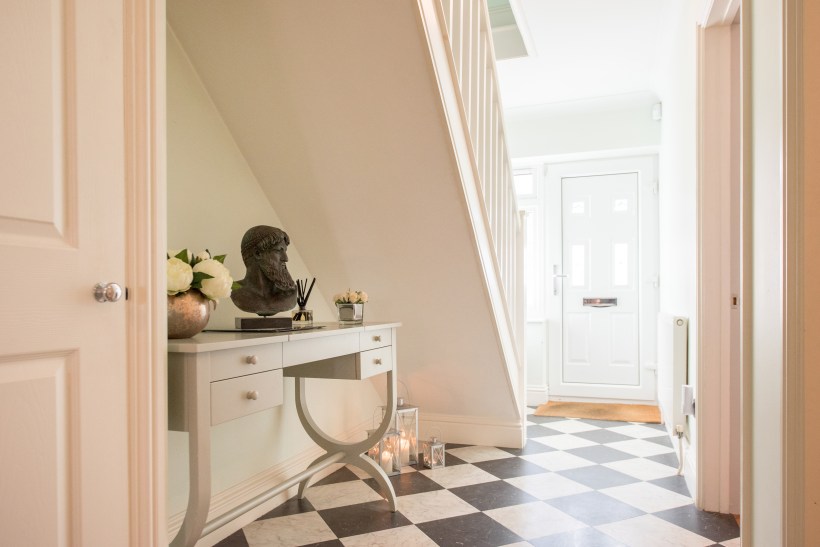 A foyer needs a floor that can handle the wear and tear of comings and goings. Sure, ceramic or marble are nice, but self-adhesive 12-inch-by-12-inch vinyl squares go down easy, can be laid on a diagonal for a diamond pattern, and cost an average of $1.05 per square foot. Black and white checkerboard is classic and graphic, but you can also create stripes, a contrasting border, and any color combo you like. Just make sure you choose something that works with the colors in the next room.
#3 Room Divider
Don't have a dedicated foyer? Create one — or the illusion of one — with a room divider to ensure the foyer and all the stuff that ends up there doesn't leak into the living area. It could be a bookshelf, a screen, or a couple of IKEA's vertical three-pot plant stands for a welcome-home filled with greenery: $50.
#4 Boot Tray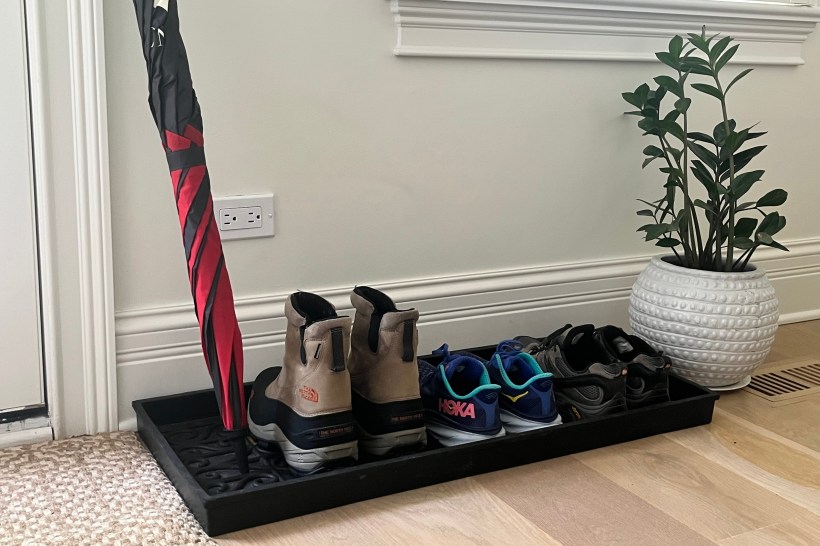 Providing one or more trays for wet boots and shoes is a game changer if you're used to a pile in the corner. You can find a boot tray for $5 and up or borrow a large aluminum baking sheet with a lip from your kitchen collection.
#5 Bench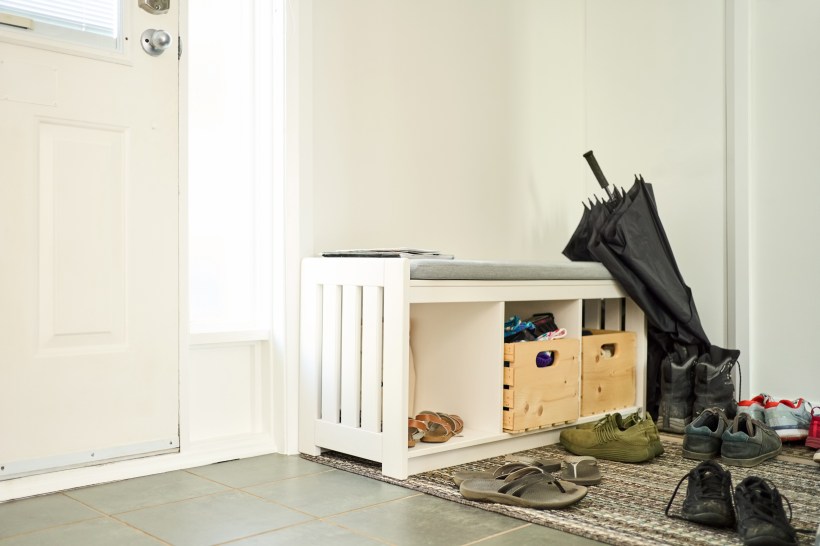 You need something to sit on while taking off those muddy boots. If it's built-in and hinged for inside storage (think soccer balls, ice skates), so much the better. But a less-expensive option is to gussy up an old blanket chest or old camp trunk with fresh paint. Find one on eBay or in a thrift store or flea market and you're good to go.
Related: 4 Neat and Tidy DIY Storage Ideas
#6 Key Rack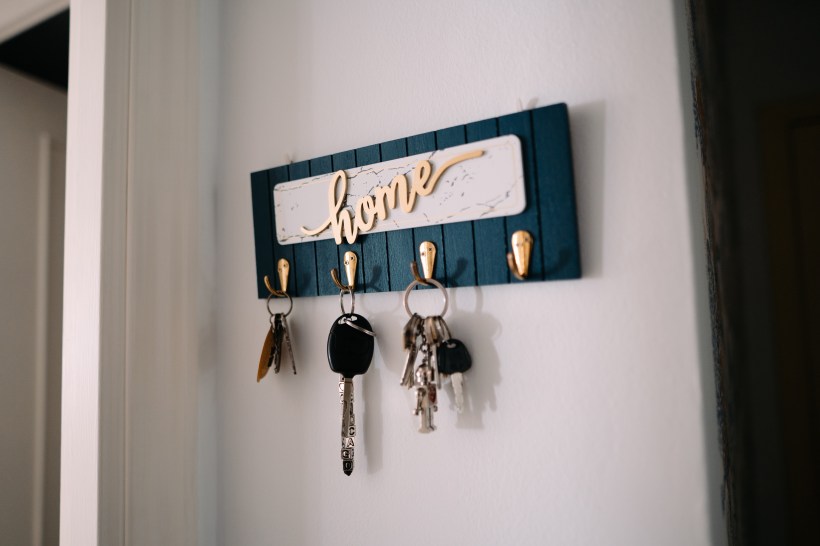 Make it an ironclad family habit: When you come in, hang keys immediately on a dedicated key rack on the wall just inside the door. Various options are available made of different materials starting at $12. DIYing one with the kids makes it fun.
#7 Coat Hooks and Shelves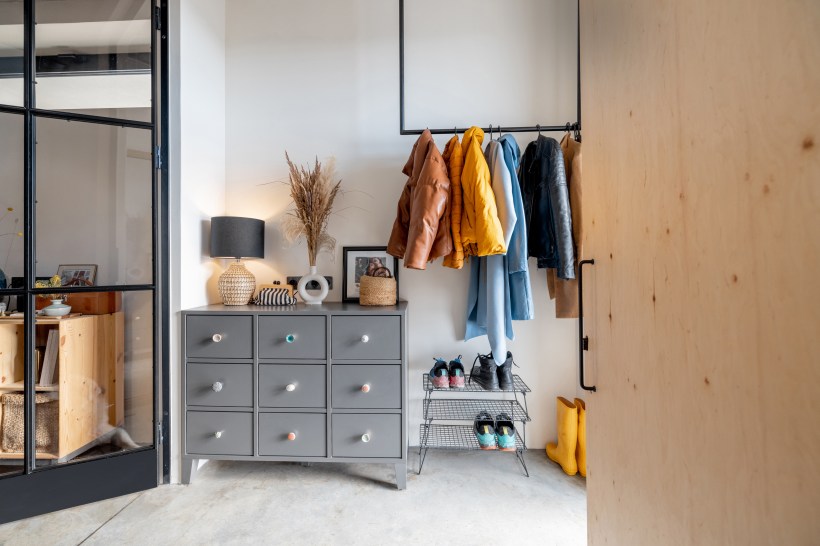 Be as generous with coat hooks as wall space allows, but don't let things get out of hand. Stash anything not currently in season or in use in the nearest closet. If you need more entryway storage space for hats, bike helmets, and items only the grown-ups need access to, add a shelf. A continuous shelf running around the room just a foot or two short of the ceiling makes use of vertical space and keeps less frequently used items out of the way.
#8 Umbrella Stand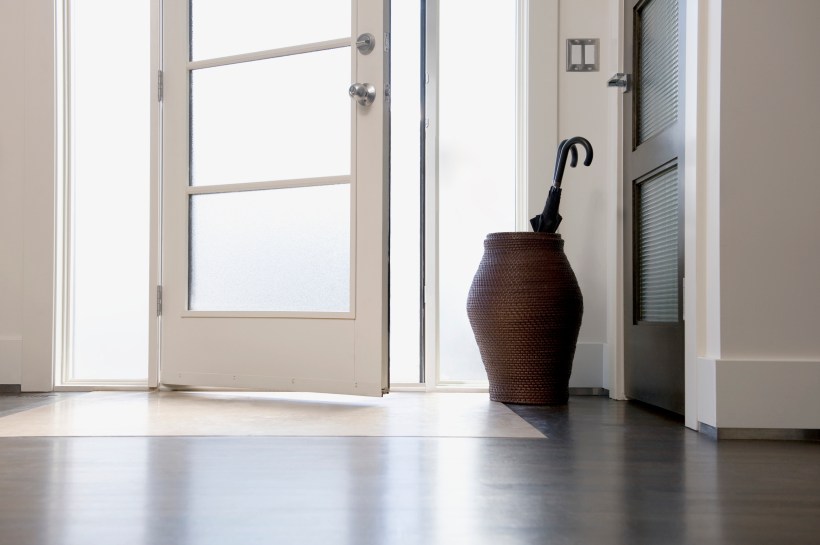 Another must: a spot for umbrellas in a corner near the door. Buy a pretty one or repurpose a tall wire wastebasket.
#9 Table or Console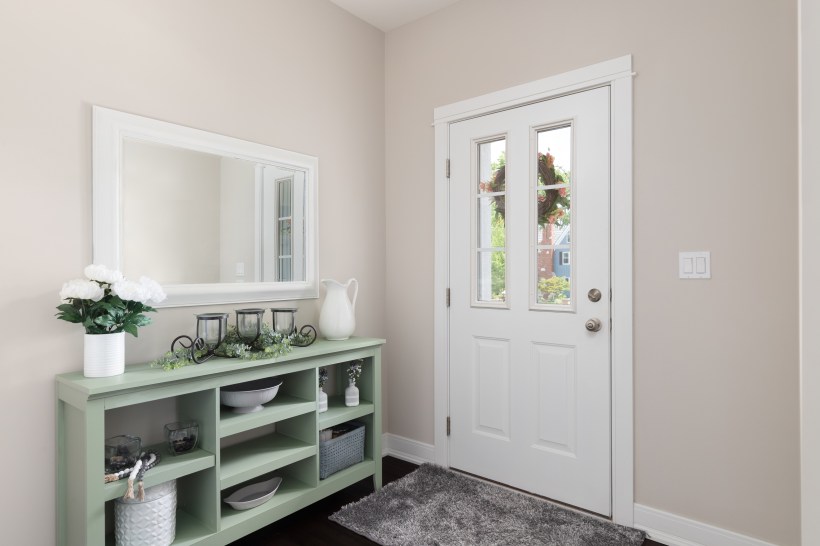 If you have room, go for a narrow table or console for library books that need returning, outgoing mail, a lamp. Many are available online for around $100 or find a spruce-up at a flea market or thrift store.
#10 Lockers or Cubbies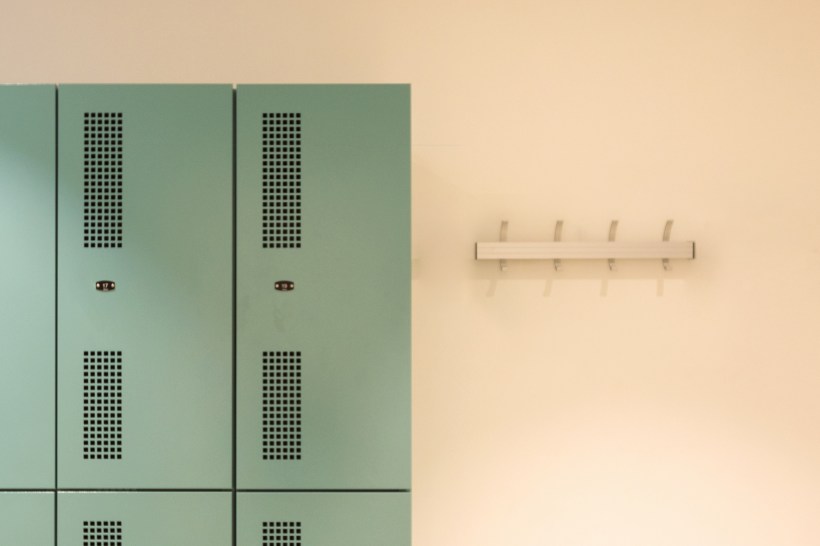 Really squeezed for space? You can still give each kid their own little cubby for books, homework, gym gear. Cubbies are available at all price points.
#11 Mirror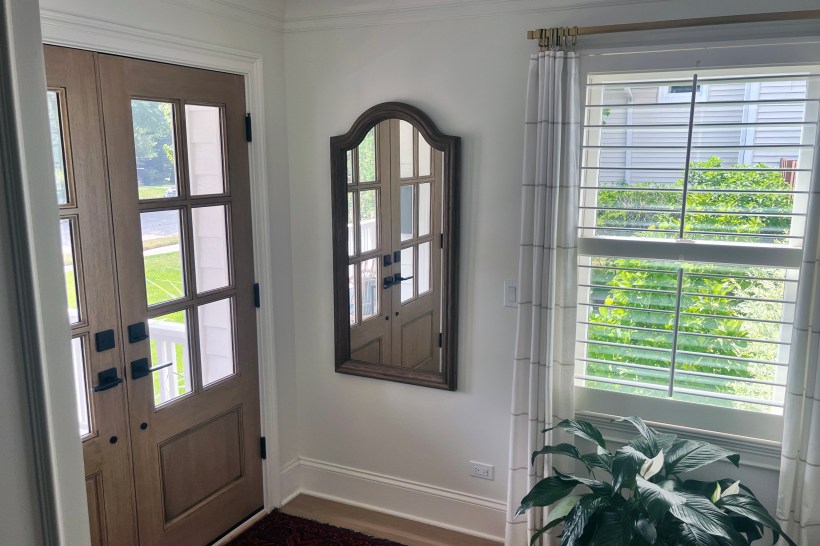 A wall mirror for last-minute hair check and tie-straightening is vital. Bonus: It reflects additional light into the room.
#12 Good Lighting
The all-important entry area needs ample illumination. Did you know that outdoor lanterns tend to be much less expensive? Nowhere is it written you can't use one indoors. Styles vary from rustic to traditional to Arts and Crafts, and prices range by style and material.
Foyer Decorating Ideas on a Budget
Whether you're looking for modern entryway ideas to upgrade your foyer or it's just time to amp up a forgotten space, these simple, budget-friendly tips can help you achieve it.