Warm, breezy evenings are some of the best things about living in Georgia, but I prefer to enjoy them without the company of mosquitoes. So I decided my first major project as a first-time home owner would be to screen in the lower level of a two-story deck.

I tackled this project first for two reasons:

1. My parents graciously agreed to partially fund the project and throw in some labor as a housewarming present. (My dad is a structural engineer who knows his way around a remodel.) My boyfriend volunteered to swing a hammer as well.

2. We weren't starting from scratch — the framework for the 8-foot-by-10-foot porch was already there — so this seemed like an easy first-time project. We only had to add some screens and a ceiling fan and voila! Instant screened-in porch.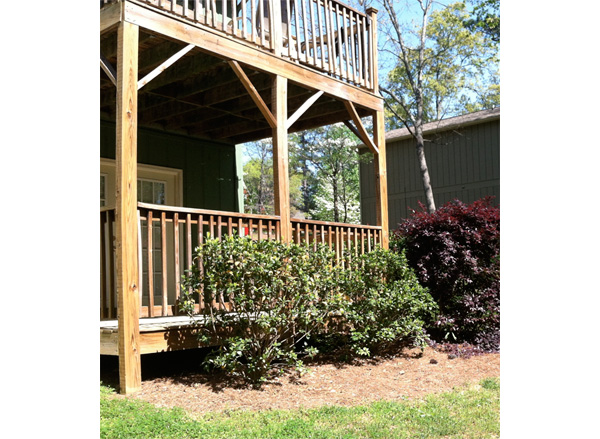 Oh, how naïve I was!

I quickly learned I'd need much more than screens: I'd have to replace the railings, put something under the floorboards to keep bugs out, install a ceiling to keep rain from dripping in from the top deck, and get an electrician to run wires for the ceiling fan.

Out With the Old Railings

It quickly became apparent that the existing railing wasn't going to work. I wanted something more open at the bottom, and the old railing was warped and falling apart anyway. So we ripped out the existing railing and replaced it with this cross bracing, which allow more visibility out the bottom of the screens while still providing plenty of structural support. (We saved the old railings and later used them to build a compost bin.)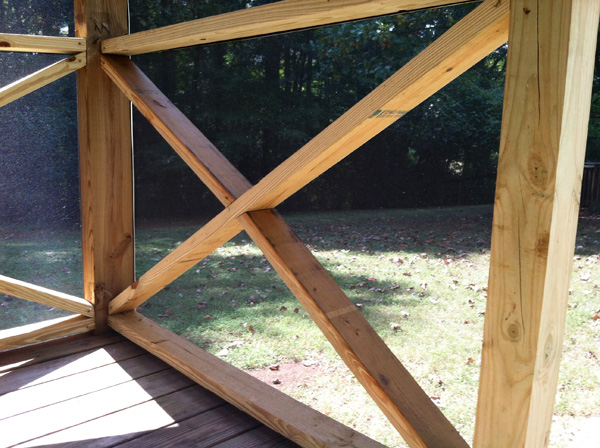 While we were picking up lumber, we went ahead and got a screen door for just $20, plus some hardware for it.
Total cost of lumber: $150

A Cool Screen System

We used the Screen Tight system, which came highly recommended by a friend of my dad's. It took some elbow grease, but worked like a charm.


Total cost of screens and materials: $180

Let There Be Light (and Breezes)

A ceiling fan is non-negotiable in a Georgia summer. An outdoor fan was the way to go in this case, since rain can blow inside the porch if it's windy.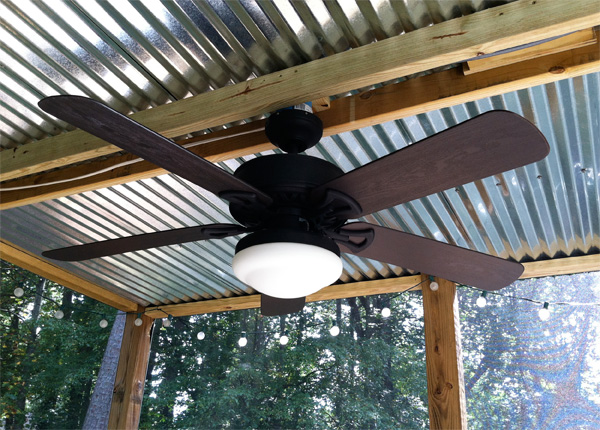 This project turned out to be a family affair: My uncle, an electrician, volunteered to come out and run wires for the fan, saving me anywhere from $300-$600 if I'd had to hire someone. (Never underestimate the value of handy family members.) He ran wires up to the ceiling, installed dimmable switches for the light and the speed of the fan, and put an extra outlet on the ceiling so I could plug in strings of lights. (No porch is complete without string lights.)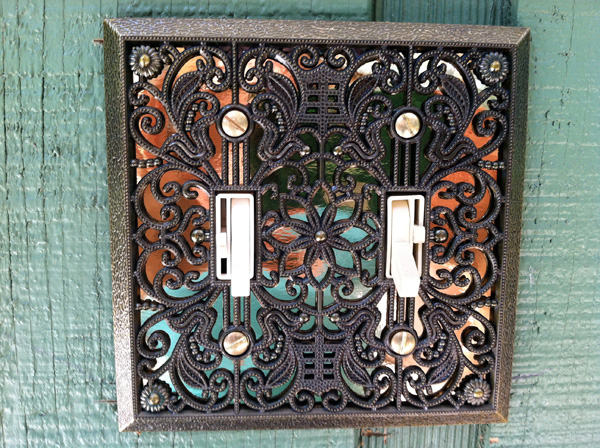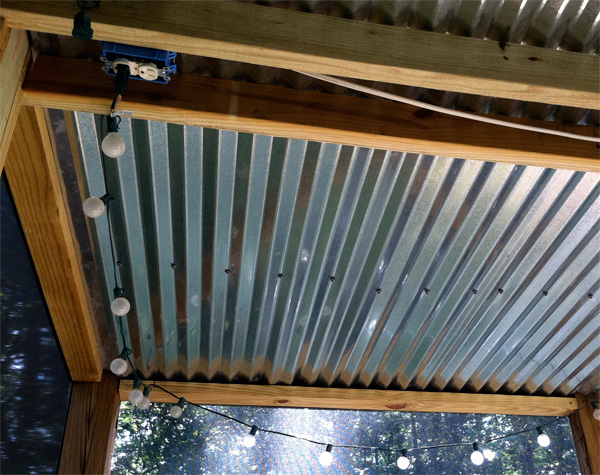 Total cost of ceiling fan and lights: $130

Sealing Up the Ceiling and Floor

Although the porch is covered by the second-level deck, something had to go up on the porch's ceiling to divert raindrops seeping between the boards overhead. For this, we used corrugated sheet metal, which we installed at a slight slope so water would run off away from the house. They cost about $14 for a 96-inch-by-26-inch panel. I needed seven of them.

We didn't need to replace the existing floorboards, but there's a small gap between each board, which meant mosquitoes and other bugs could still fly in from underneath. My boyfriend had the genius idea to get some wooden lattice ($12 for a 4-foot-by-8-foot sheet), cut it to fit the opening underneath the porch, then staple leftover screen material to it. Now, it's bug-proof.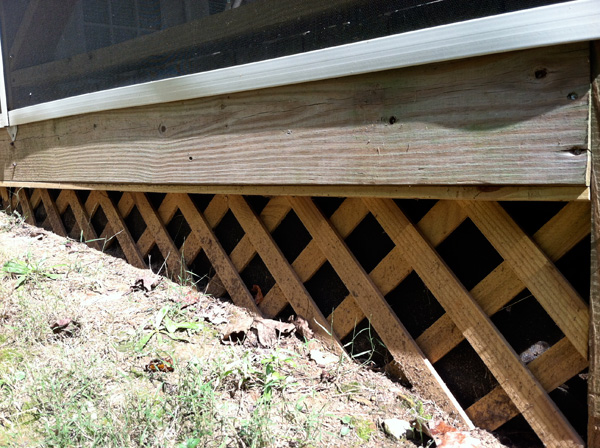 Total cost of ceiling and flooring materials: $122

Throw in miscellaneous nails and screws, plus the sealant and stain we'll apply once the wood has dried thoroughly, and the cost of my screened-in porch will total around $600.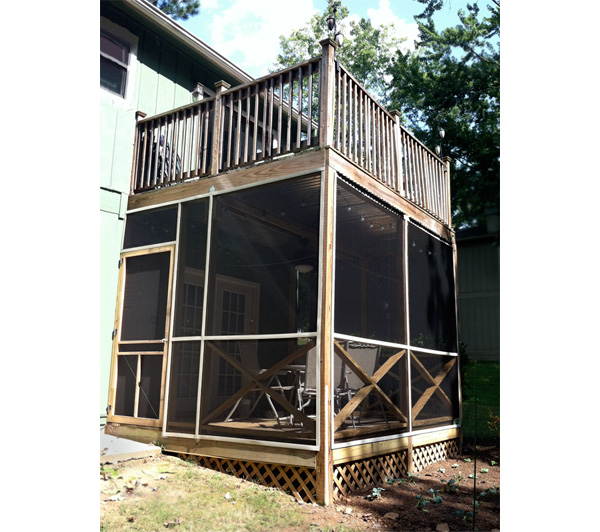 Lessons Learned

Rule No. 1 of DIY remodels: No project is as quick or easy as you think it'll be. There's a nickname for this phenomenon: "Project creep." It took me, my dad, my boyfriend, and my uncle about 8 days to complete the project, spread out over four weekends. I originally thought it would take a weekend, maybe two, but that's another aspect of project creep: It'll always take longer than you think it will, and more often than not, it'll cost you more than you expected. Once I realized how much work we had to do, I budgeted carefully, so there were no financial surprises for me.

Don't be afraid to ask for help. The combined expertise of my dad and uncle was invaluable in this project. If you have handy friends or family members, you'll learn a lot by talking and working with them, and you'll be on your way to becoming an expert yourself. If you don't know anyone with DIY skills, there's no shame in asking the employees at your local home improvement store for advice — they often know their stuff.

You'll make more trips to the home improvement store than you ever thought possible. Inevitably we would run out of screws and have to make another trip to the home improvement store, or it would start raining and we'd have to pack it in for the day. So leave some wiggle room in your schedule.

Don't skimp on details that will add to your enjoyment of the space. Installing dimmable switches for the string lights and speed of the fan seemed to be a small touch, but now I can't imagine my porch without them. I'm also glad I sprung for the reflective sheet metal on the ceiling — I could have gone with white or matte black, but the silver adds a cool industrial look that I love.

It's never going to be perfect. I do get the occasional gnat or spider in the screened-in porch, but what can you do? You'll drive yourself crazy trying to find every tiny hole through which a gnat can fit. I've gotten used to the fact that it's just mostly bug-proof.

Wine tastes better when you drink it while relaxing on a porch you built yourself. But I bet you already knew that.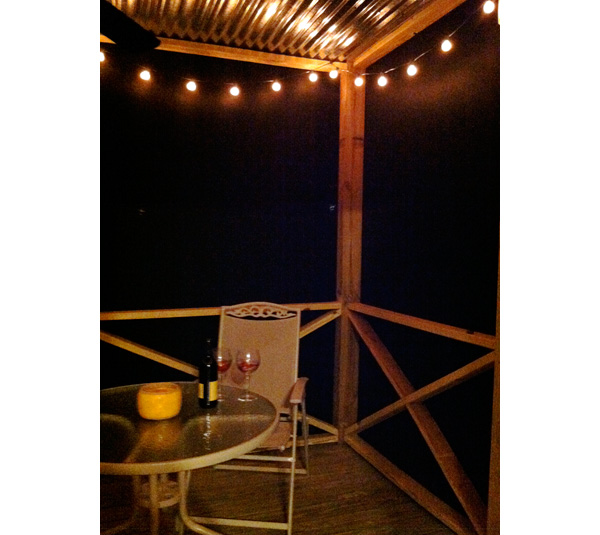 What was your first major project as a first-time home owner?