These DIY closet organizing ideas can turn that helter-skelter space into the most helpful corner of your house.
Here's how to organize a closet in cost-effective ways that'll make you do the happy dance.
Create Grab-and-Go Bins
It's easy enough to sort your cleaning supplies on organizing day. But then you grab and put back, grab and put back, and two weeks later, the window cleaner is MIA again.
Organizing closet items into labeled bins by task makes everything easier. Then, when it's cleaning time, tote the whole bin along. Everything you need for your to-do will be right there — and it'll return to the shelf just as tidy as it was before.
Bonus: Corral those mops and brooms with a hanging organizer and watch your floor become visible (and clean) again.
Put Labels on Your Bins
If linen closets held only linens, they'd be easy. But since they manage everything from dental floss to beach towels, smart use of space is critical. To know what's in every inch, use labels on baskets, bins, and plastic mini-drawers.
Another space-savvy solution: Spin your way to the back of the shelf with a Lazy Susan.
Retrofit Some Pullout Shelves
Pullout shelves make every inch of your cupboards count.
No more can't-reach corners. Nothing quietly expiring behind a blockade of cereal boxes.
To simplify even more, organize pullout shelves by purpose or meal: breakfast or dinner items, cans, baking supplies, etc.
You don't need a custom-cabinet makeover to get pullout shelves. Grab a kit from the hardware store. It's quick to install — and totally worth it on a groggy Saturday morning when the pancake mix is just a slide away.
Sort Toys into Clear Boxes
The before photo screams, "Maaahhhm, I can't find my..."
And the after? Not only will the kids be able to find things themselves, but this system also makes cleanup easy. (Er, easier, at least — a parent can dream, right?)
Clear and labeled storage bins make things visible. Changing the shelf heights to match the containers makes the space more productive and helps you see which bins go where.
Easy-to-update chalk labels can evolve along with the kids' interests.
Hack an IKEA System
Master closets are hard workers, often storing clothes for more than one person, for more than one season.
Get the look and function of a custom closet without the custom price. Turn an IKEA system like PAX into a closet that will streamline your life.
Do a thoughtful analysis of what will go in it and where to maximize space with just the right number of shelves, drawers, and hanging rods. The best part? Make it look built-in by adding molding at the top and bottom of each unit. Future buyers of your home will love it just as much as you do.
Customize a Catch-All Closet
Ah, the catch-all closet. Jack-of-all-trades, clearly not the master of anything.
Tame your do-it-all closet with these organizing ideas:
A back-of-the-door rack maximizes space and is perfect for small items.
A big ol' basket or trunk corrals bottom-of-closet clutter.
Buckets are perfect for midsize, grab-and-go items. Just remember to label them.
Organize Your Closet by Color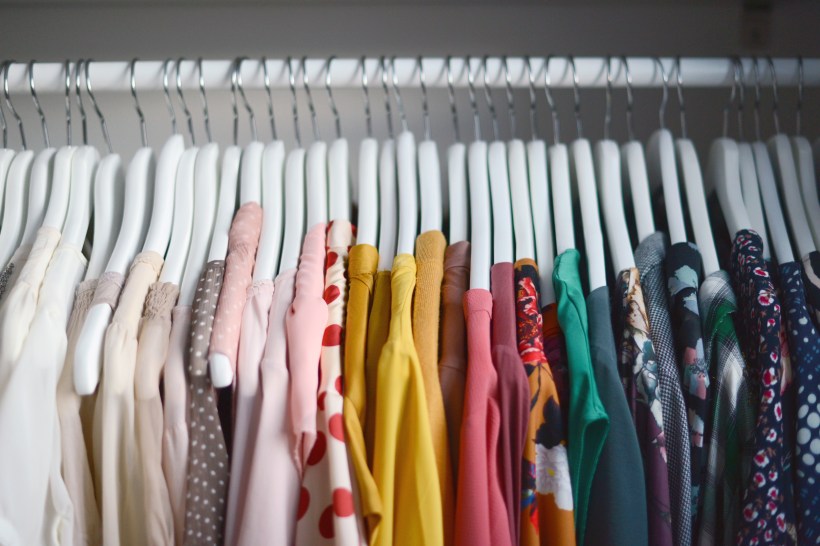 Chaos is hard on your brain. Order is pleasing. And so is color. Behind all the bins and pullouts and pegboards, organization is just about making your stuff more visually digestible and easy to access. Sorting by color does both — and it's pretty, too!
Related:
More Savvy Ways for Closet Organizing