This is the first post in a series by Remodelaholic's Cassity Kmetzsch, who with her husband Justin added storage space to their well-loved and highly trafficked family room with help from HouseLogic. 

When it comes to storage space, I think I can safely assume we all could use more. That's definitely the case for my family. Let me give you a taste of our problem. Warning: These pictures, which show our family room, may be all too familiar for comfort.
As you can see, stuff has found a precarious home on the family room piano:


The "Topple" game offers an apt name for this makeshift storage nook, which will soon become part of the new storage space.




All this clutter is a little embarrassing to admit, but, hey, life is messy.




Let me introduce you to our little family: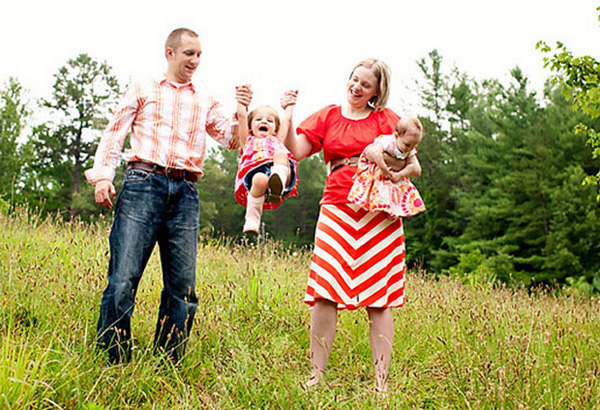 Image: Destinee Blau Photography
The four of us spend a lot of time in our family room.  It's home to our home office, a crafting area, piano and accompanying music, board games, DVDs, music, electronic equipment, television, sofa, pillows, blankets, books, TOYS, toys, and oh, did I mention toys? Plus all the other random stuff that doesn't actually have a home.  

The family room includes a large walk-in closet, where all these items used to be housed. But because of the super-hot summers here in Texas, we decided to turn it into a playhouse for our girls so they don't bake outside. We realize this may not be the ideal for some families, but we really wanted to keep our girls active at any time of year.  While we're happy with our choice, it's created a major need for storage.
The solution
We decided to combine utility and aesthetics by creating a built-in shelf and cabinet unit along an entire wall of the family room (about 28 feet wide; 8 feet high), which will include a window seat with storage. I've always wanted a window seat! As HouseLogic points out, besides offering stylish seating, a window seat can add as much as 13 cubic feet of storage space.
In contemplating the wall space, we struck an unused square footage gold mine. That box on which the stair railing is mounted is a big box of nothing. Notice the hole I cut into the drywall to check.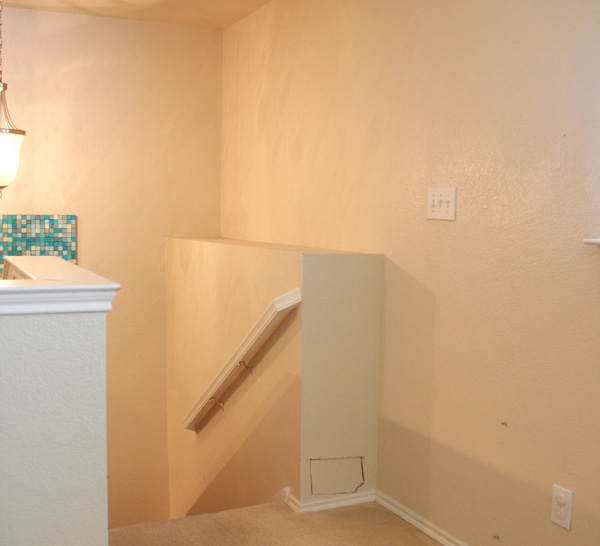 And below is a view of the whole wall, including the box of nothing, where we'll erect the "Great Wall of Built-ins." This is going to be big!

Click on the image below to view an even larger version of the Great Wall. (Image will open in a new window.)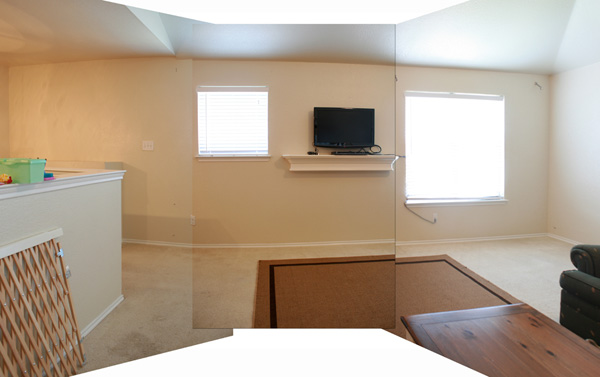 Here are our project goals:
Reclaim this unused space.
Add architectural interest.
Incorporate some great design elements.
Declutter our family room.  
See how our storage space is taking shape. 
What have you done to reclaim space and keep clutter at bay?