Remodelaholic's Cassity and Justin Kmetzsch share their family room storage-building exploits here on HouseLogic, which is sponsoring the project.

Storage is the main consideration for our family room project, so make sure you have a storage plan. Overlook this step and you'll end up with beautiful storage, but not enough space. That's why I sketched out what needs to be stored and where. Here's my nifty drawing:



One of the best ways to plan your design is to use plain old graph paper so you can keep the project in scale. Our wall is about 28 feet wide and 8 feet high.

After about three sets of plans, we usually get it right. Don't be concerned if you aren't an artist. Just take a picture of the wall or space and draw right on the printed image. Shhh, this is my secret way of designing spaces!

Here's a super-quick sketch — like five minutes — of the space, keeping our storage needs in mind. Click to view a larger version of the sketch below.



Once you know what you're going to build, it's time for the important part — cue scary music (duh duh duh) —  the budget!

Budget
We budgeted $1,500 for this project (thanks HouseLogic!), including a few tool purchases. That means making a supply list and breaking down the project by each hinge, latch, screw, and piece of wood. We bought most of what we needed at a big-box retailer.

Here's a simple cost breakdown.

Wood/Building Materials:  $870
Shelving and cabinet material (melamine)
Plaster

Hardware: $100
Adjustable shelving brackets
Tools: $450
Clamps (for building doors)
Paint: $130
This budget was a guideline because inevitably we'll forget something and go back to the hardware store — like 12 times. For any project you may be working on, always set aside at least 10% for miscalculations, oopsies, or forgetful moments. You'll be happy you did and cash poor if you don't.

Demo time! (blatant MC Hammer reference)
We knew the room was a mess before, but it'll get worse before it gets better, so please bear with us.  

One of the first things we did was to remove and relocate the hand rail to the opposite wall. With babies, and mommy carrying babies up and down the stairs, we didn't want to be without one.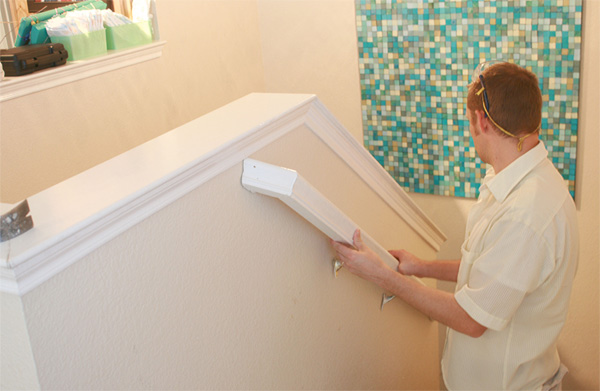 Then we marked the line where we'll cut into the hollow box.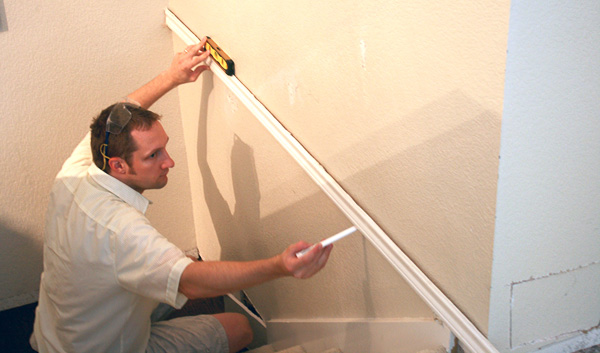 Once the cut is made, there's no turning back. We were careful to take out the drywall in one sheet so we could reuse it to cover the back wall of the box to keep the house properly insulated.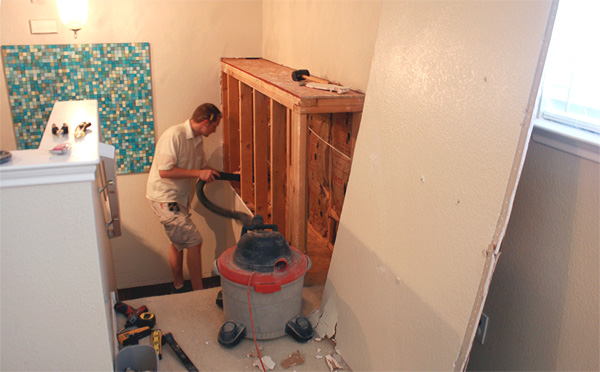 After we finished the electrical work (adding much-needed plugs and circuits), we closed up the drywall hole with the drywall scraps, filled the gaps, and plastered the seams: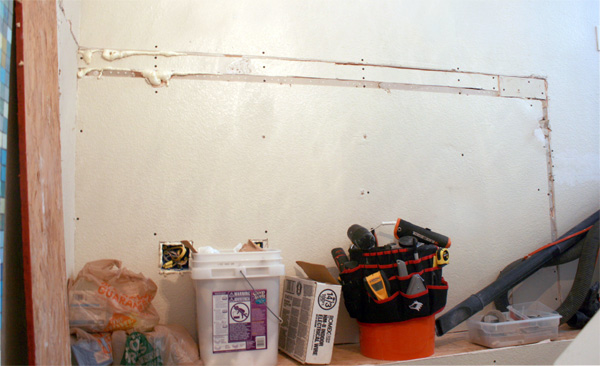 Please go with a pro for electrical work. It requires skill and experience because it's dangerous. 

More: Prevent Electrical Fire Dangers

Then Justin got down to building. Since we have young girls, he does a lot of the building while I handle the mommy business. But he's good at asking for help and we have great friends who either are too nice to say no or actually want to learn how to do this work ("will work for knowledge"). Win-win!

Here Justin gets cuts the boards that will become the sides of the shelving. He's also creating a groove where the support shelves will sit: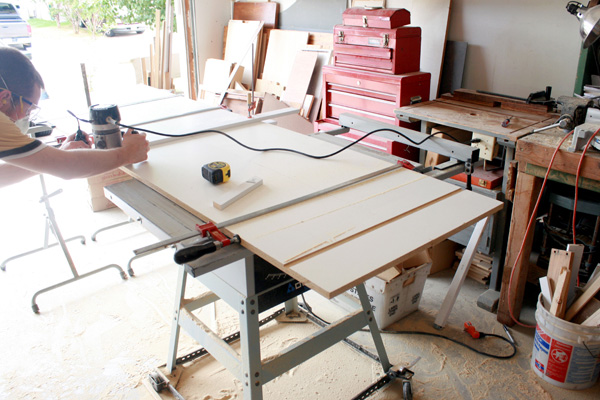 Gluing and nailing together the shelves and sides:



Look, Ma! I actually helped! (I help, but I'm never in the pictures. I'm usually taking them or wearing my pj's with no makeup, hence the cut-off head.)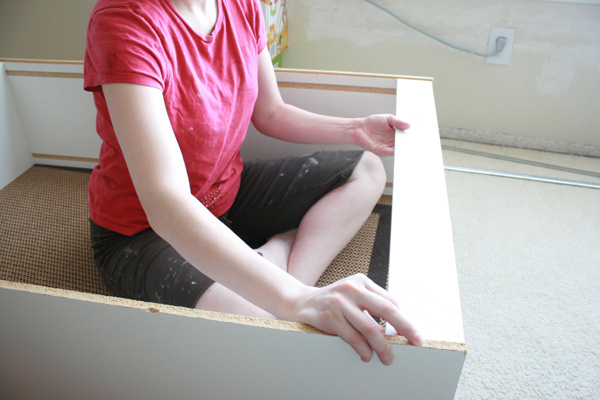 We removed a strip of carpeting where the built-in will live to give it a solid footing. We also stapled the newly created carpet edges to the floor so they don't pull away or wrinkle. Eventually we'll get new carpeting, which will be much easier with the panel under the built-in removed.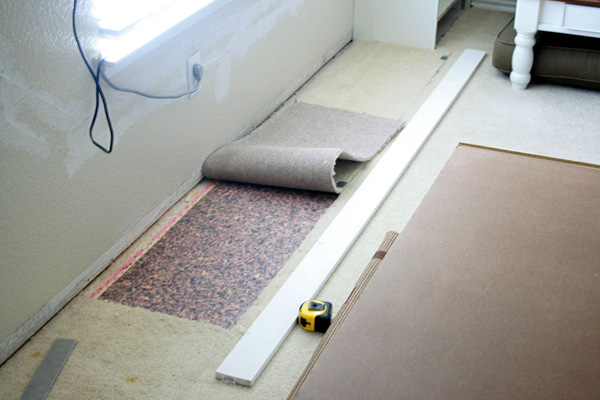 Adding backs to the built-in: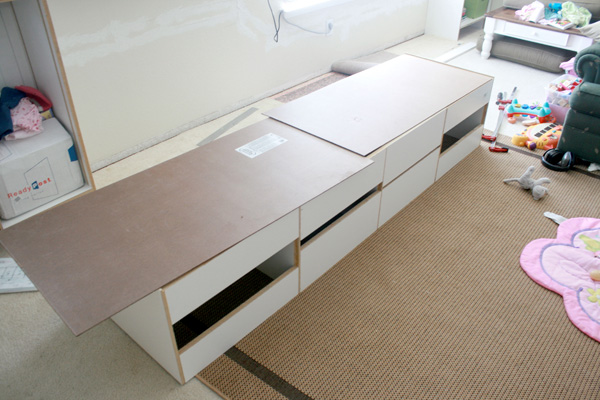 Cutting out holes in the back of the cabinets for plugs: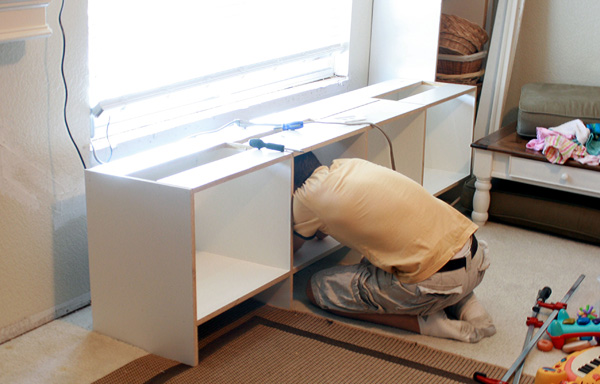 In an earlier project, we added a column to our first-floor living room. So we thought it would be nice to add one to the second floor for continuity.  It'll also help us create a cleaner ceiling line where there's a bit of vaulting.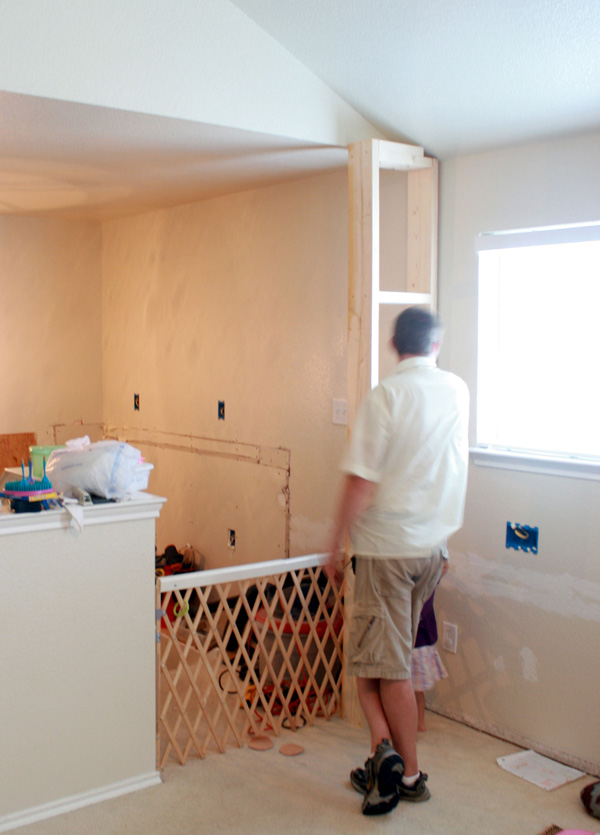 Here are all the cabinets in place: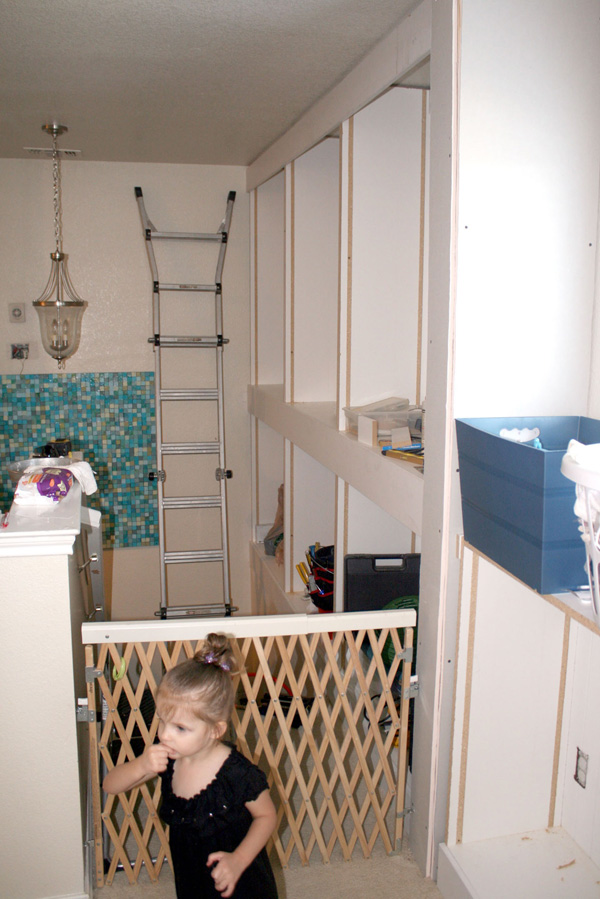 Melamine tip
To save time and hassle, we used melamine-coated particle board for the vertical and horizontal shelf interiors. We covered the front of the cabinets with real wood. Melamine is a nice choice for shelving interiors because it doesn't need to be painted (our purchase came in white) and the objects on your shelves don't stick to the paint. It's also very durable.

Because the depth of our cabinets isn't standard, we weren't able to buy melamine particle board with pre-drilled holes to accommodate adjustable shelving. Instead, Justin routed out a groove, perfectly sized so that we can use an adjustable-shelving support system. We had only one problem: When you cut melamine board, the edge can chip.
To make sure the interiors looked their best — neat and clean — we painted the grooves. The paint also filled in any little chips. 

P.S. This is how you paint with a baby who must be held. Gotta get in a few kisses!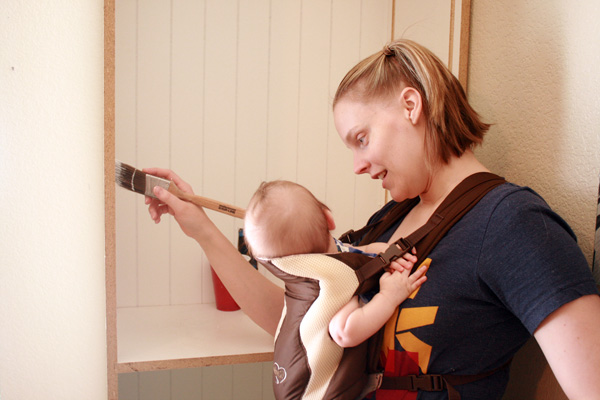 Adding the face frame
Justin installed the face frame while I was painting. We chose to route or fillet the edges where the horizontal and vertical face framing meet. That provides a nice aesthetic detail and makes it so much easier to finish and sand the edges, because you don't have to make a perfect edge.





Then the "fun" work began — painting and sanding and caulking, oh my! Here's a shot where you can see the difference paint makes: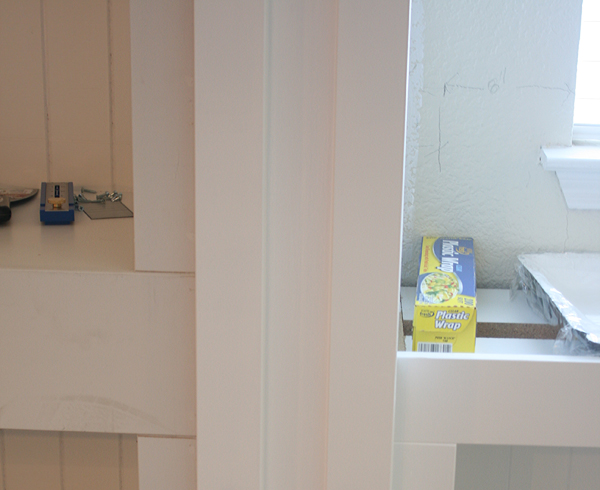 What we've accomplished:
Patch, sand, caulk, and paint
Unfinished business:
See how our wall of built-ins cabinets is evolving.