Although the average cost of a complete solar panel system has dropped in recent years and photovoltaic installations are up, homes with solar panels are still a small part of the market — probably because the systems take a long time to pay for themselves.

So is powering your electrical stuff with the sun worth it for you?

We found two websites that offer free, instant, independent appraisals of the value of the sunlight that shines on your roof.

To use the National Renewable Energy Laboratory's In My Backyard tool:
Choose whether you'd put a 4-kilowatt, 10-kw, 50-kw, or 100-kw solar system on your house. What size system you choose depends on how much available space you have — a 4-kw system takes up about 35 square meters — and how much electricity you need. The average size of a residential system is about 5 kw.
The Google Maps-based tool tells you:
How much energy the system will generate for your home
The dollar amount that energy translates into
How long the system will take to pay for itself
The payback information includes the money you could recoup in tax credits and other incentives, drawing from the state and federal tax credits available for the address you entered.
If I were to put a 4-kw system on my house in Roswell, Ga., I'd supposedly save about $450 per year on my electricity bill (based on an electric rate of 9 cents per kilowatt hour) and the system would pay for itself in 36 years.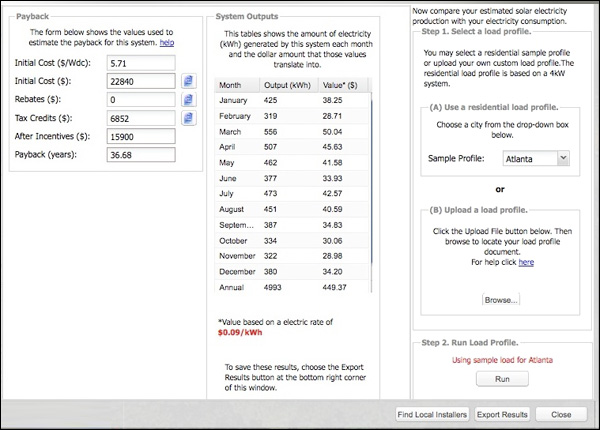 Geostellar's tool is only available for parts of the East Coast and California, so I asked my coworker in Clarksville, Md., to try it. If she bought a $25,000 solar system for her home, she'd pay $14,349 for it after tax credits and rebates, and she'd save an average of $1,476 annually on her energy bills. Over the life of her system, she'd save nearly $37,000.
 
Would solar power ever be worth it for you?