When I first saw pictures of Rachael Evans' stairway upgrade, I honed in on the textured wallpaper she applied to the risers beneath what looked like cork treads.

But as I read Rachael's post, I realized the treads were not cork or burled wood. They were MDF covered with stained brown paper — a decoupage technique that made the plain treads look expensive and elegant. It's faux flooring for less than $100.

(If you're a fan of faux, don't miss this faux granite project.)

Brown-Paper Stairs 101

This time-intensive but low-cost refinishing technique requires:
Brown craft paper (the kind you wrap packages with; $20 for a 200-ft. roll).
White glue ($12/gal. at craft stores).
Dark walnut stain ($8/qt.).
Rachael has printed a complete tutorial on how to lay down brown paper flooring. Here's the basic process.
 
1. Remove carpet and padding.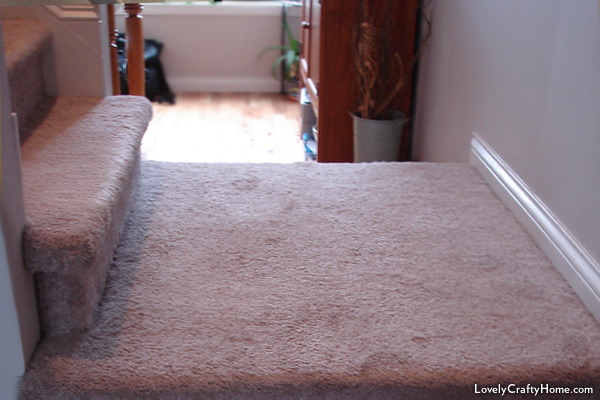 2. Tape off baseboards to protect the paint.
3. Tear paper into 6- to 12-inch-diameter pieces; the smaller the pieces, the more leathery the floor will look. (Pieces with straight edges are good for applying next to walls.) Crumple into balls and toss into a contractor's plastic bag until you need them.
4. Dilute glue with water using a ratio of 3 parts water to 1 part glue. Only dilute enough glue to use in one session.
5. With a paintbrush, brush treads with undiluted glue.
6. Dunk 5-6 balls of paper at a time into the diluted glue; squeeze out excess.
7. Lay paper on treads, overlapping a little. Brush the diluted glue mix over the paper to flatten and remove wrinkles.
8. Allow to dry for about 12 hours.
9. Apply stain, and let that dry for 48 hours.
10. Apply 12 coats of water-based polyurethane, sanding lightly between coats. 

Wallpaper Risers

Once you've finished refinishing the treads, you can refresh the risers by applying paintable textured wallpaper. Rachael used an embossed print called anaglypta ($20 for 22 sq. ft.), which looks like vintage metal ceiling tiles.

To give the project a finished look, she glued a piece of trim onto the bottom of each riser.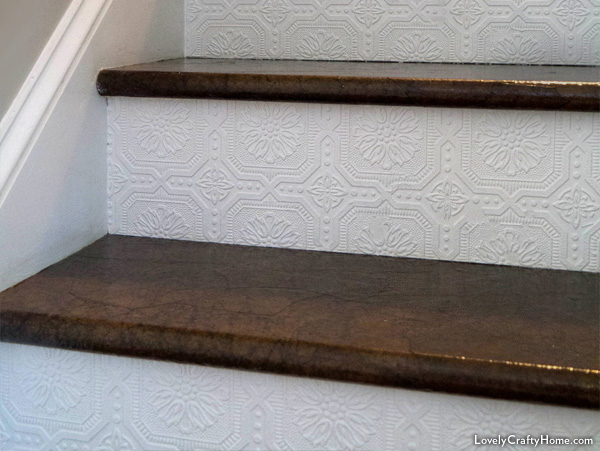 Lessons Learned

1. Work on every other stair, so you can use the stairway while you're refinishing. The project will take four days to complete, so you don't want to be without your stairway for that long.
2. For best results, practice the technique on scrap wood before trying it on the stairs.
3. For a light, natural color, skip the stain.
4. Allow everything to dry completely before proceeding to the next step. Patience is key to good results!

Looking for more great stairway redo ideas? Check out these fantastic stairway makeover projects:

How a Clever Mom Turned a Stairway into Storage
A Runner Shapes Up a Tired Staircase
Bead Board Risers Sweeten This Stairway
Also, take a look at these imaginative pantry and laundry room projects.