When six people live in 1,000 square feet, every inch of storage space counts. So, Saving 4 Six blogger Carrie captured space under a basement stairway by turning several stairs into storage drawers.

Repurposed drawers from an old changing table helped Carrie create new homes for winter boots and old picture frames. Best part: It cost her nothing but a little elbow grease.

"We're always looking for creative storage, trying to make the most of our space," Carrie says. "Plus, we're huge repurposers. We figured we could use drawers from an old dresser in a new way."

Here's the Problem

Carrie, her husband, and their three kids live in a 99-year-old Craftsman house in Ohio. The home is graced with original wood trim, but it's challenged by stairways covered with some gawd-awful carpet.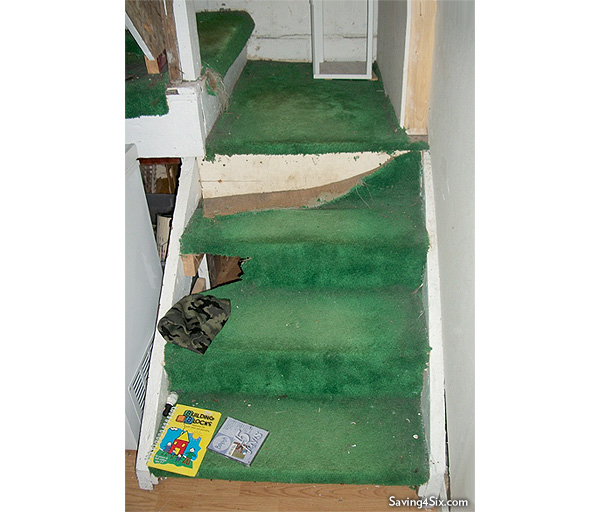 Although emerald — Pantone's color of 2013 — is a hot color this year, even Carrie called this version of emerald carpet "foul!"

When Carrie tore off the carpet, she found that the last three steps were rotten and dilapidated, which explained why her sons avoided them by jumping the last few feet into the basement.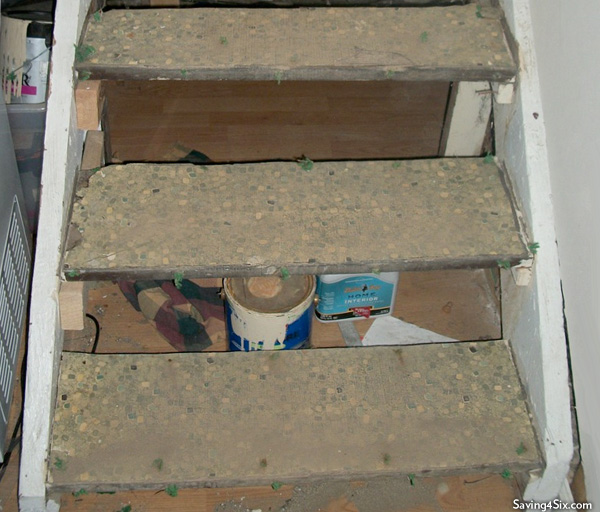 Here's the Fix

Carrie and her husband repurposed treads from a previous stairway renovation and popped them into the basement stairway. On the last three steps, they attached supports to hold the treads and guides for the drawers, which would be hidden in the empty space behind the stairway. The fronts of the drawers became the step risers.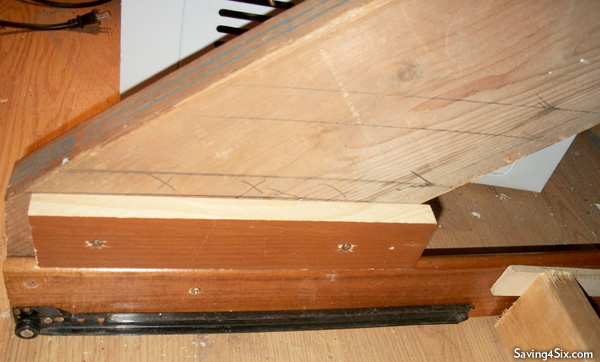 The drawers were repurposed from an old changing table that belonged to Carrie's daughter, who is now 8 years old.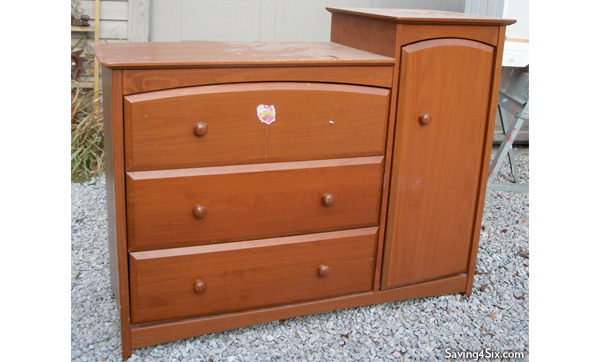 Carried shaved off the tops of the drawers to fit under the steps, then painted the faces to match the other risers. She avoided pulls, which could be a tripping hazard. Instead, she'll pry open the drawers by sticking a finger into the small space between the drawer-fronts and the sides of the stairs.

Finally, she covered the stairway – and just the last three treads — with leftover carpet. Just by looking, you'd never know the extra storage space was there. And it took the couple only about 8 hours to reclaim that hidden storage gem.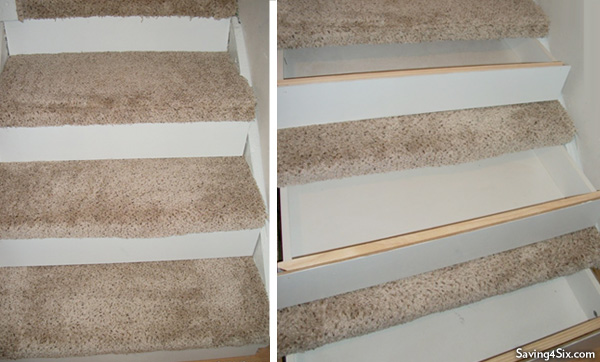 Lessons Learned

Here are some takeaways from Carrie:
Always look for different and unique ways to store your things. Don't leave any blank spaces in your home. You can use them all for extra storage.
If you make similar storage drawers in your basement stairway and they tend to stick, run a dehumidifier. Removing moisture from the air will prevent the drawers from expanding and getting stuck.
More Stairway Ideas
More Storage Ideas: