You've seen bead board used for wainscoting and paneling, giving a plain wall some punch. But have you ever seen bead board on stair risers?

Me neither, until I read an 11 Magnolia Lane post about a great stairway redo that added bead board accents and gave the steps instant elegance.

Steve and Robyn, friends of the décor site, wanted to perk up their blah front hall stairway, which was covered with beige carpet and enclosed with a white banister and spindles. I'm falling asleep describing it.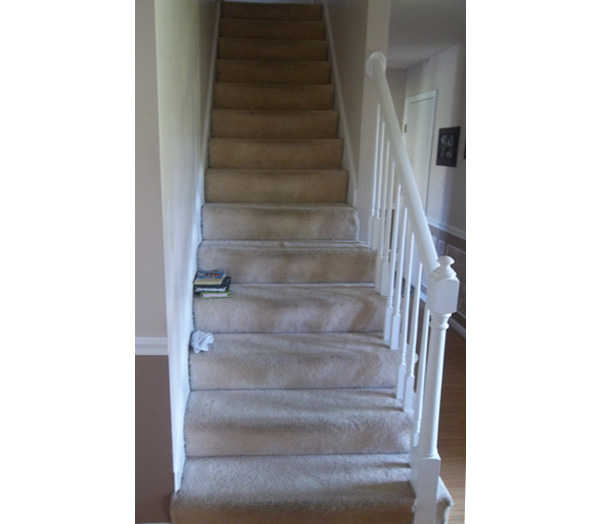 So, in about three days, they created some drama by:
Getting rid of the old carpeting.
Painting the treads and banister a dark, espresso brown.
Covering risers with bead board.
Adding a runner to protect stairs and provide texture.
The result was a stairway that's now a focal point of the home.

Starting Off on the Right Foot

First, the couple pulled off the beige carpet to uncover MDF treads with an attractive bullnose, so those were keepers. After sanding everything that didn't move — treads, banisters, and spindles — they primed. Too many people skip priming and go straight to painting. But paint adheres better and colors are truer after priming, so take the time to prime.

Steve and Robyn put down Glidden Gripper Gray Primer ($25/gal.) on the treads, which sticks and seals exceptionally well — especially important on treads.

After priming, they painted the treads and banister with dark brown Behr Porch and Patio Low Luster Enamel ($30/gal.).

"Our friends painted their stairs with the same paint, and I fell in love with it," Robyn says.

The spindles got Behr bright white ($20/gal.). I love the contrast of dark over light, which makes the area visually pop.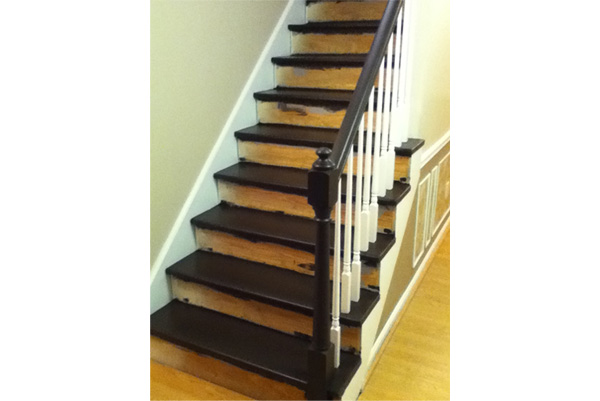 Want to know more about painting basics? Find out how paint primers solve problems, what paint sheens to choose, and how to pick paint colors.

Time for the Bead Board

It couldn't be easier to perk up risers with bead board, making me wonder why I don't see this more often in traditional homes. Steve and Robyn bought a 4-by-8-foot sheet of 1/8-inch white bead-board ($30) and cut panels with a table saw. 

They glued the panels over existing risers and ran a little caulk ($2.50) around the edges. That's it! Look how much bang you get for less than 30 bucks.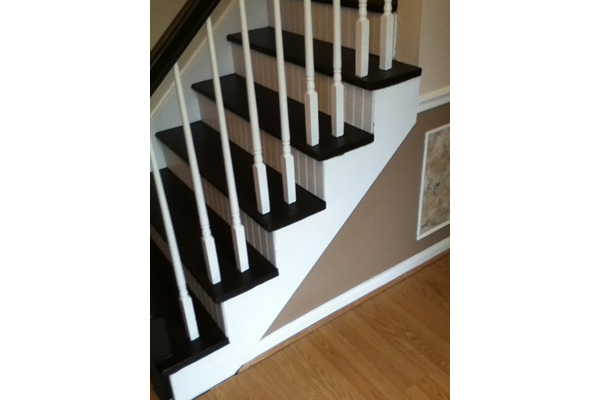 Adding the Finishing Touches

It's almost a shame to cover such a good-looking stairway with a carpet runner. But Robyn and Steve are practical folks and want to protect their hard work from their two kids and dog.

So when they replaced carpet in the rest of the house, they asked the carpet company to install a mushroom-colored runner that let the dark, espresso steps peek out the sides.

Just for fun, they added some knickknacks next to the railing. Don't know how practical those plants, rocks, and candles are in a high-traffic area (in my house, they'd last about 2 seconds). But they do look gorgeous!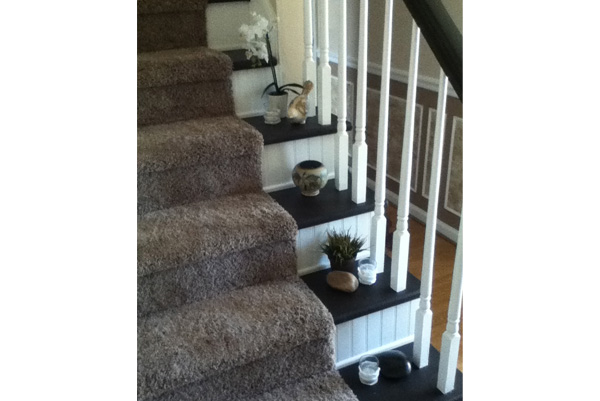 Summing Up Time and Money

The stairway redo took Robyn and Steve a long weekend — Friday morning to Sunday afternoon.

The cost: $132.50.

Great job at a great price!

Robyn says the redo is holding up nicely. The only hiccup is that the paint on the banister newel post is chipping because "the kids have their hands all over it. But it's an easy touchup."

"We wanted a cottage, warm, and inviting feel to the front foyer," she says. "The bead board gave us just that. And the runner was a definite plus. We couldn't be happier with how it turned out."
Check out our other staircase makeover spotlights:

A Runner Shapes Up a Tired Staircase
How a Clever Mom Turned a Stairway into Storage
A Stairway Gets a New Look Using Ordinary Brown Paper