Outdoor solar lights were some of the first alternative-energy products to gain a mass-market foothold. Today, sunlight-powered fixtures are flooding the landscape and garden lighting market.
How solar lights work

Solar lights have three main components:
Solar panels: Gather sunlight and convert it to electrical power.
Batteries: Store electrical power generated by the panel. Expect 6-10 hours of illumination from a fully-charged solar light battery.
LED bulbs: LED (light emitting diodes) are super-efficient, shine very brightly, and are long-lasting.
The upside of outdoor solar lights
You don't have to worry about plugging in your lights or running wires to your outdoor solar fixtures.
You don't have to change bulbs on solar lights, thanks to super-long-lasting LEDs.
Your utility company doesn't get a dime from you when you get your nighttime shine from stored sun-power.
The downside

Outdoor solar lights don't really have a lot of downsides. However, if you live in a cloudy climate, or if you've just experienced a long haul of rainy and overcast weather, the brightness and longevity of the lighting may be affected.

Also, solar lights cost more at the outset because they're complex and have expensive components.

Types of outdoor solar lighting

String lights come in various lengths, such as 25 and 50 feet, and usually have 2-6 bulbs per foot, depending on the manufacturer. There are many styles, colors, and sizes of bulbs to choose. They've become popular as Christmas lights, but you can use them to light up your outdoor living spaces all year round.

You should know: Solar string lights don't need regular household electrical current, but they're attached by wire to a small solar panel — make sure the panel has access to as much sunlight as possible.

Cost: $20-$40 for a 25-foot strand.

Border and driveway lights illuminate walkways and the edges of driveways for safety and convenience.
Stake lights are self-contained — the solar panel is built into the fixture. They're easy to install: You simply push the stake into the ground. You'll find a big variety of styles, from modern to traditional; some even change colors as they glow. Cost: Color-changing stake lights: $40 for a light that's 20 inches tall and 6 inches wide.
Stepping stone lights glow from within and are rugged enough for regular foot traffic. Cost: $25-50 each.
Paver lights can be installed in your driveway paving material. They're made of glass or acrylic, and they're tough enough that you can drive right over them. Cost: $32 for a 6-by-6-inch light.
Glowing globes are spherical sun-powered lamps that make chic architectural additions to your landscape lighting scheme. Stake them in your yard, float them in your pool or make them border beacons — no matter, you'll enjoy the glowing-orb goodness.

You should know: Color-changing globe lights have three modes: off, "color mode" (which cycles through the spectrum), and "white mode" for simply glowing light.

Cost: Glowing globes, $29-$49; half-globe path lights, $7.99 each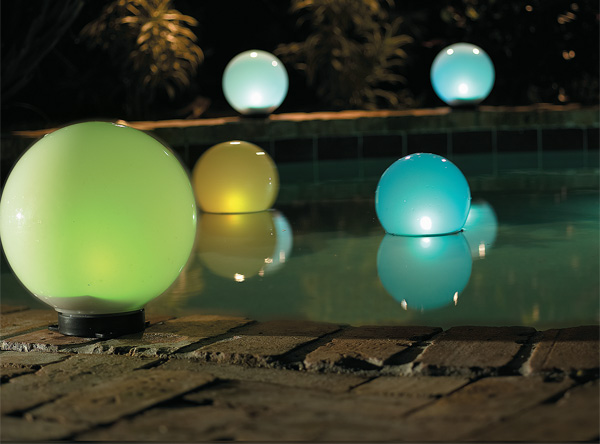 Credit: Grandin Road
Safety and security lights are ready to shine when the sun goes down.
Motion-detector lights switch on when the sensor detects movement; the range and direction of the sensor is adjustable. Because they don't shine all the time, the battery for a solar-powered motion-detector should have a charge that lasts all night.
Solar-lit house numbers come in many shapes and styles. A sunlit address isn't just aesthetically smart — if you ever need emergency services to find you after dark, your street number will be plainly visible.
You should know: A spate of sunless days could leave your motion-detecting security light off-line — a chance you take any time you go solar.

Cost: Security lights, $79.99 to $120; house numbers, $15 and up, depending on design.

Outdoor lamps light up your evening outdoor activities with style, and you won't have to drape an extension cord over your deck and lawn.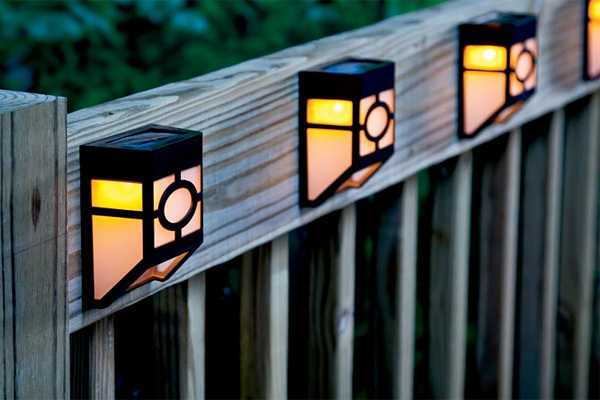 Credit: Plow & Hearth
Table lamps bring a bit of indoor functionality to your outside living spaces. Put them anywhere for a dash of living room panache.
Lamp posts are permanent installations for pathways, garden benches, and the bottom of deck stairways.
You should know: Some solar table lamps do include an electrical plug-in option as well as a solar panel.

Cost: Solar table lamps are $20 and up, depending on size and materials; $600-$1,000 for 9-foot high multi-fixture lamp post.