House numbers are little things that pack a big curb appeal punch. They make your house easy to find, and add a little snap of color and style.

McKenzie, blogger at Girl Loves Glam, realized her house numbers could use an upgrade.

"Have you ever been searching for a house and can't find it because the people don't have their freaking house number anywhere to be found?" she says. "It is a pet peeve of mine, and I realized that I WAS one of those people!"

Giving House Numbers Some Pizzazz

So she built a numbers plaque out of a wooden plant caddy — using nail-on numbers and some spray paint — all for about $31. There's a complete tutorial on her website. She fashioned the plaque after one she found in a magazine, but put her own spin on it that saved $37.
Easy-Peasy to Build
Remove wheels from a wooden plant caddy. They're sold at most hardware stores for about $14; but I've found them at yard sales for $5.
If you want a rectangle plaque, saw off the bottom row of a square caddy.
Prime, paint, and seal the caddy using exterior paint.
Nail numbers to the plaque. You can find some in nickel for $5 each; aluminum, $1.50.
Screw the plaque to your house.
Here's the finished product. I love the white-on-black motif.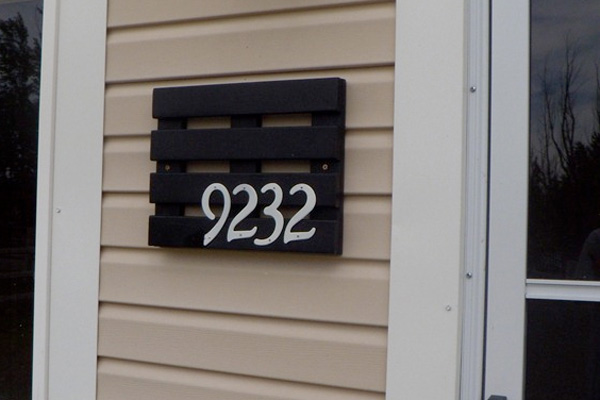 Want More Great Curb Appeal Ideas?

Check out our "8 Tips for Adding Curb Appeal and Value to Your Home" article.

And don't miss the other stories in our Boost Your Curb Appeal series:
Share your own great house numbers or other curb appeal projects in the comments section below.