While many of us commit to the three decades it takes to pay off a mortgage, Hari and Karl Berzins come at homeownership from a completely different viewpoint.

They live in a tiny 8-foot-by-21-foot home they built with salvaged materials in the Blue Ridge Mountains of Virginia. Counting the loft space with its three feet of headroom, that's 320 square feet, or about the size of most people's master bedrooms.

It might be a tiny house, but it's paid for. "We wanted to really cut back our overhead as far as we possibly could and own what we live in outright so we have the choice to do what makes us happy," says Hari, who works part time for a non-profit while husband Karl works as a chef.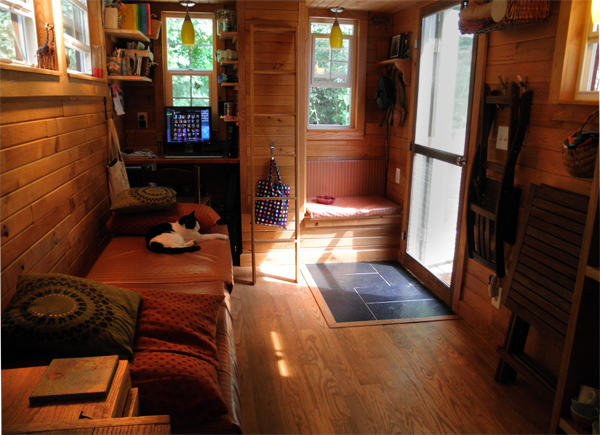 Sharing that 320 square feet are the Berzins' two kids, ages 7 and 9, and a Great Pyrenees, a 3-foot-tall dog weighing in around 90 pounds.

The inspiration to live tiny came to the Berzins after they lost both a business and a 1,500-square-foot home in Florida during the recession. While they didn't want to go into debt again, they do value homeownership, so Hari and Karl moved into an affordable two-bedroom rental and spent the next year saving $25,000 to buy the 3-acre lot in Virginia where their tiny house now sits.

Starting with a reclaimed trailer from an old mobile home, the couple began assembling their tiny home in Florida using salvaged building supplies purchased from Craigslist.org.

"Karl learned his building skills from his father and his eight years working in construction during the building boom in Florida," Hari said. "It's genetic; he comes from a long line of Latvian handy-folk."

When the home's exterior was done, Hari and Karl hooked up the trailer to the hitch of a U-Haul truck and headed to Virginia. There, they finished the interior of the tiny house with an apartment-sized 1950s gas range, floor-to-ceiling shelves, and a couch with cushions that lift up to reveal storage.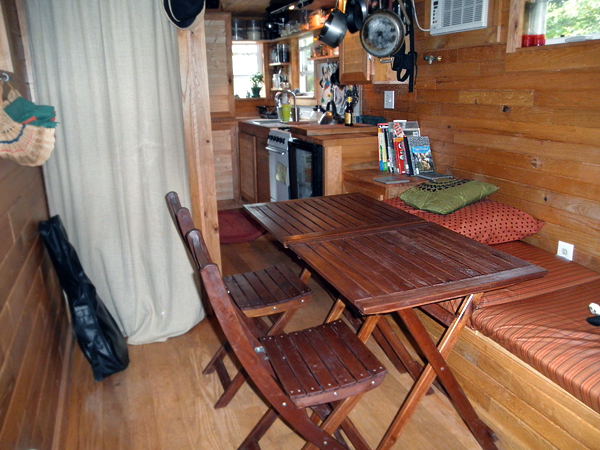 The refrigerator is a glass-front bottle cooler from a restaurant the Berzins owned and lost during the recession.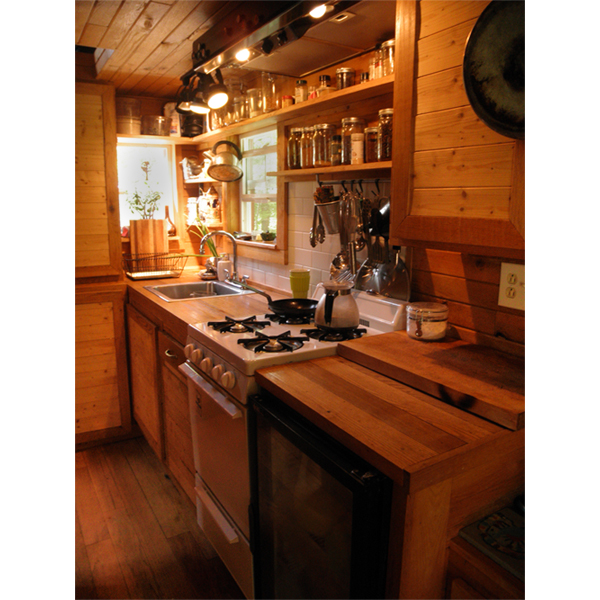 They heat the whole place with one 60-inch radiant baseboard heater.

The home's living space extends to a front deck with a stainless steel prep table for cookouts and a fire pit that extends the use of the deck into the fall.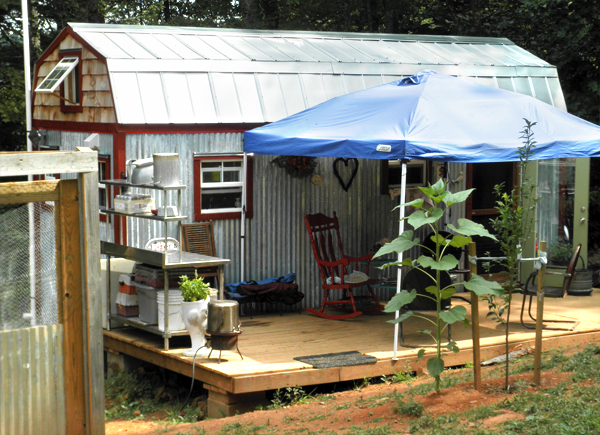 About the only things these two didn't build themselves were the septic system and the well. "We hired those jobs out — saved and paid cash for that work," Hari said.

Would You Live This Way?
I wouldn't last a week in a one-room cabin with my husband, my high school-age daughter, and my 80-pound hound, which led me to wonder just how Hari does it. What happens when the kids need quiet to do homework and Karl wants to watch the news on television?

"We don't have a TV, so there's less space we need for that," she says. "When the kids need quiet time, we all have quiet. One might be in the loft and another is on the couch, and we spend a lot of time outside."

What about — how do I put this delicately — quiet time alone with your spouse? "We make sure we have a day off together," she answers. The couple enjoys their hot tub, walks in the woods, and, Hari points out, there's a wall between the children's loft and the parent's loft.

Someday soon, those two adorable elementary schoolers are going to morph into privacy-hungry teens, I point out. What's going to happen then?

Hari laughs and says she envisions helping the kids to build their own tiny homes, putting those homes on a trailer, and sending them out into the world.

Meanwhile, they do have a second-phase building plan — a move-up house that's 16 feet by 24 feet with a loft space you can stand up in.

What are your thoughts about living this tiny, or about the tiny house movement as a whole?