Sundown doesn't have to signal the end of your outdoor activities: the right choices in garden and outdoor lighting can make your exterior living spaces glow with life, even after dusk.

From advances in solar technology to darkness-ditching DIY projects, garden lighting has never been easier or more fun.
1. Mason jar chandelier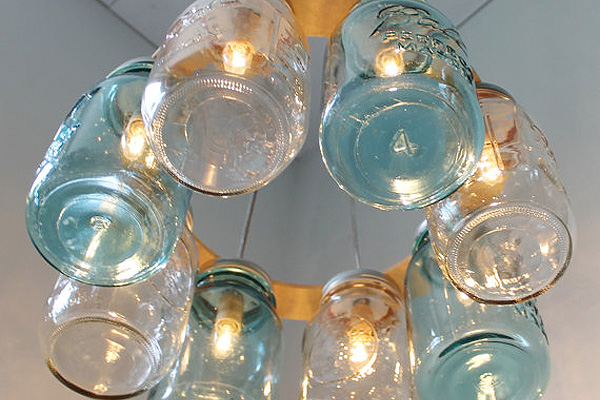 Credit: Jeff Risinger and Mark Winn/BootsNGus.com

Sturdy, attractive, and homey, a mason jar chandelier is a fun way to light up a outdoor dining table. You can try to go the DIY route, or buy one ready-made at specialty stores and online.

Power source: Hard-wired to a 120-volt circuit.

Uses: Hang from an overhead structure, such as a pergola, to light up your outdoor eating area.

Disadvantages: You'll need to hire an electrician to hard-wire the fixture into an outdoor structure.

Cost: To purchase, expect to pay upwards of $75, depending on how many jars are in the chandelier. For DIY projects, a 12-pack of quart-size wide-mouth jars sell for around $20.

Having an electrician hard-wire your chandelier into an existing circuit runs $75-$250, depending on the location of the fixture.

2. Wine bottle Tiki torches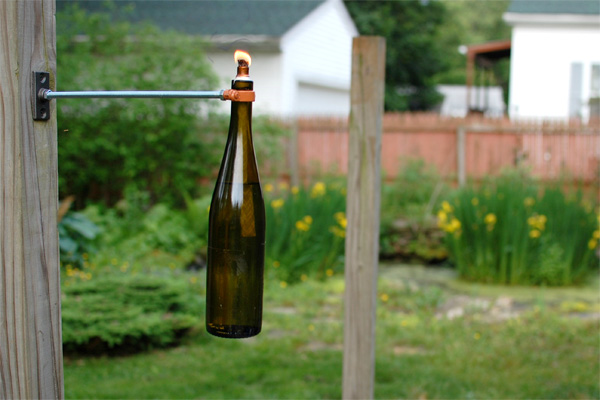 Credit: FiveAtTheTable.com

Tiki torches are a mainstay of retro outdoor parties, but you can modernize the look by up-cycling your empty wine bottles. A conversion kit comes with a wick and a nice copper stand that you stick into the ground, or make your own.

Power source: Open flame

Disadvantages: Putting together a wine-bottle torch takes some skill and time. Plus, there's always a bit of added risk with open flames at parties.

Cost: Wine-bottle torch conversion kit: $38. DIY supplies: About $8.

3. Illuminated planters

You'll be the talk of the neighborhood if you add a couple of glowing planters to your deck or patio. Made in the U.S.A. of 100% recyclable materials and lit with low-wattage CFL and LED lights, illuminated planters are both stylish and sustainable.

Power source: low-voltage (12V) wiring; solar-power

Disadvantages: The price.

Cost: A 20-by-23-inch planter is $150-$200. Move up to the solar-powered, 42-by-48-inch planter and you'll shell out $920.
4. Stepping-stone lights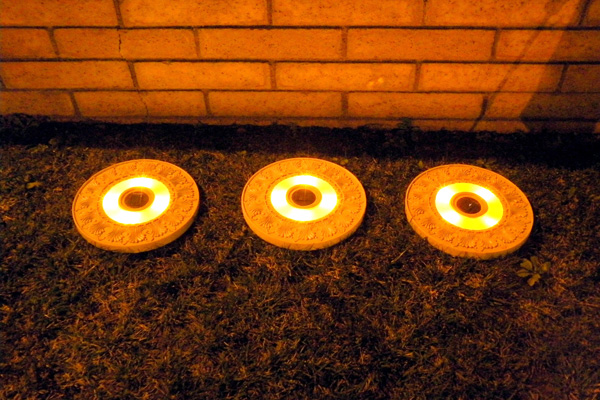 Credit: Homebrite Corporation

Engineered to withstand the wear and tear of foot traffic, these glowing stepping stones will safely light your path for up to 12 hours when fully charged. Use them to illuminate walkways and other high-traffic outdoor areas.

Power source: Solar

Downside: Making a whole pathway can be pricey.

Cost: About $50 for a set of two 13-by-13-inch tiles

5. Lanterns and candles

Lanterns and candles are a classic choice for garden lighting, but you don't have to use a real open flame.
Lantern strings

can be found at most big-box stores in many styles. They can be low-voltage (12V) or use regular household current (120V). A set of five 3-inch-diameter lanterns is $10.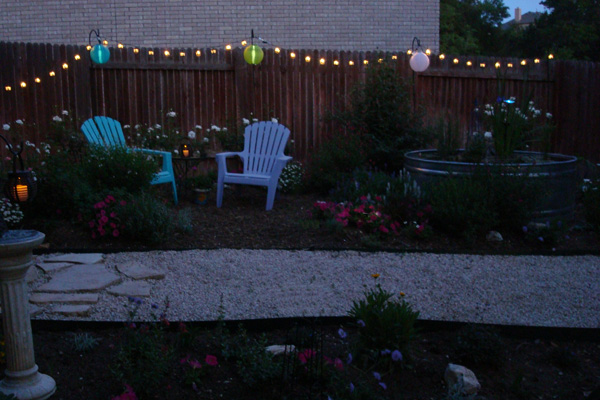 Credit: Melissa Murphy/Garden Path Wanderings
Flameless LED candles (powered by batteries) are a good choice for families or those with pets who still want the "candle-lit lantern" feel.