These three hardworking wood countertops pack a winning combination of longevity and charm without a scary price tag. Plus, they look downright awesome paired with the enduring good looks of a white kitchen.
Waterproof Beauty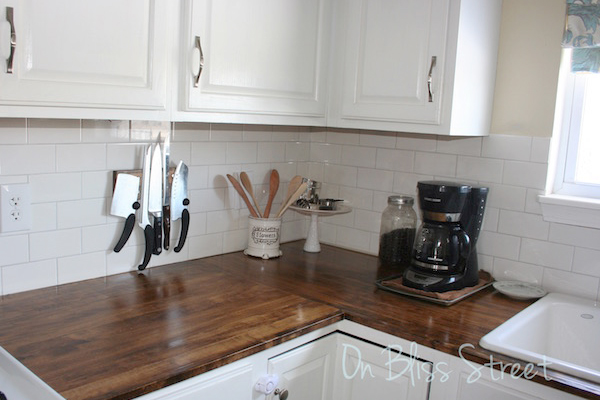 Image: Erica Hebel of "On Bliss Street"

If you're thinking, "Yeah, wood counters look great, but can they stand up to water?" The answer is yes if you follow Erica Hebel's lead. 

The "On Bliss Street" blogger applied several coats of sealer to give her DIY wood counters a glossy finish that's impenetrable enough to stand guard near the kitchen sink. Even better, by opting for sealer and three sheets of wood from a home store, Hebel spent a fraction of what she would have on natural stone.

Tip: Rather than cut a hole for the sink, Hebel framed it on the front and back sides with two narrow boards that also connect the rest of the countertop.

For all the deets, check out her tutorial.

Project cost: $200

Tip: If you want to work with sustainably harvested wood, opt for FSC-certified products. Or use reclaimed wood.


A Countertop Built for the Long Haul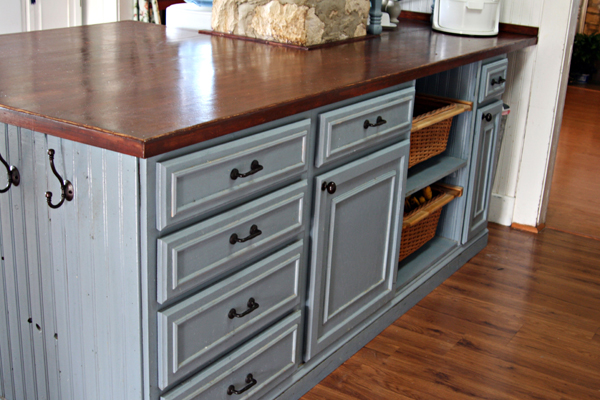 Image: Lisa Pennington of "The Pennington Point"

Lisa, who writes "The Pennington Point" blog, stained pine planks to create a warm and functional wood countertop for her kitchen island for under $40. Her budget-friendly idea was supposed to be a temporary fix. But after living with the countertop for three years, she says her counter's lasting good looks have made it a keeper. 

She also created a travertine counter around her sink for only $25. Get the skinny on both projects here.  
Island project cost: $36

Tip: Need a quick makeover idea for an outdated counter? Chalkboard paint can mimic luxurious soapstone. Plus it's a fun way to keep track of your grocery list.


From Wood Scraps to Distinctive Gem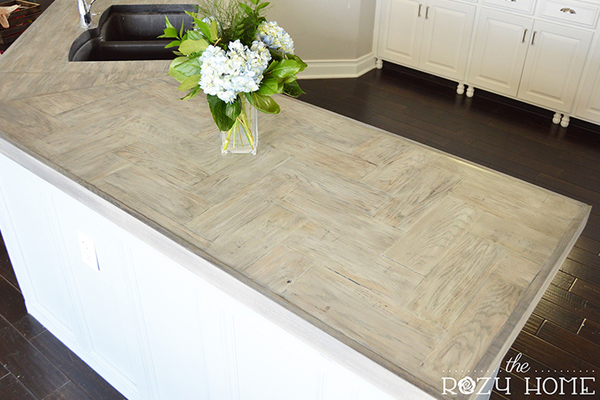 Image: Jill Rose of "The Rozy Home"

A few pieces of scrap wood inspired Jill Rose, of the "The Rozy Home" blog, to create this one-of-a-kind herringbone counter.

First she mapped out her design. Then she and her husband built their rustic creation using 2-inch thick pieces of white oak affixed to a plywood base. Oak is a hard and resilient wood that's a favorite for countertops.   

The project required some woodworking to properly lay out the pattern. The couple was able to make the process less labor intensive by having the wood jointed and planed by their local lumber mill.

You can learn how to make your own herringbone counter here.

Project cost: $1,200 for the kitchen counter and island

Tip: Today's laminate is another affordable countertop material — less costly even than ceramic tile — that can mimic everything from butcher block to stone.

Related: How to Pick the Most Durable Countertops for Your Kitchen