Thumbs up to Mimi of the Blue Roof Cabin blog for daring to be different — and boosting curb appeal — by adding a trellis on top of her garage door.

"It's my favorite thing I've done to the house," says Mimi.

The house is a log cabin — with a blue roof — that stands beside a garage that had an "ugly" storage shed attached.

Mimi and her husband decided that shed had to go, so they demolished it and painted the garage a lovely gray in a satin finish. Then, to make the garage door "more interesting," Mimi built a trellis out of recycled wood.

She Winged It

Mimi couldn't find plans for a garage trellis, so she surfed the Web, found inspiring pictures, then cooked up her own design.

"Winging it is my favorite," she says.

She used some wood beams ranging from 2-by-2s to 2-by-8s. She carved some detail into the brackets, then crisscrossed beams on top like a mini pergola. It really is stylish.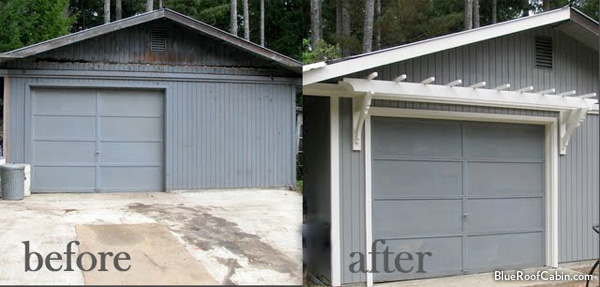 Finally, Mimi painted the trellis and the garage door trim a bright white, which makes it pop against the soft gray of the garage.

Time and Money

Mimi already had the wood on hand; but if you had to buy the wood and paint, the trellis would cost about $75, she says.

She built, painted, and installed it in a weekend.

In the Next Life …

Mimi would've painted the trellis on the ground, rather than installing it and then trying to paint while balancing on a ladder. But other than that, Mimi adores her trellis and now, her garage.

"After almost two years, it's still going strong, very sturdy," she says. "I absolutely love it."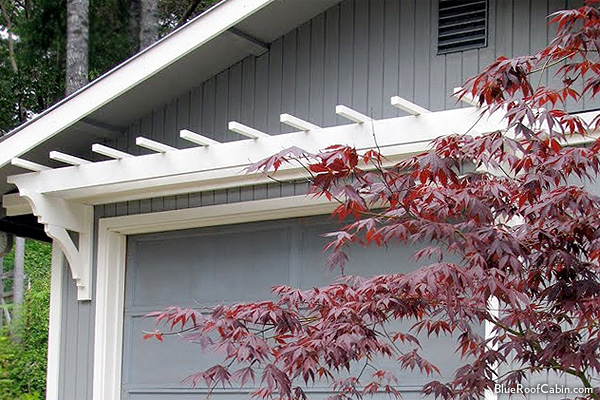 More Ways to Boost Curb Appeal
And don't miss the other stories in our Boost Your Curb Appeal series:
Share your own cool curb appeal projects in the comments section below.