Follow Jeston Green's Preston Koerner as he blogs about his water-wise bathroom upgrade here on HouseLogic, which sponsored the project.

Unless you're a reader of JetsonGreen.com, a design site I founded to discuss sustainable homes, you probably don't know me. I'm an Eagle Scout, a recent college graduate, a husband and dad with two young boys, a corporate attorney, and a first-time home owner, thanks to the First-Time Homebuyer Credit and the American Recovery and Reinvestment Act of 2009.   

In November 2009, in the middle of the drastic real estate correction, I purchased a 1958-model home that had been sitting on the market for more than a year. Based on home values at the time, I walked away with a lovely property, a great interest rate, and an obligation to make what amounts to a tiny car payment every month in the form of private mortgage insurance (PMI).

As a new home owner, I want to save environmental resources — materials, water, and energy — (and money!) but I also want to increase the value of my property and eliminate those PMI payments. (Once you have 20% equity in your home, you can ask your lender to cancel private mortgage insurance.) So I've been paying down the principle and increasing the appraised value of the home since moving in. 

It's been fun working with my son to improve the landscaping, replace an old broken entry door (by the way, HouseLogic's got some great info on the value a new exterior door can add), switch polished-brass with aged-bronze door knobs, and swap out the old carpet. 

Now, it's time to tackle the one room in the house that's in such a poor state of affairs I shut the door and stopped using it all together: the upstairs bathroom.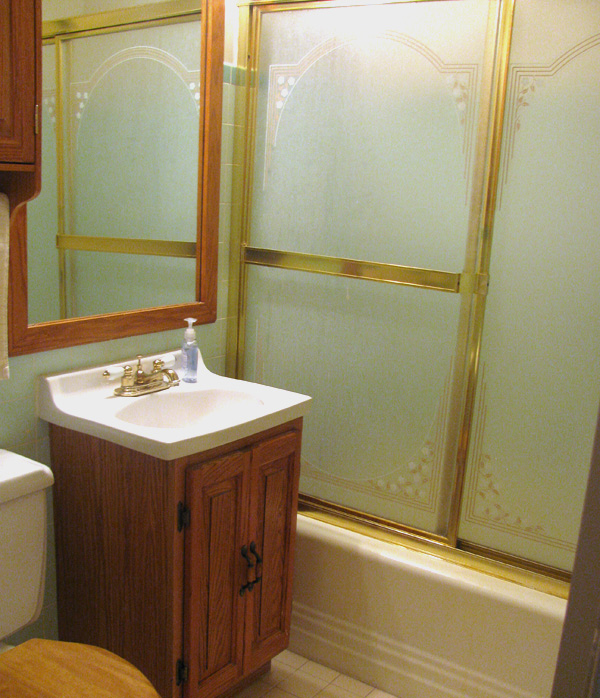 It serves three rooms, including the master. It's. In. Sorry. Condition.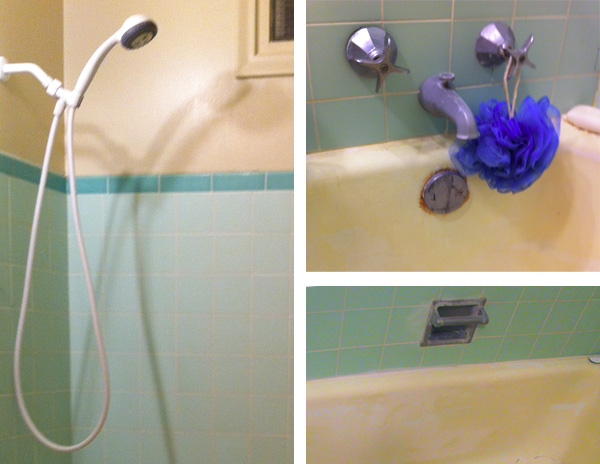 As you can see from the pictures, it has turquoise square tile, a water-guzzling toilet (which uses the equivalent of more than three gallons of milk per flush!), a crusty old vanity with a matching mirror and cabinet, an antique ventilation fan that works half the time — or with a precise shake of the wall switch — and a cast-iron tub with gold shower doors and some unknown refinish that's peeling from the tub surface.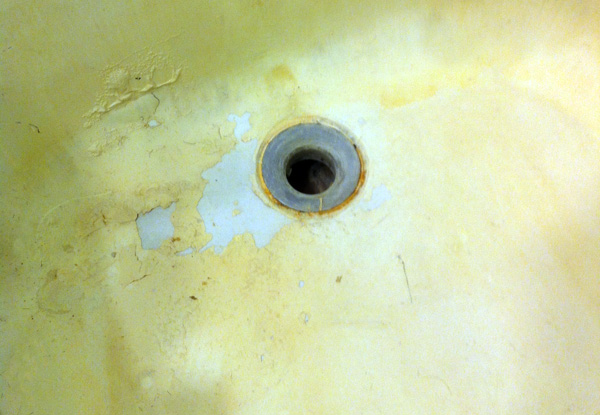 Enough is enough. It's time to open the bathroom for business and invest in a value-adding home improvement. (A midrange bathroom remodel can recoup 62% of its costs on average nationally, according to the Cost vs Value Report.)

So here's our goal: a bathroom renovation based on the existing footprint, which doesn't break the bank, saves energy and water (using Energy Star and WaterSense products and features), and doesn't embarrass anyone who uses the facility. 

Here's my plan:
Remove and donate toilet, vanity, medicine cabinet, shower head, and more.
Eliminate shower doors, which make the bathroom feel tighter, in favor of a curtain.
Refinish the tub and tile. 
Install new mirrors, a vanity, and shelves. 
Update a light strip with energy-efficient lighting.
Replace the exhaust fan with a quieter Energy Star model. 
Install a WaterSense-certified toilet, sink faucet, and shower head. 
Over the next month or so, I'll share the process, the obstacles, the costs, and, hopefully, the savings. As for cancelling my PMI, we'll just have to see where the market goes.

In my next post, I'll talk about the challenging footprint of this bathroom, the layout of various elements, and how the footprint and layout dictates what kind of products I'll need and how much they cost. I'll also talk about my search for a Watersense toilet, a single vanity, and other products like a new light fixture, mirror, and shelving.