What a beaut! Jetson Green's Preston Koerner has completed his labor of love. Check out the finished bathroom in this last entry in the series, sponsored by HouseLogic.

Last week, I discussed the fixture and vanity install, my online ordering challenges, and a slight creep in budget. Well, it's all been worth it — Koerner family, open that bathroom door! I'm so proud and pleased to see where we ended up from where we started: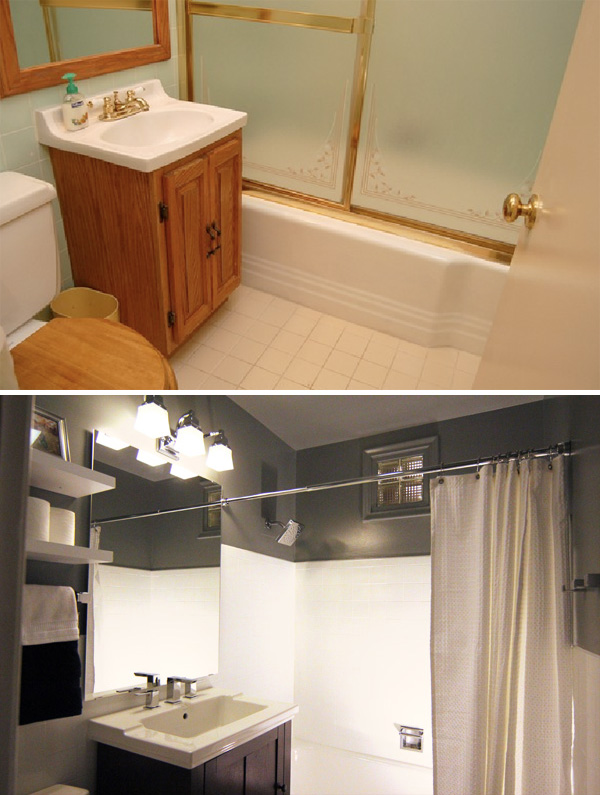 And here's a video tour of the finished bathroom:
Even though I covered so much ground in the last post, I actually still had a lot to finish before this big reveal.
Polishing up fixtures
Some items I procrastinated on were the shower handles and the water spout in the tub. I wanted to buff them up and keep them. With vinegar, I was able to restore much of the shine to the existing water spout even though a prior owner took a wrench to it and the finish has minor blemishes. No big deal.

But I found that the metal shower flanges and handles — after soaking in vinegar — were all chewed up. I replaced them with universal units from a home improvement store for about $30 (a pair of flanges, nipples, and handles) and they work nicely.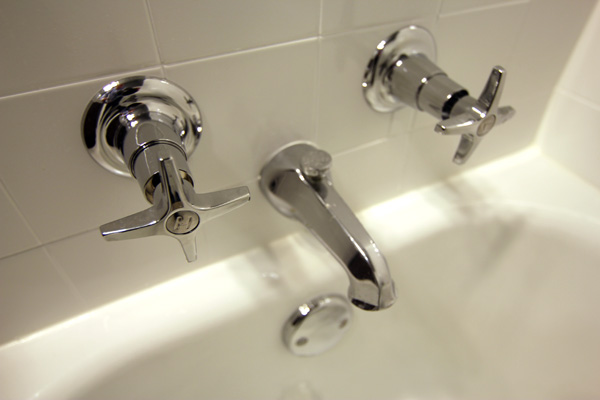 Installing the mirror
The Ikea mirror installed in a cinch except that it required sharp attention to measuring and leveling. I had to drill four clips into the wall. The top clips expand upwards to receive the mirror and contract tightly to hold the mirror in place. I used a special drill bit made for glass and tile (I got it for $9) to drive anchors into the tile and placed the clips in the perfect spot. You can use a titanium or other drill bit but you'll eventually wear it out and exhaust five times the effort to get a decent hole.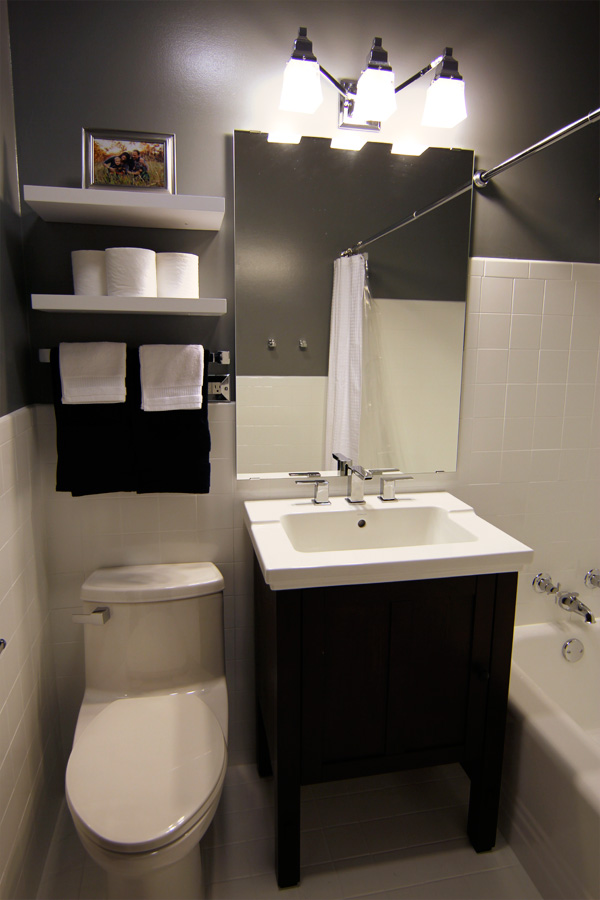 As a matter of preference, I decided on a flat mirror in lieu of the mirror cabinet. It's nice, though I wish my mirror hung tighter to the wall. Without a mirror-cabinet combo, we also lose a little storage space in an already-tight bathroom. 

Carving out storage
To gain storage, I installed two 18-inch floating wall shelves and a linen cabinet in the alcove opposite the toilet. The linen cabinet was a $345 splurge, but there's not much else that will fit in that space. Plus, there's an attic hatch above the linen closet, so we need to keep that area accessible.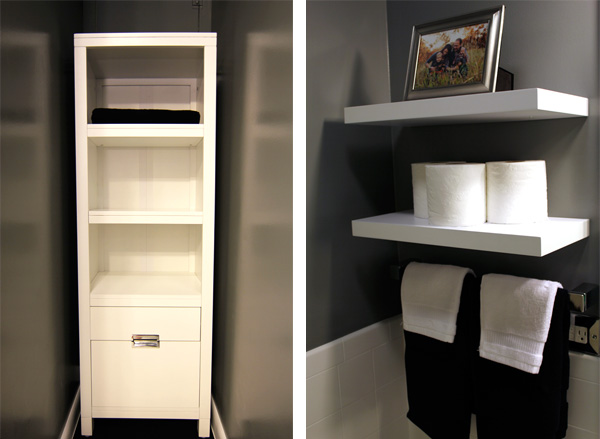 I also installed two wall hooks, an 18-inch towel rod (below the floating shelves), and a 24-inch towel rod (behind the door) — also all part of the Moen 90 Degree series. I like the contemporary look and straight lines of this series with my square tile. But I wish Moen made a matching shower rod, too. The chrome one pictured will have to do for now.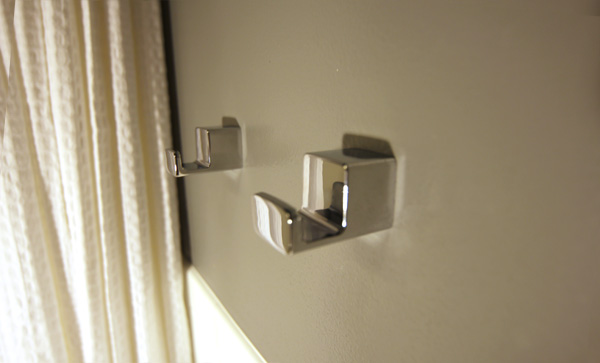 I also replaced the existing toilet handle with a 90 Degree version and it took literally five minutes to swap out.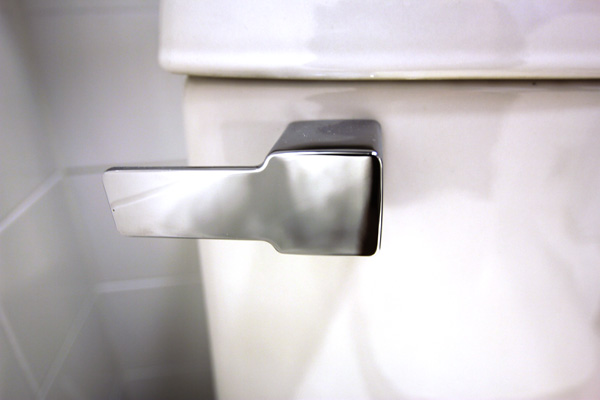 Touching up the paint
Lastly, I wasn't happy with the transition between the white tile and gray paint. I applied a thin bead of white caulk to that transition and let it cure. After I placed painter's tape along the line, I repainted the transition gray, making sure to push down the tape before painting an area, and ended up with a better line.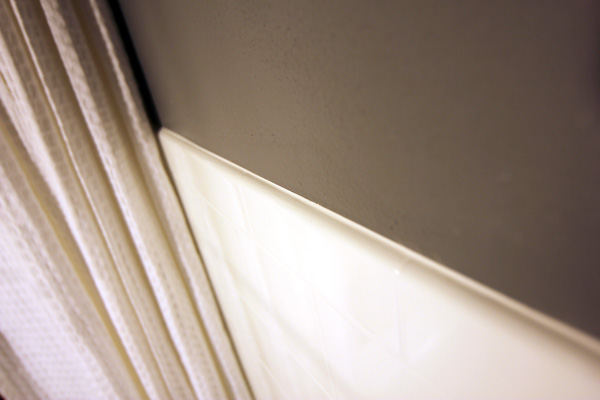 Lessons learned
In the end, I learned a lot about myself and my home with this project, not the least of which is that early planning and flexibility are a must. In fact, it's impossible to design or purchase anything before measuring all the bathroom details.

Believe it or not, home improvement stores are full of not just store employees but other contractors, too.  I picked the brain of all sorts of people to get ideas for painting the trim, fixing the light switch, and installing the tub flanges and handles. 

One thing I'd change would be the floating shelves, which won't hold much weight. I put six wall anchors in per shelf and the hidden frame is rock-solid. Yet the shelf itself doesn't fit sturdily into the hidden wall frame. I don't like them as much as I thought. 
Also, I'm still thinking about putting in crown molding and then repainting the ceiling white. The room isn't dark because the tile is white, but I'm undecided on the gray ceiling. But this is just me being nitpicky. I'm really excited to have such a nice finished space. 

With two boys, I'm not sure how we'll keep this bathroom clean or white, but it's so much better than before. No more crusty, peeling bathtub! No more golden trim and fixtures! 

We now have a nearly new bathroom with all WaterSense fixtures and a clean, contemporary feel. 

In a few months, I'll examine the water bill to see how the remodel has impacted our water usage when compared with last year's numbers.

Thank you for following this bathroom rescue and sharing your comments. I've read them all but haven't had a chance to respond to as many as I would like. Also, thanks to HouseLogic for sticking with me on nights and weekends to finish and document the remodel on schedule. 

Now I need another project to tackle.   
 
Tell us about your bathroom project and share your pictures! What lessons have you learned?