Cleaning and de-cluttering your home before you put it up for sale will cost around $400, but could bump up the price of your home by more than $2,000, according to data collected by HomeGain.com's annual home improvement and home staging survey.
The survey asked about 500 real estate agents across the nation to estimate how much low-cost DIY home improvements might add to a home's value and to recommend the best DIY improvements for home sellers.
The agents' top five do-it-yourself picks, along with average costs and value add, in rank order: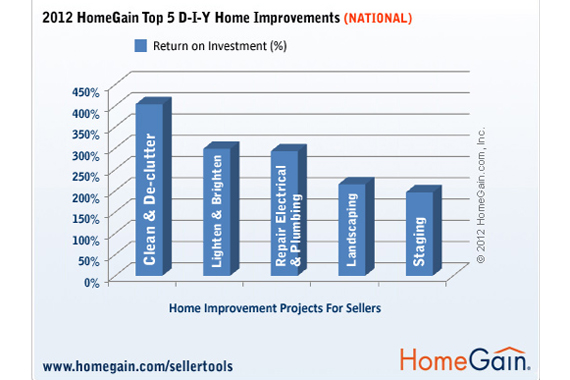 1. Cleaning and decluttering, to HomeGain, means removing personal items like family photos, removing stains from walls, cleaning siding, getting rid of house smells, organizing your closets, and cleaning the furniture and flooring.
2. Lightening and brightening your home, by cleaning windows and skylights, removing furniture or anything else that blocks your windows, and repairing light fixtures.
Cost: $424 (paying someone to do those tasks)
3. Repairing and updating your electric and plumbing includes locating and fixing plumbing leaks, replacing outdated fixtures, and making sure your electrical system is in good working order.
4. Landscaping to add curb appeal. To improve your yard, try weeding, patching bare spots in your lawn, repairing or replacing damaged fences, and adding colorful bedding plants.
5. Staging includes removing your personal items like photos, putting your existing furniture in attractive grouping or adding new furniture, then placing decorative accessories around your home.
"The HomeGain results show that do-it-yourself home improvements like cleaning and de-cluttering and lightening and brightening your home are cost-effective ways of increasing your chances of selling faster and closing closer to the asking price than homes rushed to the market with no improvements," said Louis Cammarosano, general manager at HomeGain.
Source: HomeGain