So how do you keep your expensive new kitchen from being the leisure suit of design, with an ROI that disappears faster than sour milk down a sink drain?

Two words: white kitchen.

"White has stood the test of time because it's clean and fresh," says award-winning designer Mick de Giulio, of de Giulio Kitchen Design in Wilmette, Ill. "And those two words — clean and fresh — are classic words for describing a great kitchen. There isn't a better way to approach design."

Related: Timeless Kitchens

White Has a Healthy History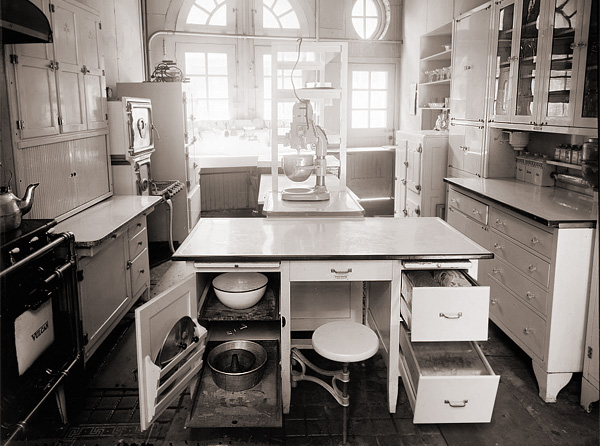 Credit: Harris & Ewing Collection/Library of Congress

Roll back a few years to get a handle on white's popularity. In the 1920s and '30s, white was about the only color offered by manufacturers. To paraphrase Henry Ford, you could have your choice of any color at all, as long as it was white.

That made sense. White was associated with sanitation and health, and to a population not far removed from a deadly worldwide flu epidemic, household cleanliness was all-important.

Times have changed, but white's healthy glow endures. Dirt just can't hide in an all-white kitchen.

White is Marketable

Since it began keeping records, the Home Appliance Manufacturers Association says white appliances have outsold all other colors.

Ditto cabinets. White regularly tops the list of the most popular kitchen colors in the National Kitchen and Bath Association's annual survey. For 2013, 67% of respondents said that white was their first choice for cabinetry. It simply refuses to go out of style.

That's good news when it comes time to sell your house. White's universal simple beauty takes the worry out of marketability.

It Feels Good
Color therapists tout white's positive vibes — it represents happiness, innocence, and purity.
As the brightest color, it reflects light and makes even small kitchens feel spacious.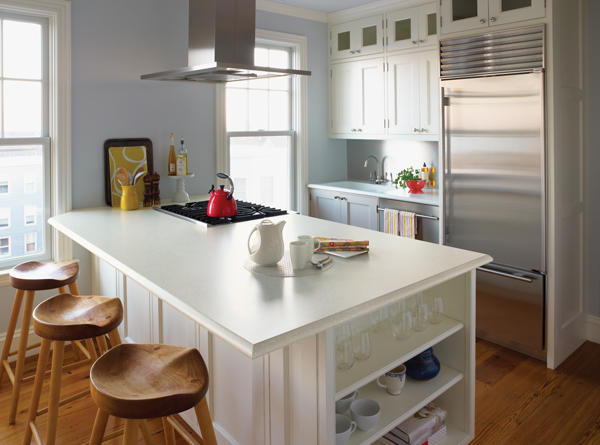 Credit: Formica Corporation
White Has Inner Beauty
Think of white cabinets as monochromatic? Not so. Cabinet doors and trims create shadow details and layers of contrast that give white depth and lasting architectural interest.

It's the ultimate neutral — every color looks great paired with white. Light fixtures, cabinet hardware, and tile accents come alive.

"It's a great easel to build upon," says de Giulio. "Artwork and accessories explode in a kitchen that's white."
Related: Before and After Pictures of White Kitchens

It's the Ultimate Design Tool

White is a charming shape-shifter, able to morph into any kitchen style.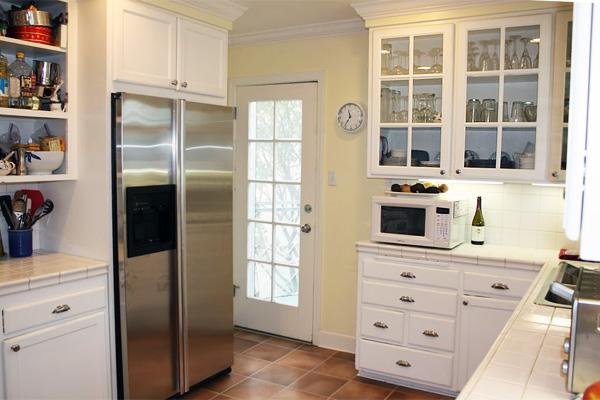 Credit: Lara Schultz
"It's popular with traditional, contemporary, and transitional clients," says Jamie Gold of Jamie Gold Kitchen and Bath in Bonita, Calif., who consults for building professionals on kitchen trends.

And because it's a standard color for any manufacturer, it's your ally: You'll find white cabinets, tile, counters, faucets, sinks, and appliances to fit any budget.

It Lets You Be You

Snowy cabinets, countertops, and appliances are the perfect backdrop for your favorite colors. Paint walls, add color on open shelves; all that stuff is easy to change out when your mood flips or fashion dictates.

To see examples of how color can be used as accents, watch our slideshow.

You've Got Options
Appliances: Although stainless steel has been the finish of choice for more than a decade, white appliances are dominating again.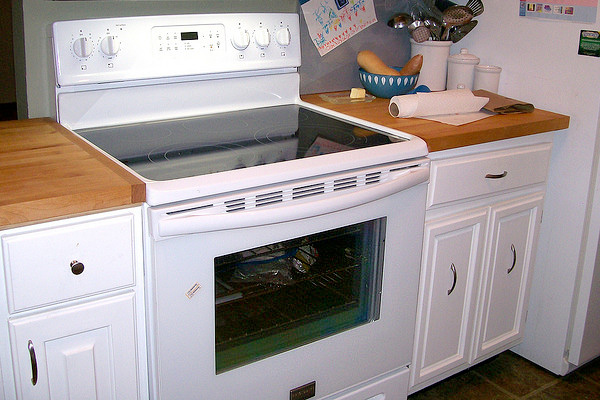 Credit: Lorijo Anderson
Manufacturers have responded by introducing variations of white, such as polished enamel that looks like white glass.

Or you could get rid of appliances altogether, concealing them with panels that match your cabinet door style. First, choose appliances that accept decorative overlay panels, then order the panels from your cabinet manufacturer.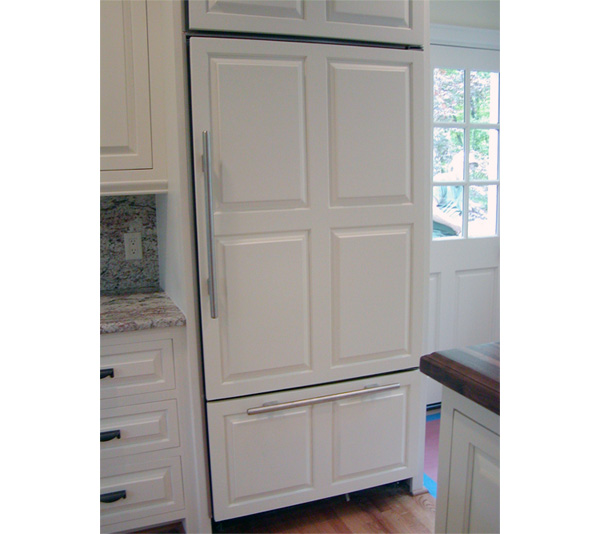 Credit: J&S Home Builders and Cabinetry
Countertops: If you want to go white, you can't go wrong with Carrara or Calacatta marble. It's been looking great in homes for thousands of years; it'll look good in yours.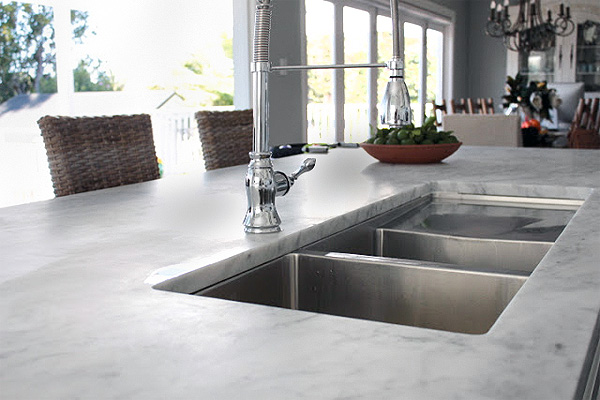 Credit: Melinda Hartwright

Alternatives include:
Solid-surface and quartz-type countertops come in dazzling whites.
White laminates will save you 50% over stone and solid surface countertops.
Want one-of-a-kind? Unique white concrete is the choice of high-end architects and designers.
Cabinets: White cabinets come in every style, material, and price point imaginable. You'll find them off-the-shelf at big-box home improvement centers, and at custom cabinet shops.

Should Everything Be White?

Not at all.

"You can have stainless steel appliances or even black in a white kitchen," says Alan Zielinski, past president of the National Kitchen and Bath Association and owner of Better Kitchens in Niles, Ill. "The key is keeping everything in balance. You don't want an oversized, non-white appliance to become this big punctuation mark in the middle of your kitchen. Scale your choices carefully so white predominates."

You can mix in other finishes, too, especially time-honored neutrals:
Wood is a great companion for white. Wood flooring or wood butcher-block island countertops are top mixers.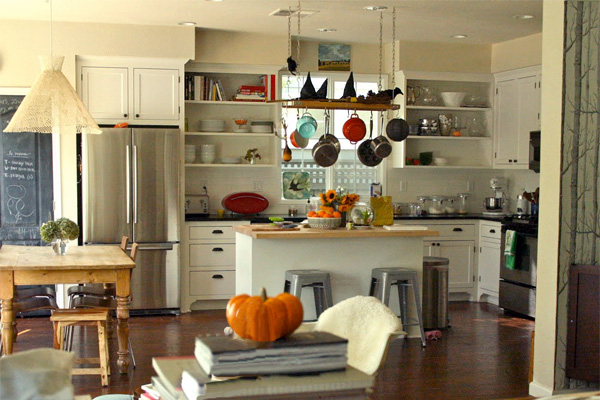 Credit: Lynne Millar
Glass feels clean and gives a white kitchen pop without adding color. Glass-front upper cabinets are winners.
Stainless steel is color-neutral, but add it carefully. Today's kitchens are open to living areas, so you don't want to create an uncozy look. But a stainless range hood or pot rack adds a dash of glam that pairs well with white.
What are White's Drawbacks?

"I can't think of one bad thing," says de Giulio.