Here's what to know about value, planning, and whether or not you should get help from a pro.

Value

1. Spending less on cabinets means you can spend more money where it's needed.

Southern Hospitality blogger Rhoda opted for Ikea cabinets so she could spend more on heavy-use kitchen features that take a licking, like:
A heat- and scratch-resistant sink
Image: Rhoda of Southern Hospitality blog
She spent about $4,000 on the cabinets; the custom and big-box store estimates she received were more than twice that price.

2. You're not sacrificing quality.

Ikea cabinets are typically made out of the same materials (medium-density fiberboard and melamine) as others that cost two to three times the price, says Kim, who writes the blog Meet the Woodwards. They're not "heirloom quality," she says, but she's impressed by how well her cabinets have held up after a year of daily wear and tear.

3. They come with a limited, 25-year warranty.

That doesn't beat the lifetime warranty that some cabinetmakers offer, but it's not too shabby. In addition, various bloggers say the warranty is transferable so long as you keep the original receipt and warranty literature. We called a random customer service rep who also said the warranty is transferable.

Warranty particulars:
Covers defects in material.
Void if the cabinets weren't installed per Ikea's recommendations. This includes cabinets customized with non-Ikea parts.
Related:

Pros and Cons of Refacing Cabinets

5 Classy Cabinet Upgrades for Under $100

Planning

There aren't a lot of shortcuts here. The blogger behind The L.A. Lady says 80% of her time was spent planning her kitchen renovation as opposed to assembly and install.

1. You have to accurately measure your entire kitchen, including appliances and water and gas connections. Measurement mistakes can drive up your remodeling costs if you need to hire someone to make things fit properly.

2. Before you buy, you must use Ikea's 3D kitchen planner, so the retailer can track all the cabinets and parts you'll need based on your design.

This video provides an overview of the process:



If you have time to juggle multiple suppliers and you want to add your personal touch to the design, you can customize the cabinets with non-Ikea parts. There's a cottage industry of manufacturers and custom cabinetmakers who specialize in cabinet doors, drawer fronts, and panels for Ikea cabinet boxes. Some examples we found:
Semihandmade says its custom doors, drawer fronts, and panels can give your Ikea kitchen cabinets an upscale look at a fraction of the price. The video explains their process:
Semihandmade from Semihandmade on Vimeo.
Scherr's does all custom wood work, so it doesn't stock finished items. FYI, we read in a few forums that some custom orders were cheaper than the stock doors at Ikea.
Pro or No?

Ikea kitchen cabinets were designed to DIY, but we think you'll want a pro at some point.

Measuring. As we mentioned, you'll need to account for everything in the space, including uneven floors or walls. If you're not keen on that, Ikea can measure your space for about $250 in most areas. If you buy an Ikea kitchen, the retailer will refund the measuring fee.

Assembly and installation. Ikea supplies printed instructions and videos that break down the assembly and install process. So how doable is it? Depends on how big your job is, our research shows.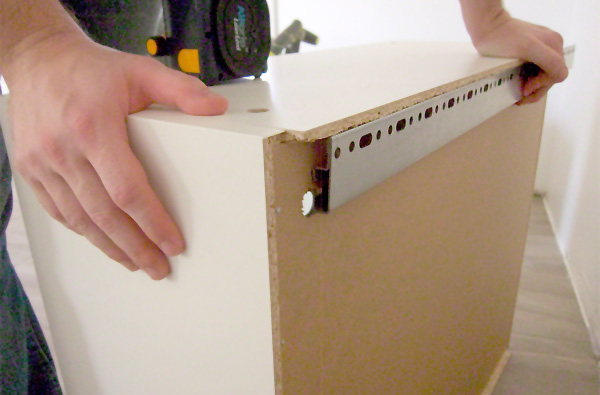 Image: The L.A. Lady
Generally, those who found the instructions easy to understand and felt the assembly and installation process was simple installed fewer than five cabinets.
Those who purchased about 20 cabinets — an average number — thought Ikea oversimplified the process and they brought in a pro to help with the job.
A better way to go based on a consensus from DIYers: Assemble the cabinets yourself and let a pro install them. Blogger Lindsay, from Aubrey and Lindsay, went this route when her contractor quoted her $100 per cabinet for assembly. Make sure the contractor you hire — whether Ikea's or your own — will install cabinets he didn't assemble; some won't.

How long does it take to assemble the cabinets? On average, it should take two adults around eight hours to put together 10 cabinets, according to experienced and inexperienced DIYers.

To get a realistic view of the assembly and installation process, watch this video:



The bottom line: You can find designers and contractors who specialize in Ikea kitchens to cover everything from measurement and design to purchasing and installation. Search online using terms like "Ikea kitchen designers" and "Ikea kitchen installation" for your area. Then use ratings and review sites and check references.

3 More Tips for Cabinet-Install Success

1. If you plan to DIY, consult a pro to address potential problems before you start the remodeling process.

2. If you're on the fence about working with a contractor, this might tip you over: They work faster than non-pros and are better problem solvers.

3. Know that Ikea uses local contractors to install cabinets, and warranties their work for five years.

Related:

What Your Remodeling Contract Should Say

What are the 7 Features of an Ideal Kitchen?

Looking for Ways to Reuse Old Items? Check out Ikea Hacks